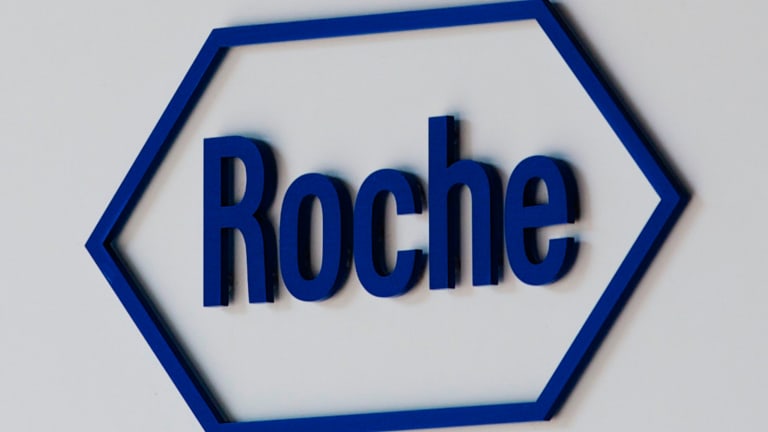 Roche's Loss In Bladder Cancer Lifts Astrazeneca and Could Boost Bristol-Myers
Roche, the Swiss drugmaker, was let down by Tecentriq in clinical trials providing scope for Astra to close the gap and a possible boost for Bristol on Wednesday
Roche, the Swiss drugmaker, was let down by Tecentriq in clinical trials providing scope for Astra to close the gap and a possible boost for Bristol on Wednesday
Roche (RHHBY) shares fell the most in nearly two months Wednesday after the Swiss drugmaker's Tecentriq oncology treatment fell short in a key clinical trial for use as a bladder cancer treatment.
Roche said that Tecentriq did not meet its primary endpoint of demonstrating overall survival in bladder cancer patients when the treatment is compared with chemotherapy in a statement that could provide rival Astrazeneca (AZN) - Get Report with scope to close the gap between them, as well as a possible boost for Bristol-Myers Squibb (BMY) - Get Report stock in Wednesday trading.
Roche shares were marked 2.27% lower by late morning in Zurich and changing hands at Sfr 266.5 each against an 0.89% gain of the Stoxx Europe 600 TMI Pharmaceuticals index. AstraZeneca shares were little-changed from their Tuesday close and trading at 4,712 pence each at 10:30 BST in London.  Bristol-Myers were indicated 0.56% lower in premarket trading after closing at $55.32 each in New York Tuesday.
Roche secured accelerated approval for Tecentriq in April based on the drug's strong performance combatting tumours, in a move that could have helped the drugmaker to close the gap with Bristol-Myers whose Opdivo won approval back in January.
"While these results are not what we had expected, we believe that TECENTRIQ will continue to play an important role in the treatment of people with advanced bladder cancer," said Sandra Horning, M.D., chief medical officer and head of product development. "We are committed to helping people with advanced bladder cancer and will discuss these data with health authorities."
Roche's setback now provides Astra with scope to close the gap between the pair in the race to demonstrate results in bladder cancer, while Merck's (MRK) - Get Report Keytruda is also vying for the nod from the Food & Drug Administration.Merck's Keytruda is the only cancer immunotherapy targeting bladder cancer that has data proving a survival benefit for patients, to date.
Astra received accelerated approval last week for Imfinzi (Durvalumab) as a treatment for treatment of locally advanced or metastatic urothelial carcinoma (bladder cancer) under certain conditions.
Durvalumab is a cornerstone of Astra's oncology portfolio, which could either make or break expectations for the Anglo-Swedish pharma giant's top line over the coming years, with analysts forecasting 'all application' sales of between $1.5 billion and $2.3 billion per year by 2020.
Pfizer (PFE) - Get Report said Tuesday that it has received accelerated approval for Bavencio, which was developed in partnership with Germany's Merck KGaA  (MKGAY) , as a bladder cancer treatment.
Both Roche and Astrazeneca beat expectations for first-quarter earnings in late April while their respective boards confirmed earlier guidance for full year sales and earnings growth.
More top stories right here:
Valeant Shows Signs Its Turnaround Efforts Are Bearing Fruit; Jim Cramer Weighs In