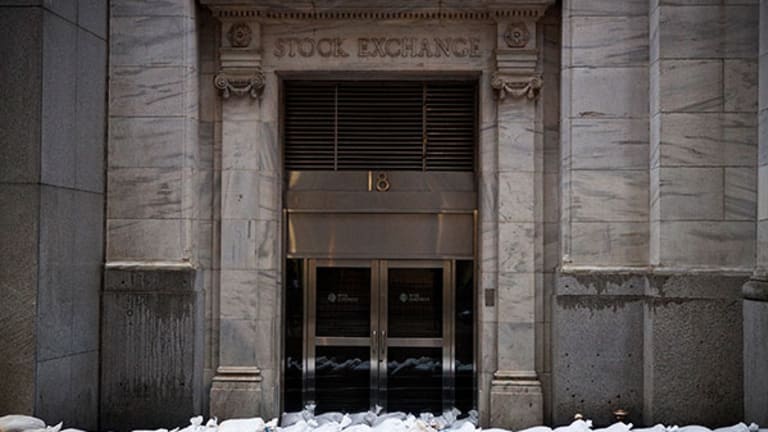 Robin Hood Foundation Highlights Wall Street's Sandy Response
Wall Street's ties to New York City remain very strong, one year after Hurricane Sandy.
NEW YORK (TheStreet) -- A year after Hurricane Sandy devastated the coastal areas of New York, New Jersey and Connecticut, Wall Street's response to the storm stands out as an intersection between the oft-vilified financial services industry and its continued prominence in the tri-state area.
Wall Street was crippled in the wake of the storm, which destroyed thousands of homes and left millions without power. In some areas, the cleanup continues.
The New York Stock Exchange (NYX) closed in the storm's aftermath. Firms with operations in Lower Manhattan, including Moody's and Standard & Poors, were evacuated from their offices. Goldman Sachs (GS) , one of the few investment banks still headquartered downtown, did not lose power through the storm and opened its ritzy offices to residential neighbors.
Major financial service dealers relied on business continuity plans that were strengthened in the aftermath of the September 11th terrorist attacks on the World Trade Center. In the days following the storm, most Wall Street firms also sought a way to provide relief to the community.
Bank of America (BAC) committed $20 million to community development institutions. JPMorgan (JPM) committed $10 million in small business support and charitable giving, while Citigroup (C) extended relief to mortgage customers hit by the storm. Goldman Sachs (GS) offered $5 million towards cleanup efforts and another $5 million in charitable donations. Morgan Stanley (MS) made a $1 million donation and pledged to match $2.5 million in employee contributions to the American Red Cross.
When trading on Wall Street returned to normal, some even donated proceeds from their daily churn. Jefferies donated commissions from the firm's trading operations on November 7th towards relief efforts. Bloomberg Tradebook similarly conducted its own trading day to raise commissions to be donated to Habitat for Humanity's rebuilding work.
There are also likely countless stories of Wall Street employees volunteering relief to their respective communities.

Still, no relief effort with Wall Street ties took as prominent a role in the aftermath of Hurricane Sandy as the Robin Hood Foundation, a 25-year old charitable foundation created by hedge fund billionaire Paul Tudor Jones that has distributed over $1.25 billion in services and aid to New York's neediest communities.
The foundation's board of directors includes many of Wall Street's biggest names, including David Einhorn of Greenlight Capital, Steven A. Cohen of SAC Capital, Laurence D. Fink of BlackRock (BLK) , Daniel S. Och of Och-Ziff Capital Management (OZM) , Alan D. Schwartz of Guggenheim Partners and David Tepper of Appaloosa Management. Those members are prominent enough that they often grace the front page of the Wall Street Journal or the Page Six column in the New York Post.
Hurricane Sandy, however, proved a twist in the relationship between the financial services sector and the greater New York community, which continues to suffer from the distaste of bank bailouts and the aftermath of the financial crisis five years on.
It was a reminder of Wall Street's status as an employer in the New York region and a deep-pocketed contributor to charitable efforts.
The Robin Hood Foundation's response to the storm was the genesis of quick action among the organization's management and its Board of Directors. Less than a week after the storm, the organization had raised over $10 million in contributions and disbursed $3 million to immediate relief efforts among 75 organizations in New York, New Jersey and Connecticut.
Those efforts included Island Harvest, a hunger relief organization on Long Island, Project Hospitality, a response effort on Staten Island and funding to the Affordable Housing Alliance in New Jersey.
Just over a month after the storm, board members Harvey Weinstein, John Sykes and James Dolan organized the 12-12-12Concert for Sandy Relief that raised $51 million from 275,000 donors in 50 states and 90 countries.
David Saltzman, executive director of the Robin Hood foundation said in a Friday telephone interview that the organization's Sandy efforts were dictated by its involvement with the community and previous times of crisis such as the September 11th terrorist attacks on the World Trade Center.
Getting the first $3 million in contributions into the community meant distributing food, clothing and blankets to those who were most at risk. It also meant trying to position for longer-term relief efforts. Some funds were used to bring in a fuel tanker to New York to keep emergency vehicles in motion as gas shortages began to emerge.
The foundation also quickly reactivated its Robin Hood Relief Fund, a giving program that had been set up in the aftermath of September 11th. Victoria Bjorklund of law firm Simpson Thacher & Bartlett and Dirk Ziff of Ziff Brothers headed the reinstatement of the Robin Hood Relief Fund. For Ziff, it meant a return to Robin Hood.
"We were able to get boots on the ground quickly," Saltzman said of the relief fund. He also said that board members played a crucial role in expanding the organization's efforts beyond New York City.
David Tepper, the head of hedge fund Appaloosa Management, advocated a focus on New Jersey, which had taken much of the storm's worst damage. Tepper, whose fund is headquartered in Short Hills, N.J., was able to help organize Robin Hood's relief push in the state, according to Saltzman.
Bjorklund made a similar impact in organizing Robin Hood's relief work in Long Island.
In total, roughly 62% of the aid Robin Hood contributed to Sandy relief went outside of New York City, the organization's traditional point of focus.
"From the Robin Hood perspective, we feel fortunate we have generous donors from Wall Street and all sorts of other industries," Saltzman said. "What we saw was people at their very best."
In total, the organization, through its Robin Hood Relief fund, received and granted $73 million in contributions to help the tri-state area recover from the storm.
-- Written by Antoine Gara in New York.
Wall Street, Hurricane Sandy, Hedge Funds