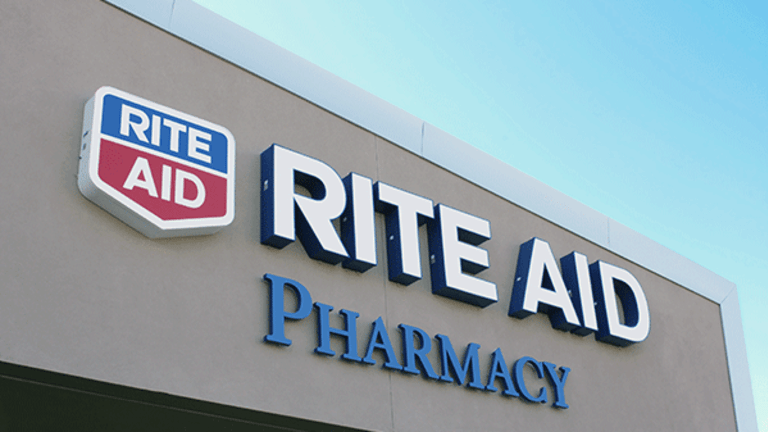 Rite Aid, Fred's Plunge on Report of FTC Lawsuit
The FTC has worried that Fred's can't replace the competition lost by elimination of Rite Aid from the drugstore scene.
The FTC has worried that Fred's can't replace the competition lost by elimination of Rite Aid from the drugstore scene.
Shares of Rite Aid Corp.  (RAD) - Get Report and Fred's Inc.  are falling sharply on a new report that the Federal Trade Commission is preparing to file a lawsuit seeking to block Walgreen's $15 billion purchase of Rite Aid.  Walgreens Boots Alliance Inc. (WBA) - Get Report shares also had fallen slightly.
To address antitrust concerns, Walgreens has offered to sell as many as 1,200 Rite Aid stores to Fred's. But the FTC, burned previously by retail merger divestitures that didn't work out, is concerned that Fred's doesn't have the market presence or financial strength to replace the competition that would be lost with the removal of Rite Aid from the pharmacy chain sector. TheStreet on June 6 reported that Rite Aid and Walgreens have acknowledged the deal's long odds and a report by Capitol Forum Friday reiterates the FTC's concerns.
Rite Aid shares were down 15%, or 52 cents, to $3 by Friday's close. Walgreens dropped 48 cents to $80.99 and Fred's was down 0.5%, or 6 cents, to $11.28.
Walgreens has given the FTC until July 7 to reach a decision on their pending merger, after which the companies are free to merge unless the commission files a lawsuit challenging the deal before that date.
Walgreens agreed to acquire Rite Aid for about $9.7 billion back in October 2015. In January Walgreens and Rite Aid cut the price after it became apparent the FTC would require way more stores to be divested for antitrust approval than the companies originally expected. The new agreement obligates Walgreens to divest up to 1,200 Rite Aid stores and certain additional related assets if required for FTC approval. The original merger agreement capped Walgreens' divestiture obligation at 1,000 stores.
If the FTC approves the merger conditioned upon a sale of stores to Fred's, the exact per share of Walgreen's offer will be determined based on the number of required store divestitures. If 1,000 stores or fewer are required for divestiture, Rite Aid shareholders will receive $7 per share. They will get $6.50 per share if 1,200 stores are required for divestiture. If the required divestitures fall between 1,000 and 1,200 stores, the per share price will be set according to pro-rata adjustment.
 A big issue for the FTC has been whether Fred's will be strong enough to operate the huge number of stores it would be acquiring. If 1,200 outlets are ordered spun off that would be be nearly twice Fred's current 650-store footprint, which is mainly in small and mid-size towns across southeastern states. The purchase would give Fred's a larger footprint in urban areas, which Walgreens has contended would build it up as a viable competitor to a combine Walgreens-Rite Aid or even Woonsocket, R.I.-based pharmacy giant CVS Health (CVS)
.