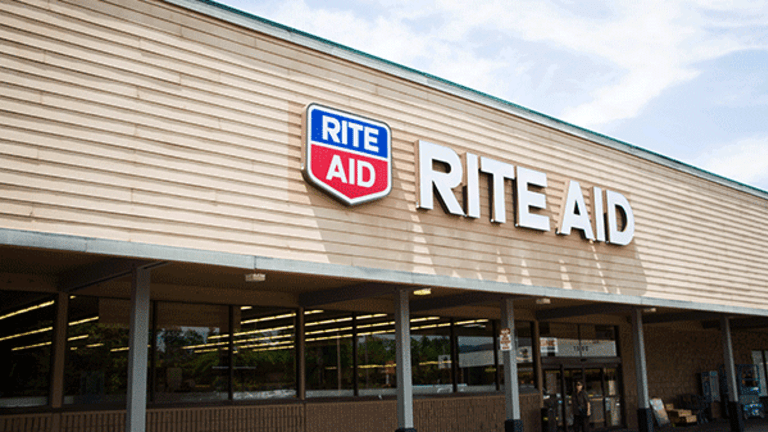 Rite Aid Takes a Beating After Report of Walgreens Deal Fears
Rite Aid shares fell in dramatic fashion on Friday.
Rite Aid (RAD) - Get Rite Aid Corporation Report  shares were halted after falling 18% on reports that the FTC will not approve Walgreens Boots Alliance's (WBA) - Get Walgreens Boots Alliance Inc Report acquisition of the company, even after the two sides promised store divestitures to Fred's Inc.undefined .
Trading in Rite Aid resumed a few minutes after it was halted. Its shares were halted at $8.09, after hitting a low of $7.22 per share. Rite Aid ended Friday down about 13% at $7.46 per share.
Walgreens' shares finished Friday trading at $81.72, down about 2%. 
Walgreens agreed to buy Rite Aid for approximately $17.2 billion back in October 2015 in a deal that comprises of $9.5 billion, or $9.00 per share, in cash and $7.7 billion in debt.
Per Jim Cramer's Action Alerts Plus, which owns Walgreens, investor sentiment on the Walgreens and Rite Aid deal was hopeful that the deal could pass antitrust muster.
"Unsurprisingly, shares are reacting to the downside on the report as there had been growing sentiment across the investment landscape that the merger was nearing approval," Cramer and Jack Mohr wrote. "Increased optimism has been due in large part to recent reports citing sources close to the review process who noted that an approval was all but a sure thing."
Cramer noted that his sentiment on Walgreens' stock doesn't change based on the news. Cramer has an $80 price target on the stock.
According to people familiar with the matter, the report says, "[WBA's] plan to win U.S. antitrust clearance for its acquisition of [RAD] hasn't satisfied officials at the Federal Trade Commission. ... With just a week left before the companies' deadline to complete the deal, FTC lawyers aren't sold on Walgreens' proposal to sell 865 drugstores to Fred's Inc. to get approval to take over Rite Aid."
The Federal Trade Commission, though, investigated the deal over antitrust concerns. In response, Walgreens announced that it would divest 865 Rite Aid stores to Fred's Pharmacy undefinedfor $950 million in cash. The deal was an attempt to pass antitrust muster with the federal government.
CEO Stefano Pessina said during Walgreens' recent fourth quarter earnings call that the company expects the acquisition of Rite Aid to close in the first half of 2017. The company didn't provide much further detail on these deals.