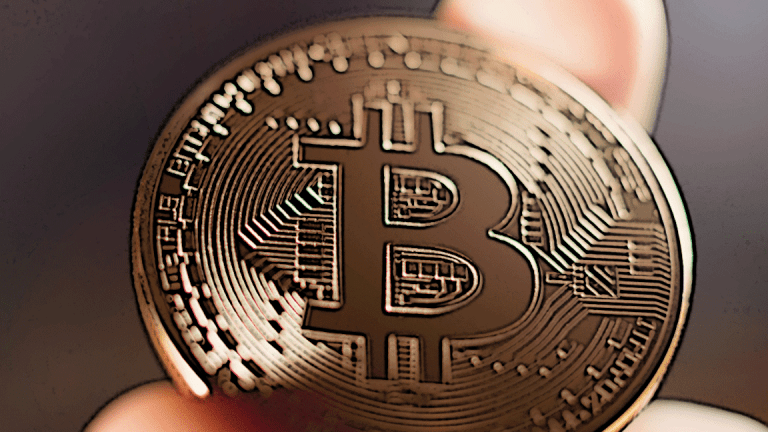 Riot Blockchain's Huge Run-Up Is Reminiscent of the Dot.com Bubble
Just a few months ago, Riot Blockchain was a struggling micro-cap biotech firm that had no connection to Bitcoin. Since it changed its name and invested in a cryptocurrency exchange, though, its stock has risen more than seven times, including a lift of 11% on Friday alone.
The question of how much Bitcoin itself has in common with stock, commodity and real-estate bubbles is quite complicated, given that the cryptocurrency's massive run-up (with all its bubble-like features) has strengthened its public standing as a store of value.
Less complicated, however, is the question of how much a lot of the peripheral activity taking place in the cryptocurrency world resembles the sketchier behavior seen during, say, the dot-com/telecom bubble. The arrival of dozens of smaller cryptocurrencies with little-to-no public acceptance as either stores of value or means of payment is a good case in point. So, too, is the flurry of initial coin offerings (ICOs) that merely provide buyers with "tokens" that can be used on digital goods and services that the company behind the offering provides, and the mushrooming of crypto pump-and-dump schemes and fly-by-night Bitcoin exchanges.
This column has been updated from Dec. 12 to note Riot's latest price movements, along with its TessPay's subsidiaries plans for a reverse merger.
Then there's the case of Riot Blockchain Inc. (RIOT) - Get Riot Blockchain Inc Report , a company that declares itself to be "disrupting the future of transactions" and a "first mover on the NASDAQ focused on blockchain technology." As Bitcoin has blasted off this fall, Riot has gone along for the ride: Its shares are up over 600% since early September, and have risen about 250% since mid-November. On Friday morning, shares were up over 11% to close to $28.
The funny thing is, until a few months ago Riot had nothing at all to do with Bitcoin or blockchain technologies. The company was a struggling micro-cap biotech firm named Bioptix Inc. -- one that had seen layoffs in January and a CEO change in April, and was trying to commercialize medical diagnostics instruments and IP related to a technology called Enhanced Surface Plasmon Resonance (eSPR).
Then, on Oct. 4, Bioptix announced it's changing its name to Riot Blockchain and disclosed a "strategic investment" -- later said to be a 12% stake obtained for $3 million -- in Canadian cryptocurrency exchange Coinsquare. In comments made to Bloomberg around that time, then-CEO Michael Beegley said the company would sell its remaining medical IP to a private diagnostics firm for an up-front payment plus royalties that could be worth up to $2.5 million. But press releases issued since then state Riot "continues to maintain its existing Bioptix business segment."
In its Q3 10-Q filing, Riot valued its "other long term assets," described as patents and goodwill, at $899,319. Between its patents, the $3 million Coinsquare stake, $13.1 million in cash and $310,000 in other assets, Riot's total assets at the end of September were equal to a small fraction of its current $100 million-plus market cap.
Coinsquare, it should be noted, is currently ranked #72 by Coinmarketcap.com in its listing of the top cryptocurrency exchanges based on recent trading volume. As of the time of this article, Coinsquare had seen just $7.1 million in volume over the prior 24 hours. For comparison, the top 7 exchanges had each seen over $1 billion in volume.
Since making its name change official, Riot has taken a 52% stake in TessPay, a Canadian firm said to have "a team of seven engaged in developing a blockchain-based payment service for wholesale telecom carriers." For now, TessPay's web presence is pretty bare-bones: Many of the links on its website don't work, including the ones meant for its Twitter and Facebook pages. A Twitter account started in November under the handle @tesspay currently has no published tweets.
On Dec. 11, Riot announced that TessPay is engaging in a reverse merger with Cresval Capital, a Canadian firm that trades on the TSX Venture Exchange and claims to be exploring "large-scale" mineral claims in British Columbia. TessPay CEO Jeff Mason says the move was done to "provides us access to traditional capital markets." It should be noted that Cresval's last recorded trade on the TSX Venture Exchange prior to the TessPay deal happened on Nov. 21, and involved a price of $0.05.
Riot has also taken a stake in Verady, an Atlanta-based company that was founded in 2016 and is said to have recently launched a "decentralized network of financial reporting and accounting tools" for the cryptocurrency community that's called VeraNet. Verady's website includes a VeraNet roadmap that among other things calls for an "initial token offering" and the introduction of Ethereum auditing services in early 2018, but there's no mention of current customers.
Both of Verady's co-founders, CEO Kell Canty and CTO Nathan Eppinger, are (according to their LinkedIn pages) veterans of a Bitcoin regulatory/compliance solutions startup called Coinpliance. Coinpliance's web site states the company has "shutdown our current commerical offerings."
In addition to its investments, Riot has sought to burnish its blockchain credentials by buying 1,200 Bitcoin mining machines from leading Bitcoin ASIC/hardware developer Bitmain. In tandem with this announcement, Riot disclosed it had named President John O'Rourke its new chairman and CEO.
Of note: Riot is based out of Colorado, and to a large degree Bitcoin mining is now handled by big mining operations in overseas locales with low electricity costs, such as China, Russia and Iceland. Also of note: O'Rourke is pulling double duty as the "managing member" of ATG Capital LLC, a Florida-based investment fund said to focus on small and mid-cap growth firms. Earlier this year, ATG was listed as one of several plaintiffs in a lawsuit against a John McAfee-backed cybersecurity company (MGT Capital) related to a bridge loan made to MTG.
Regardless of how upbeat one is about Bitcoin, or for that matter the broader application of blockchain technologies to facilitate commercial transactions and records-keeping, stories such as Riot Blockchain's serve as a reminder of how much a lot of the activity currently surrounding cryptocurrencies has in common with an era when a small-cap company could be trusted to see its shares pop upon adding ".com" to the end of its name or announcing investments in "promising" Internet startups.
More of What's Trending on TheStreet: