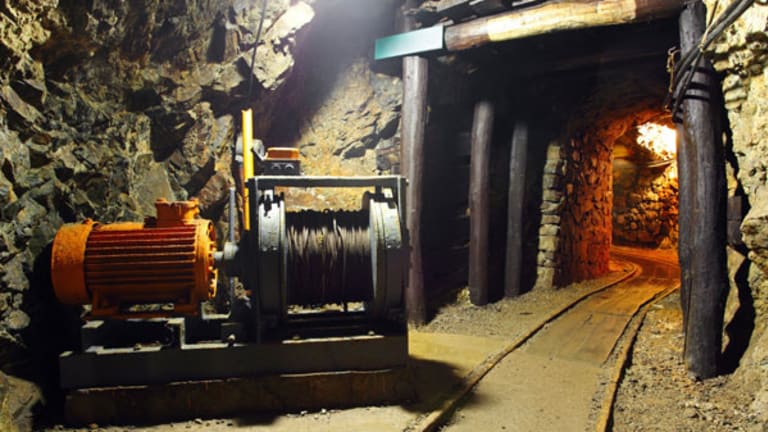 Rio Tinto Plans to Slash 14,000 Jobs
The mining company said it plans to reduce spending by $5 billion as commodity prices have fallen sharply.
Updated from 3:48 a.m. EST
Rio Tinto
(RTP) - Get Report
, one of the world's biggest mining companies, plans to cut 14,000 jobs and reduce capital expenditures to $4 billion from $9 billion in 2009 as the global economic downturn has caused sharp falls in commodity prices.
The company said its 2008 dividend will remain at the 2007 level of $1.36.
Rio Tinto said in a press release Wednesday it's committed to reduce operating costs by at least $2.5 billion a year in 2010, and has expanded its "scope of assets targeted for divestment."
Rio Tinto said it will try to sell "significant assets" that were not previously listed for sale.
The company also said it plans to reduce further net debt by $10 billion by the end of 2009, after having reduced it by $3.2 billion in the quarter ended Oct. 31.
"Given the difficult and uncertain economic conditions, and the unprecedented rate of deterioration of our markets, our imperative is to maximize cash generation and pay down debt, said CEO Tom Albanese. "We have undertaken a thorough review of all our operations and are executing a range of actions."
Albanese said these decisions will make the company "well positioned when the recovery comes."
At the end of November,
BHP Billiton
(BHP) - Get Report
abandoned its offer to acquire rival Rio Tinto.
Other mining companies would likely take similar measures in response to reduced demand, said John Meyer, an analyst at Fairfax IS investment bank in London. The booming demand in recent years led to expansion and job growth for many mining companies that is no longer sustainable, he said.
"The scale of the cuts looks dramatic but we would expect to see this across the industry," he said. "Companies have expanded in recent years in response to high metals prices, but that's over now. With the recent severe falls in demand, and the recent (economic) climate, we can see mining companies pulling back markedly."
Rio Tinto spokesman Ian Head said there were no details yet on where, when or how the staff cuts would come.
"We're working our way through the implications of this," Head said. "We don't expect to know more until sometime in the first quarter of next year."
Rio Tinto has offices in 40 countries, with most of its employees in Australia and North America, as well as significant operations in South America and southern Africa. It employs 97,000 people directly in addition to 15,000 contractors, or people on short-term contracts. The job cuts will mostly be on the contractor side, where 8,500 positions will be eliminated.
The world's second-largest aluminum producer stressed it remains committed to its strategy of finding, developing and operating large, long life, low cost mining assets.
The company currently expects its global iron ore production and shipments for fiscal 2009 to be around 200 million metric tons (220.46 million tons). Aluminum production is forecast at 200,000 tons (224,000 tons) and copper production at 830,000 tons (929,600 tons).
Rio Tinto is counting on the further industrialization of countries such as China and India to support higher levels of demand for metals and minerals.
In London, Rio shares rose 11.5%.
Copyright 2008 TheStreet.com Inc. All rights reserved. This material may not be published, broadcast, rewritten, or redistributed. AP contributed to this report.