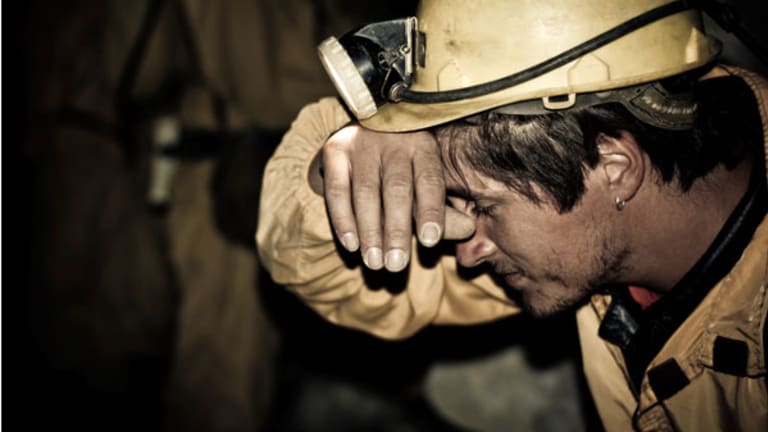 Rio Tinto-China Spy Plot Thickens
Tensions flare between China and its raw materials suppliers as Beijing indicts a group of Rio Tinto employees for industrial espionage.
BEIJING (TheStreet) -- The Chinese government has indicted four employees of the Australian mining giant Rio Tinto (RTP) - Get Reinvent Technology Partners Class A Report under charges of bribery and industrial espionage.
The four Rio executives were originally arrested last July at the height of tense negotiations between the Chinese steel industry, by far the world's largest, and the three big mining concerns who source most of that industry's iron ore needs.
Each year, China and those three miners -- Rio Tinto,
BHP Billiton
(BHP) - Get BHP Group Ltd. Report
and
Vale
-- negotiate a contract and a price under which ore is sold to China's mills and foundries for the following 12 months. Typically, a deal is usually struck each April, though last year's agreement were delayed by heated bickering.
Indeed, talks between the various parties have evolved -- or devolved -- into a kind of miniature regional commercial Cold War. In last year's episode, amid the worst part of the bear market and recession, China pressured the miners for deep price cuts -- much deeper than those accepted by steelmakers in Japan and Korea.
Now, with contract negotiations again heating up, China has at last gone public with the indictments, although no trial date has yet been set. The government has accused the four men of spying on its steel industry for six years, paying bribes to various mill executives in China in exchange for insider information that Rio would then (allegedly) use to keep iron ore prices artificially high.
One of the accused, an Australian citizen named Stern Hu, was Rio's chief iron-ore negotiator. The other three employees were on his staff.
Meanwhile, price negotiations continue. The conventional wisdom has it that the miners want a 40% increase, while China will attempt to haggle for a 20% reduction.
A bit of leverage appears to have passed into the hands of the ore extractors: Recent credit tightening by Chinese banking officials looks to have led to dropoff in iron-ore imports by the People's Republic. The latest figures indicate that China bought 25% less ore in January than it did in December (which, to be fair, was a record month, with the country importing more iron ore than any other four-week period in its history).
Almost counter-intuitively, China, since the recession began, has become a ferocious consumer of iron ore and other raw materials. Its stimulus packages -- and easy credit -- have created a boom in construction and industrial production. And low, recession-induced commodities prices early last year caused China to go on a discount shopping spree, stockpiling base materials on the cheap.
Miners to a large degree have thus grown dependent on China for the strength of their businesses, as evinced by
BHP Billiton's latest earnings report, released Wednesday
.
On the other hand, China, with relatively few natural resources of its own for a country of such immense landmass, must rely on base metals from such places as Australia, Canada, the U.S. and, increasingly, South America.
Add in a financial meltdown and global recession that frayed nerves in boardrooms around the globe, and you have a recipe for a fraught iron-ore landscape.
The anxiety last year was heightened even more after a deal collapsed between Rio Tinto and Chinalco, the huge state-owned Chinese aluminum company. Chinalco would have bailed out the then-debt-ridden Rio with a much-needed equity infusion. But partly because of homegrown political angst over foreign ownership, Rio spiked the arrangement and instead agreed to form a joint venture with its native rival BHP Billiton.
Under this deal, the two miners would combine their iron-ore properties in Western Australia, saving on operational costs. But China, of course, saw the joint venture as a way for Rio and BHP to control iron ore pricing, and has led a global push to question the tie-up on antitrust grounds.
Several weeks after Rio turned down Chinalco, the company's employees were detained in China. They've been under arrest ever since.
-- Written by Scott Eden in New York
RELATED STORIES:
>>BHP: Emerging Markets Are Where It's At
>>Metals & Mining Winners: Rio, Freeport
>>Rio-BHP Iron Ore Deal Gets Heat from EU
Scott Eden has covered business -- both large and small -- for more than a decade. Prior to joining TheStreet.com, he worked as a features reporter for Dealmaker and Trader Monthly magazines. Before that, he wrote for the Chicago Reader, that city's weekly paper. Early in his career, he was a staff reporter at the Dow Jones News Service. His reporting has appeared in The Wall Street Journal, Men's Journal, the St. Petersburg (Fla.) Times, and the Believer magazine, among other publications. He's also the author of Touchdown Jesus (Simon & Schuster, 2005), a nonfiction book about Notre Dame football fans and the business and politics of big-time college sports. He has degrees from Notre Dame and Washington University in St. Louis.