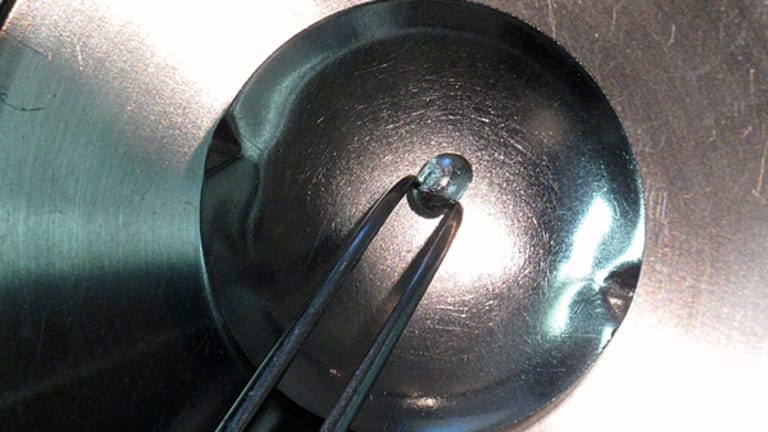 Rio Tinto, BHP Kill Ore Marketing Plan
Under pressure from customers around the world, iron-ore giants Rio Tinto and BHP amend a controversial joint venture.
NEW YORK (TheStreet) -- Australian mining giants Rio Tinto (RTP) - Get Reinvent Technology Partners Class A Report and BHP Billiton (BHP) - Get BHP Group Ltd. Report, under pressure from their steel-mill customers around the world, have changed up the joint venture they formed in June to extract and sell iron ore from their mines in Western Australia.
Under the original plan, 15% of the ore produced by those mines would have been marketed and sold by the joint venture, independent of both Rio and BHP. But steelmakers, already uncomfortable with the status quo of having to buy their most important ingredient from only three companies (the third being Brazil's
Vale
), have criticized the notion of two of those giants pooling their ore assets.
In Europe, steel companies have pushed the European Union to investigate the venture for antitrust violations. Chinese officials have publicly wondered whether the venture would eventually fall apart over the same kinds of monopoly concerns.
In what appears to be a concession to these critics on the part of Rio and BHP, the companies have scuttled the joint venture's co-marketing plan, agreeing to handle the selling of the ore separately.
In a press release, Rio and BHP said they believe the change "will clarify the nature of the JV for customers and emphasize its focus on realizing significant production and development synergies."
On the surface, the two companies struck up the joint venture in order to save billions amid the global recession. But the plan also allowed Rio a way out of an earlier deal with the huge Chinese state-run aluminum concern,
Chinalco
, which would have bought a stake in Rio -- an equity infusion that the debt-ridden miner at one time desperately needed. But as market conditions, and commodities prices, have recovered, Rio's financial standing improved enough that it no longer needed Chinalco's money.
Rio (based in London and Sydney) and BHP (based in Melbourne), though heated rivals on par with the Yankees-Red Sox, have also been natural and occasional dance partners. Before the financial collapse, BHP, of course, tried to take over Rio in what would have been one of the largest corporate combinations of all time.
New York-listed American depositary receipts of Rio Tinto were trading Thursday morning at $193.29, down 12 cents.
BHP issues slipped 7 cents to $71.13 and Vale lost 2 cents to $26.65.
On Wednesday, Rio Tinto issued a sanguine third-quarter
. Said Rio's chief in a prepared statement, "Our businesses continue to operate efficiently: iron ore production set a new quarterly record, with shipments to China maintained at a high level."
That view was born out by recent data out of China itself, the world's biggest steel-producing nation, which indicated that Chinese ore imports in September increased by nearly 65% from a year ago, surpassing many experts' expectations.
Last month, China effectively
capitulated to the three ore biggies
in a tense series of price negotiations. The Chinese steel industry had wanted to use its global clout to wrest a 45% cut in prices from a year ago, but reportedly steel manufacturers there have since agreed to go with the rest of the world, take a 33% reduction, and focus on negotiating next year's contracts with the ore producers.
-- Written by Scott Eden in New York
Follow TheStreet.com on
and become a fan on
Scott Eden has covered business -- both large and small -- for more than a decade. Prior to joining TheStreet.com, he worked as a features reporter for Dealmaker and Trader Monthly magazines. Before that, he wrote for the Chicago Reader, that city's weekly paper. Early in his career, he was a staff reporter at the Dow Jones News Service. His reporting has appeared in The Wall Street Journal, Men's Journal, the St. Petersburg (Fla.) Times, and the Believer magazine, among other publications. He's also the author of Touchdown Jesus (Simon & Schuster, 2005), a nonfiction book about Notre Dame football fans and the business and politics of big-time college sports. He has degrees from Notre Dame and Washington University in St. Louis.