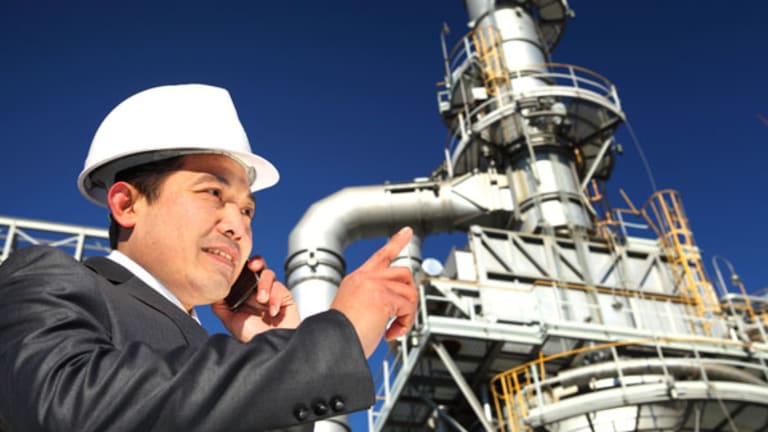 Rino Still Halted; No Word From Company
Trading in shares of Rino International, a China-based maker of clean technology equipment, was halted on Wednesday after the company canceled a conference call late Tuesday.
NEW YORK (
) -- Shares of
Rino International
(RINO)
remained halted just prior to Wednesday's closing bell with no word from the company's management.
The China-based maker of clean technology equipment for steel manufacturers
postponed a planned conference call to discuss its third-quarter results late Tuesday
without offering any details as to why, prompting already nervous investors to continue selling the name this morning.
Prior to the halt, which occurred just before noon, the shares were down 15% to $6.07 on volume of 4.1 million, more than four times the three-month trailing daily average churn. The stock has dropped in six straight sessions as the market has dealt with questions about Rino's business practices by research firm
, which initiated coverage of the stock with a strong sell and $2.45 price target on Nov. 10. Muddy Waters acknowledges in its report on Rino that it and its clients have a short position in the stock.
Rino itself announced plans to respond to Muddy Waters on Nov. 11, but has yet to do so.
"Rino takes its responsibilities to investors very seriously and has launched an internal review of Muddy Waters' allegations,"
the company said in its statement
. "Rino looks forward to providing investors with a timely and detailed response to the allegations upon completion of its internal review."
Global Hunter Securities placed its rating on Rino under review on Wednesday, citing the cancellation of the conference call, which it called "extremely unprofessional," and the company's overall lack of response to Muddy Waters, whose claims include that Rino's management team has diverted revenue away from the company.
"Prior to our initiation and following the recent fraud allegations, we have conducted thorough diligence and have accumulated a number of data points allowing us to initially become comfortable in the operating entity," Global Hunter said in its report. "We are however now put in a position where we would like to see the company defend itself before we extend ourselves any further."
The firm also stated the decision to cancel the conference call "makes us question their
RionNO's executive team ability to manage their capital markets responsibilities and will likely create a significant negative market response."
Global Hunter initiated coverage of RINO shares with a buy rating and a $20 price target on Sept. 27 but lowering its assessment to neutral on Nov. 2, citing increased competition and recent power shortages experienced by steel mills in China, RINO's customer base.
RINO's
third-quarter results
, issued on Monday, fell short of Wall Street expectations. The company reported a quarterly non-GAAP profit of $8.7 million, or 31 cents a share, on revenue of $52.7 million, while the average estimate of three analysts polled by
Thomson Reuters
was for earnings of 42 cents a share on revenue of $55.5 million in the September period.
Global Hunter also suspended its estimates for Rino's financial performance in its note on Wednesday while characterizing the third-quarter numbers as "weak but in line" with its own lowered estimates.
The firm made a point of noting Rino's deteriorating financial position in its comments, saying its balance of cash and restricted cash had dwindled down to $56.1 million and $9.5 million respectively as of the end of the third quarter from $134.5 million at the end of fiscal 2009.
The culprit was a "huge sequential jump" in accounts receivable to more than $40 million, Global Hunter said, adding that: "Since the beginning of the year, Rino lost $67.6 million in operating cash flows due to growing accounts receivable, advances for inventory purchases made in Q1 of this year in order to lock in steel price and costs and estimated earnings in excess of billings on uncompleted contracts."
Retail investors in Rino no doubt share Global Hunter's frustration with the company's lack of response, and judging by how far the shares have fallen -- more than 50% since Nov. 10 -- many would seem to believe the silence is actually speaking volumes.
--
Written by Michael Baron in New York.
>To contact the writer of this article, click here:
Michael Baron
.
>To submit a news tip, send an email to:
Disclosure: TheStreet's editorial policy prohibits staff editors, reporters and analysts from holding positions in any individual stocks.