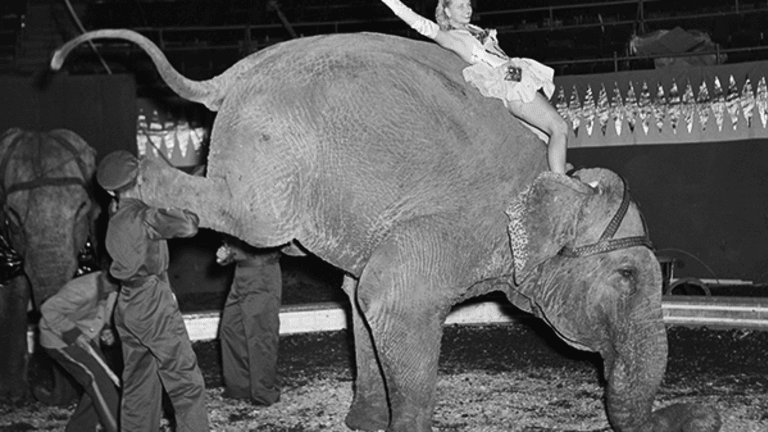 Ringling Brothers Set for Final Curtain Call
Cirque du Soleil and Disney's parks are going strong.
Ringling Brothers and Barnum & Bailey Circus turned 146 years old on Friday and on Sunday performers and patrons will enjoy the final performance of the historic attraction.
Tickets are still available for the show in Uniondale, N.Y. and the performance will be streamed on Facebook Live.
Ringling Brothers premiered in 1871 as a stand-alone circus run by the five brothers of the Ringling family. They consolidated fellow circus operator Yankee Robinson Circus in and opened a joint show on May 19, 1884. 
In 1919, Ringling Brothers would merge with its main competition, Barnum and Bailey's Circus, founded by James Anthony Bailey.
Family-owned Feld Entertainment, which said it's the world's largest producer of live family entertainment, announced in a statement that the decision last year to phase out elephants in its productions created "a decline in ticket sales greater than could have been anticipated." The elephants performed their last show on May 1, ahead of their expected 2018 retirement.
Ringling Brothers had a long history with elephants. In 1881, P.T. Barnum purchased the famous Jumbo, a male African bush elephant, for $10,000, now about $250,000.
The company's current roster of shows also includes Marvel Universe LIVE! and Disney on Ice.
The demise of Ringling Brothers is a major coup for animal rights groups such as People for the Ethical Treatment of Animals (PETA).
SeaWorld Entertainment (SEAS) is probably the most famous example of a company that's suffered from animal cruelty allegations.
Shares of the theme park operator, backed by Blackstone (BX) , have never recovered from the release of the 2013 documentary Blackfish, which argued that orca captivity is inhumane and dangerous to the human trainers of the orcas. SeaWorld announced in March that it would phase out its orca captivity, breeding and live shows.
As for Ringling Brothers, the troubles for the company have been a long time in the making.
In late 2011, the U.S. Department of Agriculture announced that Feld Entertainment, the circus' parent, had agreed to a $270,000 fine for alleged violations of the Animal Welfare Act, a 1966 law which includes animal exhibitions under its purview. The USDA said in a statement that the fine was "the largest assessed against an exhibitor under the AWA."
Feld, which denied any wrongdoing in its settlement, had previously faced a USDA investigation after Roy Horn, of the Feld-produced Siegfried & Roy tiger entertainment show, was mauled by a tiger.
The Feld family paid $8 million for Ringling Brothers in 1967, taking it public in 1969. Mattel (MAT) paid $50 million for the circus two years later, while the Feld family continued to operate the circus and eventually repurchased it for about $23 million in 1982.
The toymaker still does business with Feld. In 2013, for example, the two companies announced a five-year extension of their licensing agreements between Mattel's Hot Wheels toy cars and Feld's Monster Jam motor sports show.
Ringling Brothers rival Big Apple Circus, a nonprofit which stopped using elephants in 2000, filed for bankruptcy late last year. TheStreet sister site The Deal reported that the company had hoped to emerge from Chapter 11 as an operating circus company but ultimately decided to shutter the business and sell assets.
Editors' pick: Originally published May 19.
This article was written by a staff member of TheStreet.