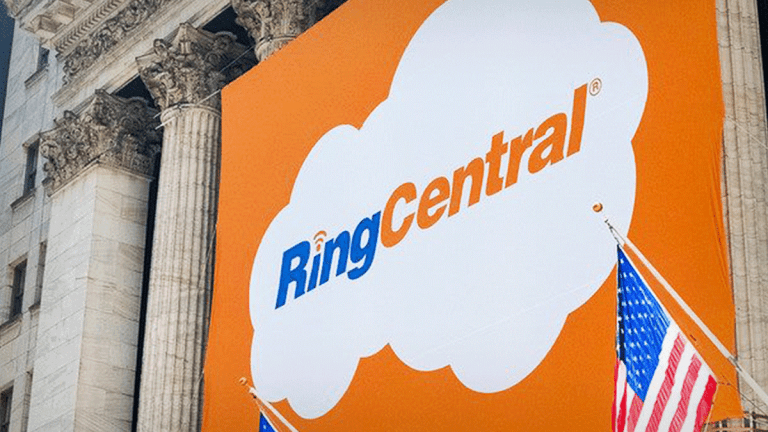 RingCentral Analysts and Investors Communicate Approval of Third-Quarter Report
The GAAP loss widens but the communications-solutions provider's adjusted earnings beat Wall Street estimates.
RingCentral (RNG) - Get Free Report shares rose Tuesday after the provider of communications solutions reported stronger-than-expected third-quarter results and received plaudits from a number of members of the analyst community.
Shares of the Belmont, Calif., company at last check were 0.5% higher at $158.38. They have traded on Tuesday as high as $171, up 8.5%.
After the market closed on Monday, RingCentral reported its third-quarter loss widened to 15 cents a share from 12 cents in the year-earlier quarter. Shares outstanding rose 4.2% to 83.3 million.
Third-quarter adjusted earnings were 22 cents a share vs. 19 cents. The latest figure exceeded the 19-cent estimate of analysts surveyed by FactSet.
Revenue was $233.4 million, up 34% from $173.8 million. The FactSet-derived consensus was $221.3 million.
At J.P. Morgan, analyst Sterling Auty affirmed the stock at overweight with a price target of $225.
Auty pointed to positives including an expanded partnership with AT&T (T) - Get Free Report and a third consecutive quarter in which subscription revenue grew by a third.
Oppenheimer analyst Brian Schwartz maintained the stock at outperform and raised his price target to $200 from $155. The analyst cited growth in key metrics including enterprise and mid-market annual recurring revenue.
"Negatively, fourth-quarter guidance implies a deceleration and down margins but is likely conservative given the third quarter's strengthening business trends," Schwartz wrote.
Morgan Stanley analysts stayed more conservative. Meta Marshall, James Faucette and Keith Weiss affirmed RingCentral at equal weight but raised their price target to $170 from $140.
In a report titled "Phones Are Ringing Off the Hook," the analysts noted that the stock has about doubled in 2019 to date. RingCentral "is receiving appropriate value for their leadership position and platform today," they wrote.
With competition in the sector growing, "we do not feel comfortable getting more positive right now," they said.
"We could turn more positive if meaningful traction with the Avaya (AVYA) - Get Free Report partnership were to come sooner than expected," they wrote. "The company is currently expecting nothing material in 2020."