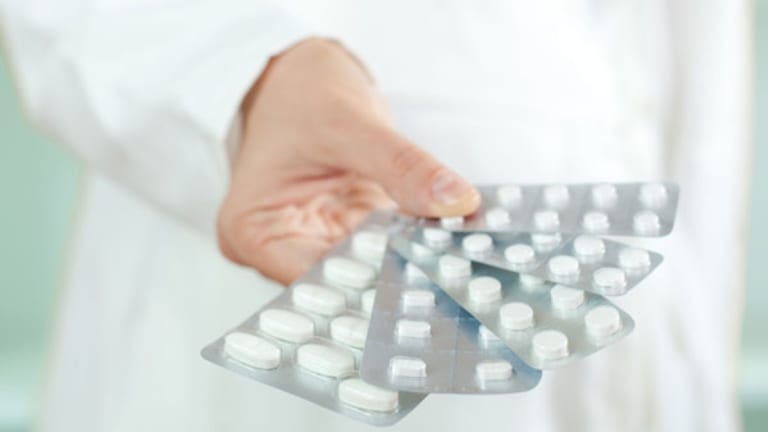 Rigel Pharma Surges on Drug Data
Study results of R788 as a treatment for rheumatoid arthritis show promise.
Rigel Pharmaceuticals
(RIGL)
shares skyrocketed Thursday after the company said that its experimental rheumatoid arthritis treatment was successful in a midstage trial.
The San Francisco-based company said its R788, a twice-daily oral treatment, showed statistically significant effects in rheumatoid arthritis that were similar at 100-mg and 150-mg doses. Rigel said the drug worked as early as one week after administration and was well-tolerated. It plans to initiate the next clinical trial for the drug as an RA treatment in 2008.
Shares added $8.40, or 105%, to $16.40 in recent trading Thursday.
According to a report by Thomas Weisel analyst Ian Somaiya, the results are similar to that of injected Enebrel, which is co-marketed by
Wyeth
( WYE) and
Amgen
(AMGN)
.
"Because of the B cell mediated pathway, we see possible expansion into psoriasis, NHL, lupus, and MS, following in Rituxan's footsteps," noted Somaiya in his report. "We expect R788 to be multibillion dollar franchise and expect a partner for Europe to be the next major driver for stock, in addition to Phase II data in lymphoma patients in 2008."
Rigel said the most common adverse events in the trial were dose-related reduction in white blood cell count, mild elevations of liver function tests and gastrointestinal side effects. Of the patients taking the 150-mg dose, 27.6% had to finish the study at a reduced dose. Low white blood cell count, diarrhea and upper GI side effects occurred in one in five of the patients at this dose.
The company will host a conference call at 12:30 p.m. EST to discuss the results.
Rigel's R788 is also in phase II trials for treatment of immune thrombocytopenic purpura and lymphoma.