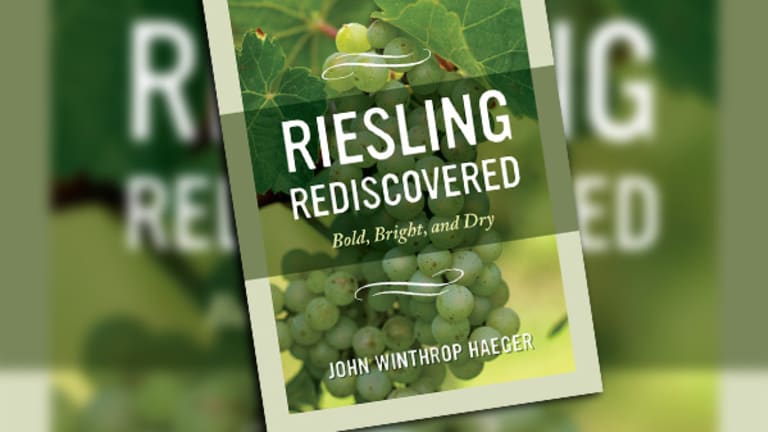 Riesling Is a Beautiful, Durable and Often Underestimated Wine
John Haeger is fascinated by Riesling, which has become dryer and more popular over the past decade.
John Haeger is fascinated by Riesling, which has become dryer and more popular over the past decade.
John Haeger sampled a handful of Rieslings as he was becoming engrossed in the world of wine, but it wasn't until a 1982 trip to Alsace that he had his epiphany about the grape. It was then that he paired a meal at the Michelin three-star restaurant Auberge de l'Ill in Illhausern with a bottle of Trimbach's 1979 Cuvée Frédéric Emile. "Riesling could be dry, I learned that day, and totally delicious," and it could be as worthy a companion to great food as white Burgundy, he writes in the introduction to his new book Riesling Rediscovered: Bold, Bright and Dry.
The book offers a detailed study of the grape and dozens of sites and producers in Alsace, Germany, Austria, Italy and North America that make excellent wines from it.
After he finished writing his second book on North American Pinot Noir in 2008, Haeger says, he thought that he needed to learn as much about a white grape variety as had learned about Pinot, because white wines are made very differently from reds. Haeger has lived in California since he was a graduate student at Berkeley, but he never developed an obsession with Chardonnay, which has become California's great white grape. Instead, he settled on Riesling, which like Pinot Noir, has an ability to reflect the precise site on which it is grown.
Haeger embarked on the project as Riesling was becoming less sweet and more popular. He doesn't particularly like sweet foods, he says, and thus did not share the historic German affinity for Rieslings with some residual sugar. But since the 1970s Germans have come to prefer dry wines, a stylistic change that Austrian and Australian producers followed.
Many American consumers still think of Riesling as sweet and therefore scorn it, though it was the fastest-growing varietal wine in the U.S. between 2006 and 2011 and has benefitted greatly from the advocacy of sommeliers like Paul Grieco who love its versatility and ability to pair with food.
Riesling Rediscovered
Having picked his grape, Haeger started traveling. He spent more than three years researching the book, he says, and made about a dozen trips to Europe, as well as spending considerable time in the Riesling-growing parts of North America. Along the way, he met winemaking luminaries, including Willi Bründlmayer of the wine-making family of that name and Michael Moosbrugger of Schloss Gobelsburg in Austria and Olivier Humbrecht of Zind-Humbrecht in Alsace, whom he says were particularly generous in sharing their knowledge and pointing him to academic experts on such topics as Riesling clones or the geology of various sites.
The result is a study that will become a standard work on Riesling, a grape whose disease resistance and ability to survive in the face of drought and extreme cold mean that it can be planted in sites where other grape varieties would not flourish. Haegar is a China scholar, and his book on Rielsing combines a scholarly rigor with an evident passion for his subject.
Haeger speaks highly of numerous producers, from Bründlmayer and Schloss Gobelsburg to Domaine Weinbach in Alsace, Clemens Busch in the Mosel, and Kuenhof in Alto Adige, Italy, whose wines are so popular in Italy that they're easier to find here, Haeger says. He is especially enthusiastic about the Rheinhessen region of Germany, where he says he was "blown away by the energy of the younger, 30-something generation," which includes producers such as BattenfeldSpanier in Hohen-Sülzen and Wittman in Westhofen bei Worms.
He also praises Chateau Ste. Michelle, the world's largest producer of Riesling and a leader in Washington state winemaking. "I have enormous respect for them," Haeger says. When their entry-level Columbia Valley dry Riesling is poured blind, he says, "It outperforms in ways that always stun the audience. They do an incredible job."
Haeger also takes a keen interest in Riesling in his home state of California, where the the amount of planted Riesling doubled between 2004 and 2011. Even since finishing work on the book almost a year ago, he has discovered several exciting dry Rieslings, he says, including examples from Balo Vineyards in Anderson Valley; STiRM Wine Co. and Precedent Wine in Salinas Valley; and Maiden Stoen on the Central Coast. Haeger's Riesling journey, which began in Alsace 35 years ago, continues much closer to home.