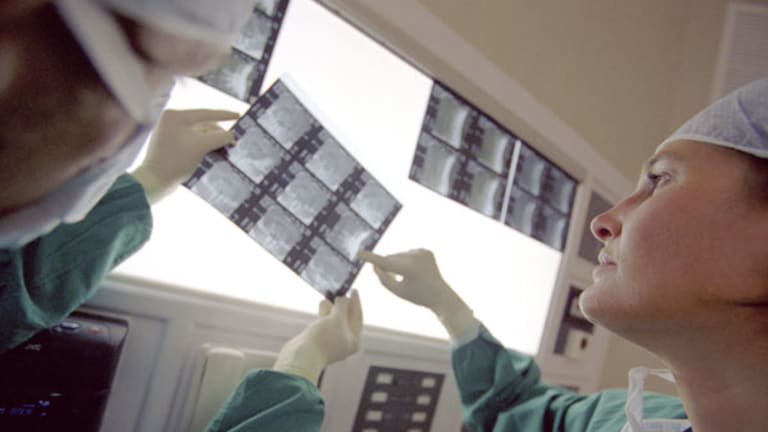 Revolving Door Hits WellCare
Some see worrisome signs in recent executive departures.
OKLAHOMA CITY -- A sweeping investigation of
WellCare
(WCG) - Get WellCare Health Plans, Inc. Report
could pose risks to both of the company's core businesses.
With Medicaid fraud officials involved in the probe -- and WellCare itself saying little -- experts have understandably assumed that government investigators are focused on WellCare's Medicaid business. That prospect looks worrisome enough, since WellCare ranks as a major Medicaid player that has long made most of its money providing health care coverage to the poor. But some evidence suggests that government authorities could be concentrating on WellCare's fast-growing Medicare business as well.
WellCare's stock keeps getting hammered in the meantime. After peaking above $125 earlier this month, the stock has lost more than 80% of its value since government officials swarmed the company's Tampa Bay headquarters -- even after a rally Wednesday.
Meanwhile, a full week after that raid took place, WellCare still has offered no real clues about the probe. The company failed to answer most questions for this story. Still, its regulatory filings say plenty.
Based on those documents, some feel, several former key executives now look like possible whistleblowers who possess both the knowledge and the motive to threaten the company's entire operations. Indeed, to some, WellCare's former Medicare Part D chief really stands out.
In 2002, the year that current management took control of the company, WellCare hired Heath Schiesser to become senior vice president of marketing and president of prescription drug sales. WellCare agreed to pay Schiesser $250,000 a year for his services. Within months, WellCare invested even more heavily in Schiesser -- showering him with nearly half a million shares of restricted stock -- in a move that signaled his importance to the company.
By the time WellCare came public in mid-2004, Schiesser's stock was worth almost $8 million and poised to surge in value over time.
Meanwhile, WellCare continued to reward Schiesser in other ways. In the summer of 2005, the company raised Schiesser's annual salary to $275,000 -- and made him eligible for big bonuses -- as it prepared to launch its Medicare Part D program.
In a clear accomplishment, WellCare soon emerged as one of only 10 companies approved to sell Medicare Part D plans nationwide. But WellCare, like many other Part D players, encountered setbacks from the start.
In January of 2006, just as Medicare Part D took off, WellCare found itself singled out for problems associated with its program.
"At first, on the phone, they claimed it took Medicare two weeks to confirm my eligibility," WellCare Part D policyholder Seth Kaplan told
The Pittsburgh Post-Gazette
right after the program's launch. "Then they said one computer system said I was enrolled, and another said I had not applied. Then they said I should pay for the prescription and wait to be reimbursed.
"I said I couldn't afford to do that."
Kaplan wound up charging his $191 prescription on a credit card, the newspaper reported, with Shiesser nevertheless insisting that WellCare "successfully filled thousands of prescriptions" on the day that Part D debuted.
Regardless of that rocky start, within months,
The Tampa Tribune
was ranking WellCare as the nation's fifth-largest Part D player - ahead of heavyweight insurers
Aetna
(AET)
and
Cigna
(CI) - Get Cigna Corporation Report
-- in an unexpected victory for the company. But WellCare continued to feel plenty of heat.
During a May 2006 hearing on Part D, in fact, California Rep. Pete Stark, an outspoken crusader against health care fraud, pounced on Schiesser in particular. Notably, Stark questioned the value of not only WellCare's Part D offerings but also the company's more lucrative Medicare Advantage plans.
For his part, Schiesser portrayed WellCare's Medicare Advantage plans as popular -- saying that they are favored by many over traditional Medicare coverage -- and expressed a strong commitment to the program. But Stark implied that such plans prove far more attractive to the companies that sell them than they do to the seniors who actually hold the policies.
"You're getting a 15% bonus -- over what fee-for-service is getting -- for arguably perhaps providing more limited benefits," Stark declared. "So it would be pretty tough to be in that racket and not make money."
With his comments, Stark had attacked the very program that is fueling much of WellCare's explosive growth. During the most recent quarter, for example, WellCare saw its Medicare Advantage membership surge by 72% -- growing at nearly five times the rate as the company's ever-expanding Medicaid business.
By then, however, Schiesser had long been stripped of his title. In June 2006, one month after his testimony before Congress, Schiesser fielded a letter from WellCare CEO Todd Farha informing him that he had been demoted to a part-time position with a salary of just $24,000 a year. Schiesser had pocketed almost $425,000 in salary and bonuses during his final year as a full-time executive at the company.
For a while, at least, WellCare retained a tight grip on Schiesser nonetheless. In addition to his meager salary, regulatory filings show, WellCare promised Schiesser a lump sum payment of $250,000 if he signed a "restrictive covenant agreement" stating that he would not "talk about or otherwise communicate to any third parties in a malicious, disparaging or defamatory manner regarding the company group." Schiesser in fact signed that document, which barred him from sharing company information for a year after his employment came to an end.
Meanwhile, two other key executives went on to vacate their posts. In late 2006, WellCare quietly disclosed that its longtime chief medical officer had resigned "to pursue other career opportunities." The following spring, WellCare revealed that the president of its huge Florida market had quit "to pursue other opportunities" as well.
Notably, the 8-K reports announcing those departures include no restrictive covenant agreements like the one that had effectively guaranteed Schiesser's silence for a year. Thus, unless their earlier contracts contained long-term restrictions, those two executives could have been free to talk at once.
By this summer, if Schiesser's own agreement expired a year after it was signed, he would have been able to speak out against the company as well. Contacted at home by
TheStreet.com
on Wednesday, Schiesser declined to discuss the situation beyond saying that he provides services "only on an advisory basis" to the company.
Certainly, experts feel, somebody blew the whistle. Otherwise, they say, the government would have lacked the strong evidence necessary to obtain search warrants and send hundreds of agents on an urgent raid of the company. Interestingly, they add, that raid occurred just days after a fire broke out in the room housing the company's main computer servers.
For its part, WellCare dismissed the blaze as "an isolated maintenance issue" and insisted that "no data was lost" in the process. At this point, however, WellCare critics have grown highly suspicious of the entire situation.
"Any time you have more than one top-level person departing 'to pursue other opportunities' in a single year, you have a company with serious internal problems," says Patrick Burns, a spokesman for Taxpayers Against Fraud. "When a 200-person team from the FBI and Medicare and Medicaid visit in an unannounced raid, it's pretty clear they think there is massive fraud and that destruction of evidence is a very serious risk."