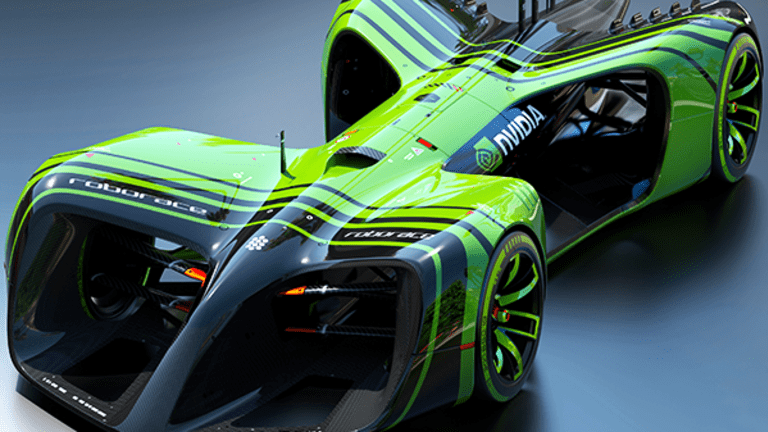 Nvidia's Lead Over AMD in High-End Graphics Chips Remains Strong
AMD's new flagship PC GPU is much more power-hungry than a rival Nvidia chip with similar performance. But Ethereum miners might indirectly give a boost to its cheaper sibling.
The specs that AMD Inc.  (AMD) - Get Advanced Micro Devices, Inc. Report disclosed two weeks ago for the first PC GPUs based on its new Vega architecture suggested that the chips would only put a minor dent into Nvidia Corp.'s (NVDA) - Get NVIDIA Corporation Report  dominance of the high-end gaming GPU space, where a big portion of the PC GPU market's gross margin dollars are earned. The first reviews of the chips, released on Monday, August 14 in tandem with the start of shipments, bode even better for Nvidia's ability to keep AMD at bay.
Nvidia is a holding in Jim Cramer's Action Alerts PLUS Charitable Trust Portfolio. Want to be alerted before Cramer buys or sells NVDA? Learn more now.
However, the less powerful of AMD's new chips could get an indirect boost from Ethereum miners. Not because the chip is great for mining, but because the price hikes seen for Nvidia's rival GPU due to miner demand make AMD's offering more compelling for gamers.
In a 15-game test, PC Gamer found that AMD's RX Vega 64 flagship gaming GPU slightly underperformed Nvidia's GeForce GTX 1080 GPU, which is based on the Pascal architecture launched in 2016 and like the Vega 64 carries a $499 graphics card MSRP. For 4K-resolution (3840x2160) games, the GTX 1080 turned in an average score of 47.3 frames per second (fps) to the Vega 64's 43.3. For 1440p (2560x1440) gameplay, the GTX 1080 averaged 77.1 fps to the Vega 64's 70.7. In addition, though AMD has touted the high minimum frame rates Vega GPUs deliver, the GTX 1080 had a small edge in that department as well.
AnandTech's testing was a little more charitable to the Vega 64: It often (though not always) beat the relatively costly Founders Edition version of the 1080 in 4K gaming tests, with the roles reversed at lower resolutions. Likewise, the chips traded blows in synthetic benchmark tests.
PC World, meanwhile, got its hands on the liquid-cooled version of the Vega 64, which sells for $699 as part of a "Radeon Pack" bundle that also features $300 worth of CPU and monitor discounts and (in some markets) two free games. With the product typically providing just a 5% to 6% performance gain relative to an air-cooled Vega 64 -- its performance is called "essentially GTX 1080-level" -- and the test unit suffering from a "buzzing coil whine" when games aren't being played, PC World isn't a fan.
Importantly, for both air and liquid-cooled Vega 64 cards, performance is only part of the story. As previously indicated by a disclosed max power draw (TDP) of 295 watts -- far more than the 1080's 180 watts -- the Vega 64 is very power-hungry. AnandTech found a test system running the air-cooled Vega 64 consumed 459 watts of power while playing Battlefield 1. That easily beat the 310 watts consumed by a 1080 test system, as well as the 379 watts consumed by a system running Nvidia's GTX 1080 Ti ($699 MSRP), whose as expected outperformed the Vega 64 in benchmarks.
And with higher power consumption comes higher system noise, since a graphics card's fans have to spin faster to dissipate heat. An air-cooled Vega 64 system tested by AnandTech produced 56.4 decibels of noise while playing Battlefield 1, while a 1080 system produced 49.4 decibels. Naturally, Vega's power and noise disadvantage relative to Pascal also stands to be a disadvantage in the notebook GPU market when the first notebook Vega parts arrive. Especially with Nvidia having rolled out its Max-Q platform for enabling thin-and-light notebooks with powerful GPUs.
Relative to the Vega 64, reviews were more positive for AMD's Vega 56 GPU, which sports a $399 graphics card MSRP. PC Gamer's 15-game test had the Vega 56 slightly outperforming Nvidia's GTX 1070 -- it has a $379 MSRP, but often sells for around $450 right now due to demand from Ethereum miners -- in 4K and 1440p benchmarks. AnandTech, on average, saw the Vega 56 outperform the Founders Edition version of the 1070 by 8% in its tests.
Don't miss these top stories on TheStreet:
The Once Hot Trend of Wearing Yoga Pants All Day Has Died
Goldman Sachs Wants People to Sell One of Apple's Key Suppliers
Nobody Is Estimating How Monstrous Tesla's Model 3 Will Become: Analyst
Warren Buffett Dumps GE Stake to Invest in a Lender With GE Roots
On the flip side, the Vega 56 is like its more powerful sibling pretty power-hungry: AnandTech reports a Vega 56 system consumed 368 watts while playing Battlefield 1, 78 watts more than a 1070 test system. Still, until the 1070 is priced near its MSRP again, gamers on a budget will likely give the Vega 56 a close look.
PC Gamer does point out that both Vega GPUs could fare better in future tests if game developers start optimizing their titles for some of Vega's unique features, such as its support for a new type of shader and ability to support much larger datasets than what can be handled by a graphics card's memory. It's also possible the Vega 56 could become popular for Ethereum mining if mining software is optimized for it. But those are just theoreticals for now.
And Nvidia, whose total GPU R&D budget appears to be much larger than AMD's, certainly won't be standing still. PC GPUs based on Nvidia's next-gen Volta architecture, which first arrived in the data center via Nvidia's Tesla V100 server GPU, are expected in early 2018. By contrast, chips based on AMD's Navi architecture, the successor to Vega, aren't expected until late 2018 or early 2019.
In the interim, Nvidia arguably has some leeway to cut the GTX 1080's price to better compete against the Vega 64. And should supply catch up with demand, the same would hold for the 1070.
This is partly made possible by the fact that Nvidia can still sell gamers demanding top-of-the-line performance on its $699 1080 Ti and $1,199 Titan Xp GPUs. And partly because the 1080 and 1070 have chip die sizes of just 314 millimeters squared. That's much smaller than both the 1080 Ti/Titan Xp's 471 millimeters and the Vega 64/56's 486 millimeters, and should spell lower manufacturing costs.
In the short-term, AMD's Vega 56 should find an audience with budget-conscious gamers unhappy with the premiums Ethereum miners have led GTX 1070 graphics cards to sport. But the Vega 64 faces a more uphill battle, especially among gamers looking to keep their electricity bills and/or system noise down.
And on the whole, Nvidia's high-end PC GPU dominance remains largely in place ahead of next year's anticipated Volta GPU launches.
Watch More with TheStreet: