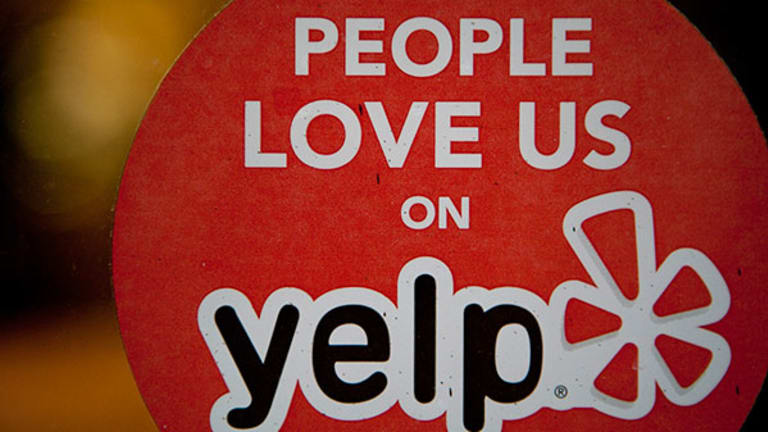 Reviews Are In: Yelp's Decline Is an Opportunity
Shares were hammered after the company lowered guidance Friday.
On Friday, shares of Yelp (YELP) - Get Yelp Inc Report got hammered after the company provided worse-than-expected first-quarter guidance. Is this a cry for help or can the company shake it off and go higher?
The review site/app company posted fourth-quarter non-GAAP earnings of $0.27 per share, $0.01 better than the consensus estimate. Revenue rose 27% to $194.8 million, in line with the previous estimate. Adjusted EBITDA soared 158% to $45 million.
Local revenue was up 36% year to year to $171.1 million and transactions revenue increased 19% to $16.6 million. In the quarter, approximately 24 million unique devices accessed Yelp via the mobile app on a monthly average basis, a rise of 20%. The number of page views per user advanced nearly 20%.
Full-year 2016 revenue was $713 million, up 30%, while adjusted EBITDA of $120 million was 74% higher, year over year. Non-GAAP net income was $59.4 million, or $0.73 per share, compared to $28.9 million, or $0.37 per share in 2015.
In 2016, Yelp consumers made more than 20 million transactions and bookings through Yelp platforms, an increase of more than 40% year over year.
While the quarter was solid, investors freaked out over two of the company's metrics. In-app devices growth slowed 3.3% sequentially to 24.073 million on a monthly average basis from 24.9 million. On a year-over-year basis, in-app devices growth slowed to 20.32% from the third-quarter pace of 23.75%. This is the sixth quarter where in-app devices slowed.
Local advertising accounts grew 24% to approximately 138,000, or just 2,800 sequential adds. Management blamed the slow ad sales on the realignment of the sales force and disruption from the election.
Management also cut first-quarter guidance. The company said first-quarter revenue would be between $195 million and $199 million versus the $204.5 million estimate. In addition, some investors were disappointed by the full-year guidance. The company now sees 2017 revenue in a range of $880 million-$900 million versus the $895 million analyst estimate.
I view the drop in the stock as a buying opportunity. While the company does face tough comparisons in the first half of the year, I think the election created some uncertainty around local ad sales and the sales team should be able to pick up the slack.
Second, guidance seems conservative. The midpoint of the first-quarter revenue guidance is only 3% from the Wall Street estimate, according to Yahoo Finance. Yelp should be able to beat that number.
Third, management knows that in-app device installs have been down six quarters in a row and the company has a plan to increase them. I am willing to give the company some time to figure out how to get more app downloads.
Back in November, I was bullish on shares of Yelp. I though the stock could reach the low $40s, based on the strong earnings momentum the company was experiencing.
While it could take a quarter of two for the company to prove itself to investors, I believe Yelp can get back on track.
This article is commentary by an independent contributor. At the time of publication, the author held no positions in the stocks mentioned.