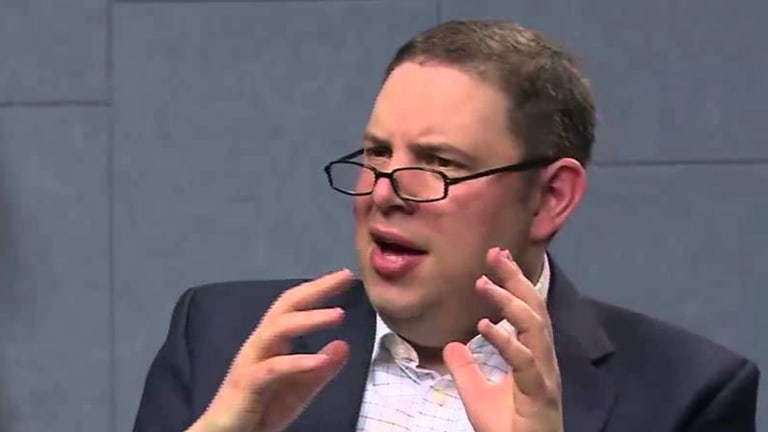 New York (TheStreet) -- Thomson Reuters (TRI) - Get Thomson Reuters Corporation Report isn't just looking for a new boss for its Reuters news business, it's looking for a new strategy to gain traction against longtime rivals led by Bloomberg LP as well as newer competitors such as Quartz.
After less than two years on the job, Andrew Rashbass will vacate the office of Reuters CEO at the end of the month to become executive chairman of Euromoney Institutional Investor. Thomson Reuters didn't immediately respond to requests for comment.
Rashbass' exit has prompted some soul searching within Thomson Reuters about what to do with its Reuters business, which operates more than 200 news bureaus around the world, said Rick Edmonds, media business analyst with the Poynter Institute. 
Reuters' struggles mirror those at the Associated Press, which has had to close bureaus and cut staff over the past decade as its newspaper clients reduced spending in the wake of declining advertising and subscription revenues.
"I don't see a clear cut strategy for [Reuters]," Edmonds said in a phone interview.
Bloomberg, the financial services company owned by billionaire Michael Bloomberg, widened its
 in the global demand for market data and analysis, a market that
jumped 4.1%, to $26.49 billion
 in 2014, according to 
Burton-Taylor International Consulting,
an industry research monitor.
As of the end of last year, Bloomberg's share of the global market was 31.99% followed by Thomson Reuters at 25.88%. In 2013, Bloomberg LP and Thomson Reuters had held market shares of 31.71% and 26.93%, respectively.
Shares of New York-based Thomson Reuters added 0.3% on Friday to close at $41.89, extending its 2015 advance to 3.8% compared to a 2.1% gain on the S&P 500. Reuters editor Stephen J. Adler agreed to assume Rashbass' responsibilities on an interim-basis. The company declined to comment on its futures plans for the position or for its news strategy.
Reuters and the AP must also contend with a bevy of newer, hipper news organizations that are appealing to younger readers who prefer content that looks as good as it reads on mobile devices.
Quartz, run by Atlantic Media, is a prime example, positioning itself as a news sources that can adapt to the digital economy, said Edmonds. "Big can be clumsy in terms of pivoting and turning around," he said.
Thomson Reuters has taken some recent hits, including losing a deal to supply Reuters stories to Tribune-owned newspapers. That contract went to the Associated Press.
Despite the size and scope of Thomson Reuters and the work it produces, it has been hard for it to edge out its peers on some fronts, said Edmonds. One experiment, Reuters Next, aimed to supplant the Associated Press at some American newspapers as a more basic, and less, expensive alternative -- but that did not have much success, he said.
Rashbass shut down Reuters Next not long after he became CEO in 2013.
Bloomberg, with its vast resources, continues to be a difficult rival for Reuters to contend with, Edmonds said, because its premium terminal business keeps refilling its coffers. "They have a great deal of money to invest in expansions of their journalism arm," he said. "You're fighting a competitor who has very deep pockets."
For Reuters, it may be a matter of clawing out a place and finding something to invest in that will catch on, Edmonds said. It might not get any easier for general media and the wire industry because of the ongoing decline of print advertising at newspapers, he said.
That leaves less money to buy stories from services such as Reuters or the Associated Press. In response, he said, the Associated Press made a number of cost reductions on what they charge for their services to newspapers. "I think there is an element of price pressure there," Edmonds said.
This article is commentary by an independent contributor. At the time of publication, the author held no positions in the stocks mentioned.