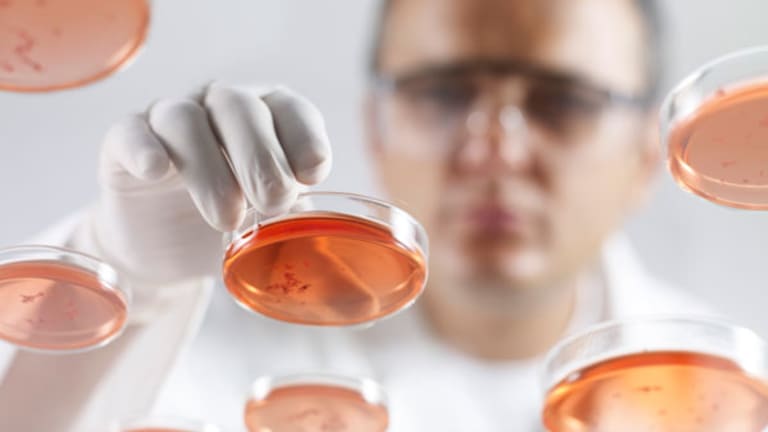 Retrophin Assailed for 'Exorbitant' Price Hike
Doctor asks when profit becomes profiteering after Retrophin raises drug price by 20 times.
NEW YORK (TheStreet) -- Runaway drug pricing has become a recent hot topic, witnessed best by the media and political bashing of Gilead Sciences (GILD) - Get Gilead Sciences Inc. Report for the $1,000-per-day cost of its hepatitis C pill Sovaldi. It didn't take me long, however, to come to terms with the rationale for the outsized sticker prices attached to some drugs, particularly after reading the story of Vertex Pharmaceuticals (VRTX) - Get Vertex Pharmaceuticals Incorporated Report and its cystic fibrosis drugs in Barry Werth's book "The Antidote." My liberal social and economic proclivities practically demand that I take up protest against drug companies and their wicked ways, but yet I understand discovering new drugs, developing them, shepherding them through clinical trials, is challenging and expensive. I understand the ways of Wall Street, I really do. 
Still, as a practicing urologic surgeon who actually talks to people (and not computers) there has to be a line -- nebulous as it might be to define -- where profit morphs into profiteering. This came to mind Tuesday evening after seeing tweets from friends about a newly enacted plan by Retrophin (RTRX) - Get Retrophin, Inc. Report  to increase the price on an old drug called Thiola by more than 20 times.
You will be excused if you have never heard of Thiola. The drug is used almost exclusively for patients suffering from cystinuria, a particularly nasty disease affecting the kidneys. Without belaboring the science too much, patients suffering from cystinuria have kidneys which excrete cysteine abnormally. This cysteine then solidifies and creates kidney stones. This painful process continues forever. It never stops and there is no cure. Imagine getting a kidney stone every day. That is the life of the uncontrolled cystinuria patient. [There are about 20,000 cystinuria patients in the U.S.] Treating patients with Thiola helps but the drug is difficult to tolerate and compliance to treatment is generally poor. As a physician, treating cystinuria patients is extremely difficult. You can remove a kidney stone one day only to have the patient show up the next month with more kidney stones. Cystinuria patients are some of the bravest you will ever meet.
Thiola is an old drug. The first citation in my urology textbook is from 1975. Last May, Retrophin took over U.S. marketing rights to Thiola from a private company. When Retrophin acquired rights to Thiola, the drug cost about $1.50 per pill. [Patients take multiple pills per day.] Now, Retrophin has decided to charge more than $30 for the same Thiola pill. Retrophin says it has plans to change the Thiola dose and develop an extended release version of the drug, but I have seen none of those changes yet. To my knowledge, Retrophin hasn't yet done any of this work -- except to drastically increase Thiola's price.
I am not in the business of drug pricing or health care economics. I am in the business of treating patients. Many of my patients struggle with increasing out-of-pocket expenses as the new healthcare insurance products are rolled out under the Affordable Care Act. In the real world -- not the 1% bubble of Wall Street -- patients feel drug-price increases directly or indirectly. I find it sadly ironic that Martin Shkreli, the flashy Twittter-savvy CEO of Retrophin, positions his company as being solidly pro-patient and pro-orphan drugs, but yet in one of his first major business decisions, he has grabbed an old drug, made no changes to it at all, and hiked the price exorbitantly.
Righteous indignation lost its street cred during the 1960s, so I will spare you good people my specific thoughts on the morals of Retrophin. Let's all hold hands and agree that we love capitalism. We love helping and treating patients. We love science and the possibility of curing disease. But we abhor predatory capitalism on the backs of the sick and silent. Can't we agree on that?
Davies has no position in Retrophin.
Benjamin J. Davies, MD, is an Associate Professor of Urology at the University of Pittsburgh School of Medicine. He is the Director of the Urologic Oncology Fellowship and Chief of the Urology Section at Shadyside Hospital. Dr. Davies graduated from Columbia College and earned his medical degree from Mount Sinai Medical School in New York City. Following surgery and urology residencies at the University of Pittsburgh, he completed a postdoctoral fellowship in Urologic Oncology at the University of California, San Francisco. He has written over 30 peer-reviewed scientific and clinical publications on prostate cancer and bladder cancer.