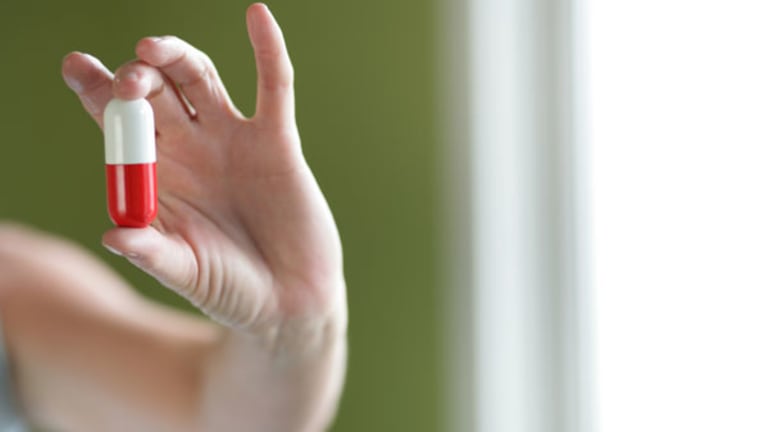 NEW YORK (
) -- Last week,
Bristol-Myers Squibb
(BMY) - Get Bristol-Myers Squibb Company Report
confirmed my previously reported suspicions
by abruptly halting a Phase II trial of BMS-094 (formerly INX-189) -- a nucleotide polymerase inhibitor, or "nuc," for the treatment of hepatitis C. One patient in the study experienced major cardiovascular toxicity, forcing Bristol-Myers to stop dosing BMS-094.
The company has provided few follow-up details but it appears as if BMS-094 is dead.
That means Bristol-Myers' $2.5 billion acquisition of Inhibitex (from where BMS-094 originated) has proven to be a complete zero in less than seven months. I'm not sure if that's a mergers-and-acquisition disaster record, but it's probably close.
The demise of BMS-094 has also reshaped the Hep C landscape. Let's review who still stands and where. For some assistance, I turned to John Tucker, a scientific analyst with
, a division of Sagient Research. Tucker recently published an excellent overview on Hep C drugs in development and he's been all over BMS-094 and its implications.
At this point, combining a "nuc" with an NS5A inhibitor and the generic antiviral drug ribavirin seems to be the most promising "all oral" Hep C regimen in clinical development. This makes Bristol-Myers' daclatasvir, an NS5A inhibitor essentially useless on its own. The company's other later-stage hep C drug candidates -- the non-nucleoside polymerase inhibitor BMS-791325 and the protease inhibitor asunaprevir -- have only modest efficacy or toxicity issues, or both.
Bristol-Myers may continue to beg but I'm convinced
Gilead Sciences
(GILD) - Get Gilead Sciences, Inc. (GILD) Report
has no interest in a daclatasvir partnership. As I noted recently,
Gilead's nuc-NS5A combination -- GS-7977 and GS-5885 -- has made rapid clinical progress
and will start pivotal trials this year. In sum, the BMS-094 blowup leaves Bristol-Myers up a proverbial creek in Hep C.Although this failure has little long-term financial impact, Bristol-Myers' apparent inability to foresee this compound's risks raises concerns about the company's R&D and business development capabilities.
Gilead emerges a big winner. I have long believed Gilead would be first to market with an all-oral Hep C regimen, but Bristol-Myers has handed the company a much bigger lead. (I also still doubt the size of the commercial market for Hep C, but that's another issue.)
I initially considered
Idenix Pharmaceuticals
(IDIX)
and its nuc IDX-184 a winner emerging from the BMS-094 blowup. Now, I'm less sure.
IDX-184 has a chemical structure that is similar to both BMS-094 and Pharmasset's PSI-938, another Hep C nuc that was killed off by toxicity problems last year. More specifically, the active moiety of IDX-184 -- the part of the molecule that makes the drug work -- appears to be similar to the active moieties of both BMS-094 and PSI-938. That could be a big problem.
Chemists often attach nonessential atoms to a drug candidate in an attempt to change the compound's overall physiological behavior. As the drug is metabolized in the body, those byproducts are cleaved and the working core of the drug -- the active moiety -- is unveiled.
The byproducts are usually innocuous, but not always. For example, it's not clear whether the side effects that killed BMS-094 were caused by the active moiety or by 1-naphthol, a toxic metabolite of the drug. Similarly, PSI-938's fatal flaw remains unclear. This worries me, and it should worry Idenix bulls.
Idenix does have a very reasonable defense. Management contends IDX-184 is nearly entirely targeted to the liver and metabolized poorly in other cell types. Further, IDX-184 seems to be more slowly metabolized by the liver than BMS-094. These factors certainly lessen the risk of toxicity. Thus far, Idenix has treated roughly 60 patients for 12 weeks with IDX-184 and observed no safety signals, including no cardiovascular side effects.
That's encouraging, but I would prefer to overpay for Idenix after there are more data on IDX-184. I would reduce or eliminate long exposure to Idenix until the drug's safety has been more completely established.
Two more Idenix red flags that make me cautious: First,
Novartis
(NVS) - Get Novartis AG Sponsored ADR Report
, Idenix's partner for nearly a decade, ended the relationship last week. I understand that Novartis wasn't much of a collaborator so walking away might actually be a net positive for Idenix. But I still tend to view pharma-biotech breakups as a negative, although in this case a bit less so.
Second, Idenix completed a major secondary offering only two days after the Novartis breakup. Idenix sold 22 million shares at $8.00 per share or 28% below recent highs. Although I generally support equity issuances at management's discretion, the company still had at least $90 million in the bank. Shareholders should feel justifiably frustrated at this seemingly unnecessary rush dilution of the existing investor base. I worry that the timing signals dark clouds on the horizon.
Right before the Bristol-Myers news,
Vertex Pharmaceuticals
(VRTX) - Get Vertex Pharmaceuticals Incorporated Report
announced impressive early clinical data for ALS-2200, a nucleotide analogue licensed from Alios BioPharma. After seven days of dosing, the eight treated patients showed a median 4.54 log reduction in viral load. That's near complete eradication of virus, for those of you unfamiliar with the logarithmic scale.
Unfortunately for Vertex, ALS-2200 has not cleared any meaningful long-term safety hurdles and the drug remains years behind Gilead's compounds. I would put Vertex on the "watch and wait" list, but that's it.
As I have discussed before, it's
hard for me to get excited about the other Hep C players
.
Abbott
(ABT) - Get Abbott Laboratories Report
has a seemingly decent trio of drug candidates in later-stage development, but the impending spin off of AbbVie -- Abbott's pharma business -- makes the new company nearly completely dependent on the multi-blockbuster rheumatoid arthritis drug Humira.
Johnson & Johnson's
(JNJ) - Get Johnson & Johnson (JNJ) Report
TMC-435 looks solid but lacks an obvious companion unless the company partners with Gilead or physicians, on their own, decide to combine TMC-435 with Gilead's GS-7977 into an "off label" all-oral Hep C regimen -- an idea that BioMedTracker's Tucker believes is a real possibility. Finally, everyone wants me to like Achillion Pharmaceuticals, but there is no shortage of NS5A or protease inhibitors -- the company has two NS5As and a protease inhibitor -- so I can't get that excited.
Ironically given the longstanding investor skepticism, Gilead appears likely to dominate the Hep C market over the next decade. I still worry the company vastly overpaid for Pharmasset, but that concern will be meaningful only if something goes wrong and investors are looking for a cudgel with which to beat management. Otherwise, it's time for investors to start thinking logically about the real size of the Hep C treatment market. It's going to be hard for any company to make big money if there aren't enough Hep C patients to treat.
Disclosure: Sadeghi has no positions in any of the stocks mentioned in this article.
Follow Nathan Sadeghi-Nejad on
.
Nathan Sadeghi-Nejad has 15 years experience as a professional health-care investor, most recently as a sector head for Highside Capital. He has worked on the sell side (with independent research boutiques Sturza's Medical Research and Avalon Research) and the buyside (at Kilkenny Capital prior to Highside). Sadeghi-Nejad is a graduate of Columbia University and lives in New York. You can follow him on Twitter @natesadeghi.