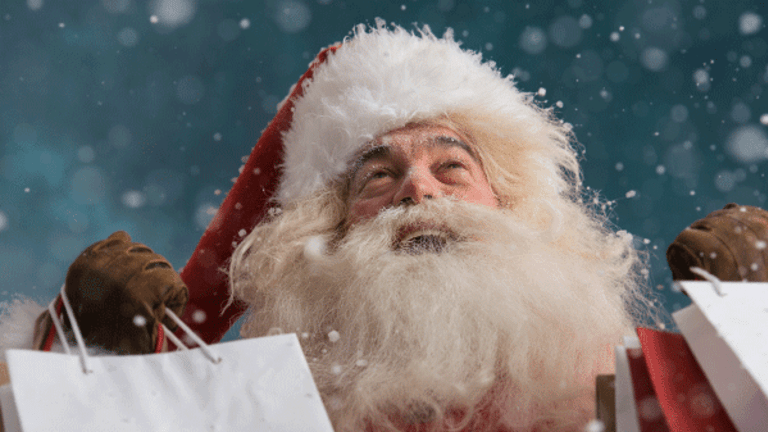 Macy's, Target, Others Will Have Brutal Time Hiring 248,000 Santa's Helpers
Good luck, retailers, trying to find people to work in your stores.
As bricks-and-mortar retail sputters, key players like Target Corp. (TGT) and Macy's Inc. (M) likely will struggle to fill the many positions they're posting for the holiday season.
Retail is expected to seek seasonal employees for more than 248,000 jobs, "the highest number of hiring announcements" for an industry, global outplacement and executive coaching firm Challenger, Gray & Christmas Inc. wrote in a research note on Thursday, Sept. 14. 
"It's going to become a bigger challenge [to hire retail workers] the tighter the labor market becomes," said Greg McBride, chief financial analyst at consumer financial services firm Bankrate Inc.
On Thursday, Reuters reported that Macy's plans to hire 18,000 holiday workers, a 20% increase from last year, to fulfill online orders. The report came after, on Wednesday, Target said that it was looking to hire 100,000 seasonal workers at its 1,816 stores, 30,000 more than last year, and 4,500 at its distribution centers and fulfillment facilities.
Challenger, Gray & Christmas CEO John Challenger said in an interview with TheStreet on Friday that the reason retailers are announcing holiday hiring so early (Target's search will begin on Oct. 13) is so they can get a jump on the competition .
"I do think we're getting close to a labor shortage and it's hard [for retailers] to find the people [they] want," Challenger said. "It's going to be a battle."
McBride told TheStreet on Friday that retailers, hurt by slowing sales, will have to scramble to attract suitable candidates for their low-wage, temporary holiday positions.
In July, 6.2 million jobs were open and unable to be filled. Of those positions, 625,000 were in retail, higher than the 615,000 in June, according to the U.S. Labor Department.
"The pay may not be enough to lure them off the sidelines," McBride said. "It's a tough sell."
On Wednesday, a Target spokeswoman declined to disclose how much the retailer would pay its holiday workers, only that it would be "competitive" in each market. She did say that the most applications Target receives is from Chicago, New York and Los Angeles, where minimum wage is at its highest.
In Chicago, minimum wage will be raised to $13 an hour by 2019; in New York City, minimum wage will spike to $15 an hour by 2018, and in L.A., minimum wage will increase to $15 by 2020.
"While retail hiring has fallen over the last couple years, major announcements indicate workers will still be needed for customer-facing positions, as retailers attempt to give customers an experience they cannot receive online," Challenger said in the firm's note.
For Target, its spokeswoman said as the retailer increasingly invests in its store remodels, it will need the extra hands to help "elevate the shopping experience."
Challenger said arts and crafts retailer Michaels Co. (MIK) also plans to hire 15,000 workers for the holiday season. Since 2012, holiday hiring averages 604,000 per year spanning all industries, Challenger added.
More of What's Trending on TheStreet:
Editors' pick: Originally published Sept. 15.