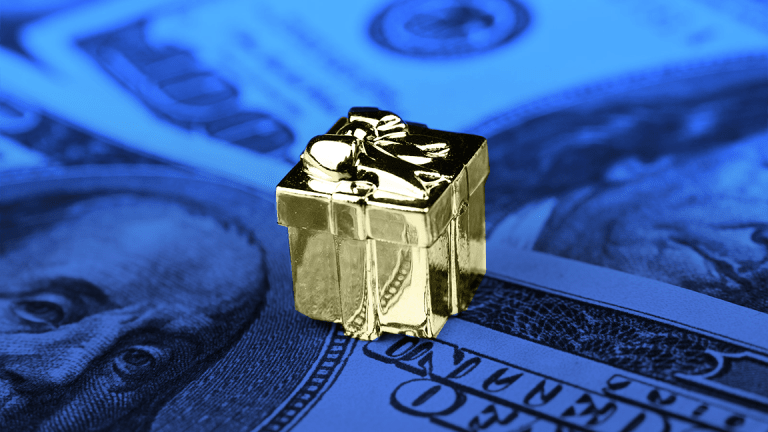 8 Retailers Will Make Huge Money Off GOP Tax Overhaul
A cut in the corporate tax rate to 21% from today's 35% couldn't come a moment too soon for retail chains that have been living in the dumps.
If you're a retailer and not the average Joe, the proposed GOP tax bill gives you reason to cheer.
"The biggest beneficiaries will be U.S. domiciled corporations that derive [the] majority of profits in the U.S.," Cowen analysts Oliver Chen, Max Rakhlenko and Courtney Willson wrote in a note on Monday, Dec. 18.
The tax bill's latest version calls for dropping the federal corporate tax rate to 21% from the current 35%. Although polls find the proposal wildly unpopular with the public, Republican majorities in both houses of Congress seem likely to pass it on Tuesday, then send it to President Trump for signing Wednesday.
The Cowen analysts said likely winners under the measure include gym company Planet Fitness Inc (PLNT) , clothing firm J. Jill Inc. (JILL) , and the beleaguered department-store sector, Kohl's Corp. (KSS) , Macy's Inc. (M)   and Nordstrom Inc. (JWN) . Other beneficiaries include Michael Kors Holdings Ltd. (KORS) , Tapestry Inc. (TPR) and YogaWorks Inc. (YOGA) .
"Our analysis incorporates the following assumptions: 1) last year's revenue mix as a proxy for profits; 2) our published fiscal year 2019 tax rates and EPS; and 3) a 24% total tax rate comprised of 21% in federal taxes and 3% in state taxes," the analysts wrote.
Cowen predicts that Planet Fitness will realize the most benefits. "Under the new tax regime, we estimate [Planet Fitness's fiscal 2019 earnings per share] will increase by +26% to $1.25 from our currently modeled $0.99," the analysts wrote. "Holding our fiscal 2019 multiple of about 30%, a 24% tax rate would imply a $38 [price target] vs. Cowen's current $30."
The analysts also predicted that Nordstrom will see about 25.5% EPS growth, so they boosted the stock's price target to $63. Kohl's will get about a 22% EPS bump to $4.86, resulting in a new $58 price target instead of Cowen's previously predicted $47. Macy's likewise got a new $28 price target vs. Cowen's previous $23 prediction.
Not all is rosy with retailers, though. For example, Cowen expects no immediate boost from the tax bill for J.C. Penney Inc. (JCP) , as "the retailer has about $2.2 billion in [net operating losses]. Further, changes to the net interest deductions (capped at 30% of EBITDA or higher of 30% of EBIT or global leverage ratio) will likely have a negative impact on JCP given its high debt and interest burden."
More of What's Trending on TheStreet: