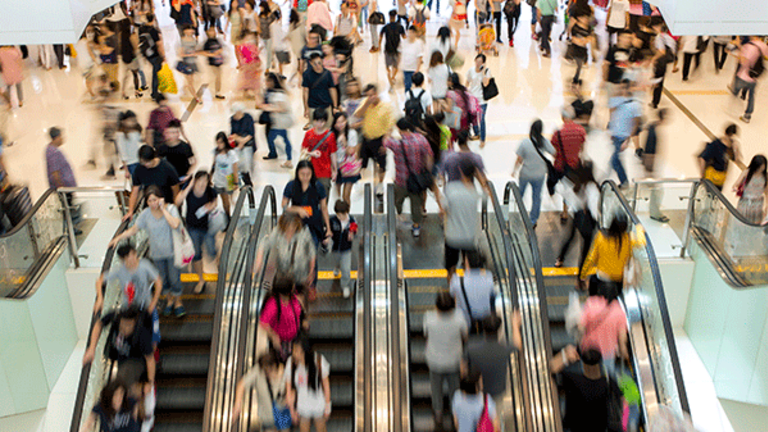 Retail Takes Another Hit: BCBG Plans Store Closures
BCBG Max Azria Group is looking to restructure its debt load and close certain stores as retailers struggle to boost comparable store sales.
BCBG Max Azria Group is exploring options to shutter some of its stores and restructure as the pressure rises for brick-and-mortar retailers to boost same-store sales.
"Like so many other great brands, BCBG has been negatively impacted by the growth in online sales and shifts in customer shopping patterns and, as a result, has too large a physical retail footprint," said Seth Lubove, a BCBG spokesman at Sitrick & Co., in an email to TheStreet.
The women's apparel retailer, founded by Max Azria, operates more than 570 stores worldwide, with more than 175 located in the U.S.
Facing steep declines in comparable store sales, many retailers have been shifting away from their brick-and-mortar locations and focusing more on e-commerce.
Over the next few years, Macy's (M) - Get Free Report - which saw a 2.1% year-over-year decline in same-store sales in November and December - will close 100 of its 730 stores. The retailer said earlier this month that 68 locations will shutter this year.
Also, Sears Holdings (SHLD) announced plans earlier this month to close 78 of its Kmart locations and 26 of its Sears stores as it appears the struggling retailer - which has seen a 12% decline in same-store sales - edges closer to filing for bankruptcy.
Meanwhile, the operator of The Limited stores closed all of its 250 locations last week and filed for Chapter 11 on Tuesday, blaming intense competition from e-commerce and dwindling mall traffic for its financial woes.
Lubove said BCBG will shift its focus from brick-and-mortar to e-commerce through a restructuring.
This is not the first time BCBG has had to restructure. In 2013, Chicago private equity firm Guggenheim Partners gained control of the Los Angeles-based company after BCBG converted a large portion of its $685 million in debt to equity. The retailer first sparked the restructuring process in 2011 and it took about two years for it to negotiate a deal with Guggenheim.