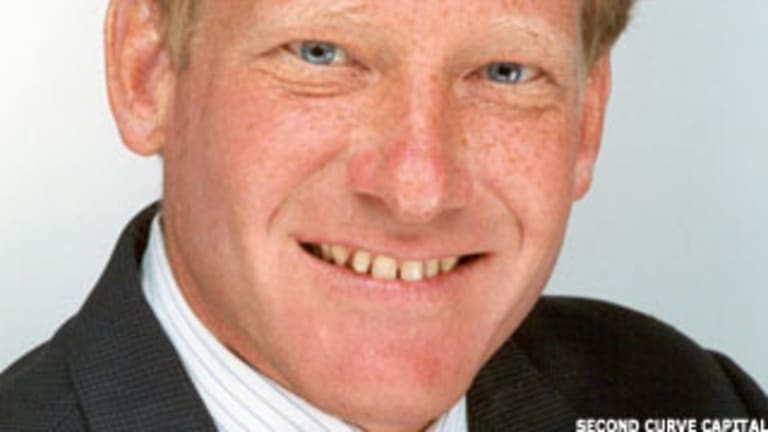 "Retail Banking Sucks," But Bank of America Could Jump 50%: Hedge Fund Guru
$18 billion in cost saves outweighs legal and branding problems, cording to a well-known bank stock picker.
NEW YORK (
) --
Bank of America
(BAC) - Get Bank of America Corp Report
shares, which were up 111% year to date as of mid-Friday, could tack on another 50% worth of gains in 2013, argues a well-known bank stock picker who acknowledges that "retail banking sucks," as a business.
Bank of America is one of the top 5 holdings of Second Curve Capital, which invests exclusively in financial companies, and lead portfolio manager Tom Brown says the stock is the one he is "most excited about," in his portfolio. He compares Bank of America to its former incarnation as Nations Bank, when he covered (and recommended) the stock as a sell side analyst in 1988. That year, the shares doubled, and they gained another 50% in 1989.
"That's what this reminds me of. It's going to be pretty close to a double this year and I could easily see it having another 50% move next year," Brown says.
Brown, who met Thursday with Bank of America CFO Bruce Thompson, sees a potential decline in expenses of $18 billion over the next three to four years. Ten billion of that total is projected to come from a division known as Legacy Asset Servicing, as Bank of America lays off employees working through the backlog of troubled mortgages the bank extended during the runup to the subprime crisis. The remaining $8 billion would come from a cost-cutting program known as "new BAC."
The investor cautions he will have to check in quarterly to be convinced that Bank of America is sticking with its cost-cutting plan.
"It's easy to talk about them; it's another thing to actually deliver them," Brown says of the cuts.
Also encouraging to Brown is the potential improvement in Bank of America's capital structure as costly interest payments on the bank's debt run off the balance sheet. While Bank of America's long term debt is just one third the size of its deposits, the cost of that debt is five times that of the deposits. Nonetheless, Bank of America has reduced its debt from $531 billion to $287 billion, and another $64 billion is due to mature through 2014.
The final piece of Brown's thesis is that Bank of America's balance sheet will remain the same size even though earnings will grow. That is because bad loans made leading up to the 2007 crisis that are losing money will be replaced by new profitable loans.
One of the big worries still hanging over Bank of America is litigation risk, particularly from investors who bought bonds stuffed with problem mortgages Bank of America's Countrywide Financial unit underwrote prior to 2008. Analysts such as Harry Fong of MKM Partners believe a negative settlement for the bank--for example in ongoing
MBIA (MBI) - Get MBIA Inc. Reportlitigation
-- could substantially increase the cost of settling related but larger cases.
Brown who says he knows both Bank of America as an institution and MBIA CEO Jay Brown very well, "would not have expected
the MBIA litigation to be as contentious as it is." He concedes he "didn't spend a lot of time taking about various litigations with Bruce Thompson the CFO because there's not really very much he can say, but both myself and my partner came out of the meeting surprised at how confident he was that the potential settlement had been ring fenced--and when I say settlement I mean all the litigation."
Bank of America's negative brand image is another issue that has weighed down the institution.
"One of the comments from Bruce yesterday was you know we want to stop being the daily source of news and whether that be because we've got a low equity valuation or our credit's being downgraded or we're doing something that hurts consumers, it's all of those things and we need to do a better job of staying out of the news," Brown says.
A bank spokesman did not respond to an email message seeking comment.
Brown acknowledges Bank of America "among the large banks, ranks at the bottom," of consumer and brand surveys. He expects that will change over time, however he isn't sure how much Bank of America can do proactively to change its image.
Longtime shareholder
Jonathan Finger of Finger Interests has said
Bank of America needs to proactively get out in front of the public in the way Lee Iacocca did turning Chrysler around in the 1980's.
However, while Brown says he has "a lot of respect for Jonathan," he believes the Chrysler parallel doesn't quite work.
Chrysler, "came up with new cars that were quite popular, and that changed the reputation of the company more than anything else," Brown says. However, "the problem in the banking business today is the retail banking business sucks."
Expenses are high, but low interest rates and new legislation keep revenues down, Brown says.
"Bank of America as well as all banks want to change their retail banking model, but consumers feel that they've gotten banking services for free for years." As a result, its very difficult to raise prices "without taking a lot of grief."
The pricing problem is particularly acute for Bank of America, Brown says. He says that
U.S. Bancorp
(USB) - Get U.S. Bancorp Report
charges customers 50 cents to take a photograph of a check in order to deposit it via smartphone.
"If B of A tried something like that, if they were the first, there'd be all sorts of nasty headlines," Brown says. "Part of it is they brought it on themselves and a smaller part is they happen to be the one that gets picked on the most."
Brown, who also owns
Citigroup
(C) - Get Citigroup Inc. Report
shares, said he is pleased with recent cost-cutting moves by that institution. Still, while Citi has identified more than $1 billion in annual savings from its recent 11,000 layoffs, that pales in comparison with the $18 billion at Bank of America, he contends.
--
Written by Dan Freed in New York
.
Disclosure: TheStreet's editorial policy prohibits staff editors, reporters and analysts from holding positions in any individual stocks.