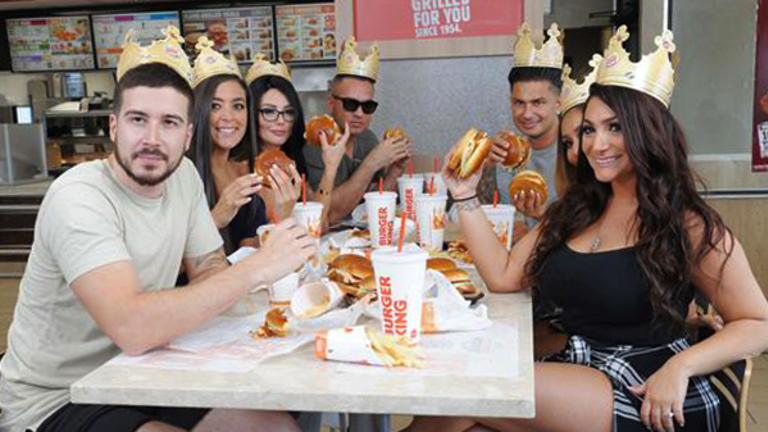 Burger King Just Blew It Out of the Water, Here's How Its CEO Cooked Up Magic
Restaurant Brands CEO Daniel Schwartz made a rare appearance at TheStreet.
Restaurant Brands CEO Daniel Schwartz made a rare appearance at TheStreet.
The 36-year-old chief executive officer of private equity-backed Restaurant Brands Int.'l Inc. (QSR) - Get Report , Daniel Schwartz, has been somewhat of a media mystery since first crashing onto the Wall Street scene in a meaningful way in 2013.
In only his second interview with the press, Schwartz humbly told TheStreet that his personal life is relatively "boring." That may be an understatement. Schwartz has found himself flying from Germany to France to Canada to the U.S. only weeks apart at times, as he oversees the operations of some 20,000 restaurants in more than 100 countries.
And, rest assured, Schwartz wants more. He said that all of the company's brands, Burger King, Tim Hortons and now Popeyes Louisiana Kitchen Inc., are under-penetrated in every market and will be expanded.
Schwartz is a former partner at Brazilian private equity equity firm 3G Capital. That is the firm credited for the series of acquisitions that resulted in Anheuser-Busch InBev SA/NV (BUD) - Get Report . It was also behind the 2010 purchase of Burger King Holdings Inc. - a transaction that was valued at $4 billion. That year, Schwartz, who started at 3G in 2005, was brought to Burger King as chief financial officer and two years later, 3G returned Burger King to public markets in a deal that valued the company at $8.1 billion.
When Burger King then bought Canadian doughnut and coffee eatery chain Tim Hortons in 2014 for $11 billion, the combined companies emerged as Restaurant Brands with Schwartz, then 32, at the helm. Warren Buffett's Berkshire Hathaway Inc. (BRK.B) - Get Report , now holding a 3.6% stake in Restaurant Brands, provided $3 billion of Burger King's $12.5 billion financing commitment.
READ MORE: I Just Tried Burger King New 570 Calorie Chicken Parmesan Sandwich - Here's How I Felt After
In February, Restaurant Brands tacked on another chain to its portfolio, Popeyes, which operates 2,600 locations in the U.S. and abroad. The company paid $79 per share, or $1.8 billion for the fast-food chain, known famously for its Southern fried chicken and biscuits.
Schwartz got right down to business, spending time flipping burgers at Burger King and pouring coffee behind the scenes at Tim Hortons. He told TheStreet that he still has to "do my tour of Popeyes."
With his background at 3G, a private equity firm known for implementing deep cost cuts at companies, Schwartz did just that - reduced costs. When he first took over Burger King, he stripped down the menu and found cost savings at the home office. He then grew BK's product pipeline, accelerated opening new stores from some 170 in 2010 to 735 per year in 2016.
Still, Schwartz said "this cost cutting is overblown," as, yes, 3G cuts back when necessary, but the firm's real advantage is in recruiting talent and franchisee partners. That's what drives the growth, he said.
Schwartz said Restaurant Brands acquires brands "forever." The company takes pride in finding strong brands for its portfolio that it can support for the long term, unlike most private equity deals in which companies are purchased, restructured and then sold in roughly two to three years on average.
On Wednesday, Restaurant Brands nicely surprised Wall Street with its second quarter earnings.
Here is a condensed and edited version of the rest of TheStreet's conversation with Schwartz.
Question: Has Tim Hortons been somewhat of a disappointment compared to other brands in the company's portfolio?
Answer: So we've been striking partnerships with entrepreneurs around the Midwest area and what we're doing is we're laying the foundation with these folks to aggressively expand the brand. It's going to take time. When the brand started in Canada, the eastern part of the country, and then moved West 20 years ago, to Alberta, it didn't do so well. It took a long time. It took a decade before it really started flourishing. It's not going to happen overnight. If we serve that same incredible Tim's experience that we serve in Canada - of friendliness, great product, good value, convenience. If we do that, we build restaurants. We'll win in the long run. We don't need to win next quarter. We want to own this brand for the next 20 to 30 years.
Q: What's it like knowing Warren Buffett backs your company?
A: When we acquired Tims, we did it through a combination of stock, debt and preferred equity that we raised from Berkshire Hathaway but, short of that, they're passive. We really don't interact much with them. We honestly don't think about it, we think about what we can do for our guests. We deliver for our guests, we deliver for our franchisees. That's the ultimate goal. Everything else falls out of that. If you focus on driving your guest satisfaction, profitability, everything else is the output.
Q: With the constant talk of this push toward better mobile technology, faster delivery - there seems to be a war among the pizza chains - what is Burger King's role?
A: On the technology front, we were admittedly late to the game with our brands, but we took a different approach. We went out a year and a half ago and we hired this startup led by a team of really good engineers, based in [New York] City, and [decided] we're going to develop our technology know-how, our mobile apps, our order and pre-pay, kiosks and we're going to develop that in house. We're going to empower these great people that we hired and we'll have this startup of really talented engineers and build out our mobile platform from that.
Q: With the push to mobile and pre-pay apps, do you see the drive-thru going away in the future?
A: It's evolution, not revolution. We have millions of guests coming to our restaurants every day, at least in this part of the world coming through the drive-thru, and I think it's our job to give our guests access to our brands - whether it's order and pre-pay, whether it's drive-thru, whether it's self-ordered kiosks, it's our job to create these different channels for our guests and we can let them decide. In France, we have a big kiosk business in our restaurants, and that will be something we are increasingly rolling out in the U.S.
Q: What's your preference when you go out to eat? Where do you eat?
A: What country am I in? If I'm in Canada, I do Tim Hortons and I do inside the restaurant, which is not consistent with the guests but I like to talk to the people.
Q: Is the Whopper sacred ground, in that you never want to do anything with it? If you look at the McDonald's (MCD) - Get Report Big Mac, they're toasting the bun a little differently. Do you just want to leave the Whopper alone?
A: The way we operate the business around the world is we have these core products with set builds that we never touch. We don't change them. The Whopper is the same in the U.S. as it is in Germany, as it is in China, as it is in Australia. And then different markets around the world are allowed to locally innovate, in partnership with us. We have our flagship core products that are consistent throughout and we locally innovate, and that's part of what's so great about having local entrepreneurs with this deep interest in the business because they're only going to do what makes sense in their market and they do it in collaboration with us. It's the best mix.
Q: What is Burger King's role in the next 10 years as rival burger joints (like Shake Shack (SHAK) - Get Report ) emerge and expand?
A: When you look at Burger King, you get this incredibly delicious product on flame grills. It's convenient, it's great value for your money and we're just going to continue to improve. We have potential to have more and more restaurants. What you've been seeing in the way we're innovating is, we've been making our core products even better. The croissant is now 100% butter. We improved the crispy chicken sandwich. You'll just see an evolution of the great products get even greater.
Q: It seems that the fast-food industry is getting away from limited-time offers but you guys are taking a different stance. (One example of that was recently when Tim Hortons celebrated Canada's 150th year as a nation with special items like the Poutine Donut)
A: I think the limited-time offers work if it doesn't add too much complexity to the restaurant. We like to test things. It's fine if we have limited-time offers provided that they're good for the guests and they're good for the restaurants. It's about the right balance.
Q: In all your travels, do you have a favorite place that you like to visit?
A: I'm a big believer in visiting all the markets. I don't manage the world from my desk. I was in Germany a few weeks ago and then Russia. A few weeks back we were in western Canada. I get to go around the world and meet with our teams that are based in all these different places, meet the people on the ground. It's fun. It's really fulfilling to meet all these people who are contributing to the big dream that we have of growing our brands around the world. There's nowhere I don't like going.
Q: We hear a lot of people talking about the 'burger wars.' Is it really war out there? Is it that fierce?
A: This industry is always competitive. It's a great business, it's a great business model. It's always competitive, anyone who says it's not is wrong. But, internally if there's something that we think we should do, we always have to answer these two questions - will it be good for our guests and is it going to be profitable for the franchisees? And if you can answer yes to those two, generally you're headed in the right direction.
Q: How big is this shift to digital? Does it impact you like it does Starbucks (SBUX) - Get Report , for example?
A: I think it's going to impact all brands. That's why we made this decision to develop the best-in-class digital platform. If we want to win at digital, we need to get good digital people. If you want to achieve something in the business, you need to have a great team and a great owner. You need to have priorities around apps, kiosks and once we tackle that, we have a good team and it's proving good results, then we can do more. [Digital is] definitely a priority.
Q: Who have you looked up to in your career?
A: I have to start within the 3G world. I think what the folks at 3G accomplished, like Alex Behring, is just incredible. They contribute to building this people culture that has a cascading effect, and it's come down to all the businesses we operate. Even within our company now, we see this culture where we promote people from within, we empower people. It's much bigger than me. I preach the culture but everyone lives, eats and breathes it.
Plus...
One example of something I quoted recently to our company is the [Amazon (AMZN) - Get Report CEO] Jeff Bezos annual letter, about it's "always a day-one company." It's one of those letters that I read every year. So I talked to our company about that and said 'this is a really incredible story.' It felt close to home for us because we view ourselves as a day-one company. We always say we're just getting started. We have this approach that we can be here for the long run. Humility is a characteristic that we look for in the people we hire. We always try to be really grounded, humble.
Q: What's your favorite item on the Burger King menu? And please don't say the Whopper.
A: The reason it is the Whopper is because I go to markets all around the world and I always want to taste it. I get a regular Whopper, right off the menu, nothing special and I want to compare it. I know what it should taste like if I'm in France or Brazil or the U.S., wherever.
More of What's Trending on TheStreet: