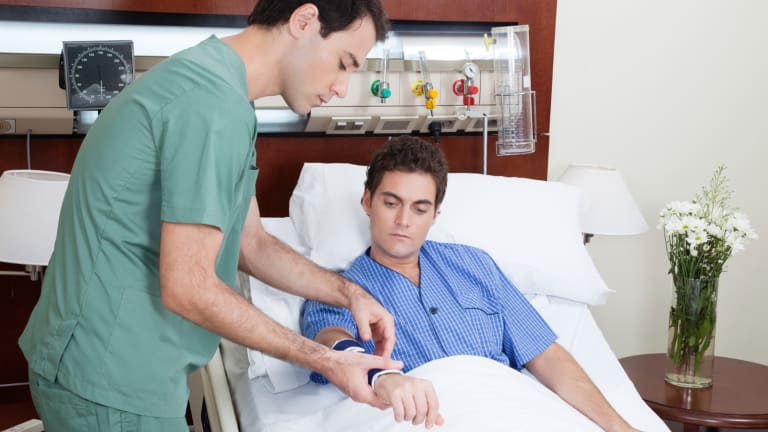 Republican Sweep Poised to Agitate ACA-Vulnerable Health Care Services Stocks
Hospital companies are likely be hit the worst in the public markets given their dependency on policies under the Affordable Care Act.
A sweep by the GOP has radical implications for the Affordable Care Act, the legislation that has fueled growth among health care services companies under the Obama administration because of its expansion of insurance coverage.
From a stock perspective, players like Community Health Services (CYH)  , HCA Holdings (HCA)   and HealthSouthundefined   , among several others, are not anticipated to respond well to policy changes under a Trump administration. At the same time, behavioral names like Universal Health Services (UHS) and Acadia Healthcare (ACHC)  may be at an advantage given the bipartisan support of mental health reform. 
While specialty pharma and biotech companies see a "relief rally" in the public markets with President-Elect Donald Trump waiting in the wings, the "GOP Triple Play" is the the worst possible outcome for health care services stocks, according to Sheryl Skolnic of Mizuho, who described her coverage universe as "deep in the red."
What the health care legislation will look like under a President Donald Trump remains massively uncertain, as the extent to which we'll see the "repeal and replace" of the ACA has been ill-defined at this point. Adding to uncertainty is the potential conversion to a Medicaid structure based upon block grants, which isn't expected to support insurance coverage expansion under the existing policy and could pressure rates for providers. 
In other words, a number of ACA-dependent programs are now under threat, including bundling, long-term acute care hospitals criteria, and accountable care organizations, or groups of doctors, hospitals and other health care providers, noted Skolnick. 
"I would anticipate that we're going to see a very different health care environment in 2017 and 2018 and it won't be positive for hospitals," Skolnick said in a Wednesday phone interview. "If the benefit of Medicaid expansion goes away and hospitals go back to being insurers' last resort," she added. 
Besides Community, HCA and HealthSouth, Skolnick downgraded other ACA-vulnerable health care services stocks, including Amedysis (AMED) , Kindred Healthcare (KND) , LifePoint Health (LPNT) , Quorum Health (QHC) , Tenet Healthcare (THC) and UnitedHealth (UNH) . 
The most direct beneficiaries of increased insurance coverage resulting from the ACA have arguably been hospital operators, according to Jefferies analysts, who in a Wednesday report wrote that at-risk players include Community Health, HCA , TeamHealth (TMH)  , LifePoint and Universal Health, the analysts wrote. 
"The possible elimination of health insurance exchanges, premium subsidies and change in the Medicaid system to block grants will likely result in a reversal of recent gains in the area of uninsured reduction, resulting in higher bad debt rates for these group of providers," Jefferies' Brian Tanquilut wrote.  
Heightened uncertainty in the sector could also stall or delay efforts by hospital companies, including Community Health, to sell assets, noted Mizuho's Skolnick, who explained that potential buyers and investors may hold off until more light is shed on the new administration's health care agenda.
Community, which operates non-urban hospital and health systems, is currently working to sell a group of 12 hospitals while simultaneously engaging in talks with financial sponsors about potential transactions.
To be fair, while Community has faced its own set of challenges, companies including HCA are still relatively well-positioned given that it has less dependence on Obamacare -- only about 5% of its earnings before interest, taxes, depreciation and amortization -- while the remainder of its business continues to grow, Skolnick said. 
"Still, it's hard to argue that nothing is going to change at this point of massive uncertainty," she added. 
At the same time, health care services companies that have depended less on the ACA and are in turn deemed as safer bets in the sector include those operating in the behavioral health arena like Acadia Healthcare (ACHC) and UHS, noted both Tanquilut and Leerink's Ana Gupte on Wednesday. 
Tanquilut wrote that behavioral "stands out as a fundamentally immune space as its tailwinds will not change even under a new administration, as Mr. Trump has acknowledged in the past the need to focus on mental health issues."
Leerink's Gupte added that Republicans have viewed "coverage expansion to behavioral health services as a policy response to the Democratic call for gun control."