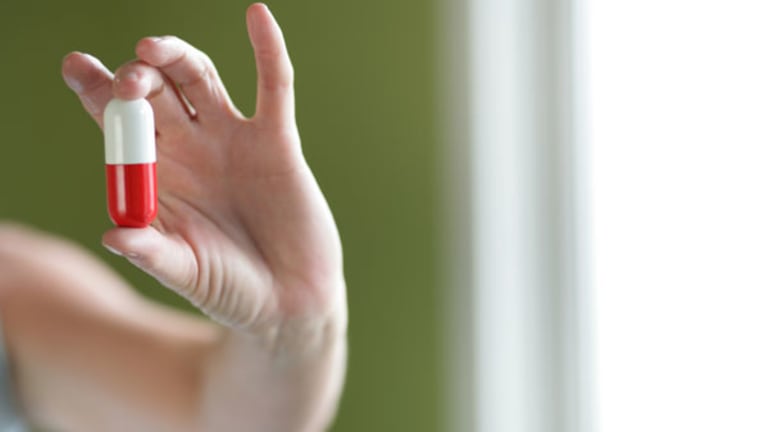 Repros CEO: My Testosterone Drug Helped Gay Cubans Have Lots of Sex
Androxal may be an effective testosterone pill, but Thursday's bizarre conference call was a hard sell.
THE WOODLANDS, Texas (
) -- Yes,
Repros Therapeutics
(RPRX)
CEO Joe Podolski really did get on a conference call Thursday morning to say that his experimental testosterone drug Androxal helped gay Cubans have more sex.
The gay Cubans entered the clinical trial with low testosterone. But after taking Androxal, their testosterone levels rose, leading to lots of sex, Podolski explained. The gay Cuban men had so much sex, in fact, that it caused their sperm counts to fall. Don't blame Androxal for lower sperm counts, Podolski said, blame gay Cubans having so much sex that their ammunition ran low.
At another point during the conference call, Podolski disclosed that a nurse at one of the Androxal clinical trial sites fabricated baseline sperm counts for patients. When Repros discovered the data fraud, the company changed the numbers and everything turned out fine.
Really? Um... Okay.
Repros shares are up 73% to $15.86 Thursday, so either investors truly believe Androxal works or Podolski is the greatest salesman in bio-pharma history. Maybe it's a bit of both. Either way, bulls and bear will continue to debate the future of Androxal but surely will agree Thursday's conference call was bizarre.
Androxal is a variant of the female reproductive hormone Clomid which Repros is developing as a treatment for men with low testosterone. Right now, men with "low T" are prescribed various testosterone-laden gels and creams --
Abbvie's
(ABBV) - Get AbbVie, Inc. Report
Androgel,
Auxillium Pharmaceuticals'
(AUXL)
Testim or
Eli Lilly's
(LLY) - Get Eli Lilly and Company Report
Axiron. The worldwide testosterone market is $2 billion annually and growing but these rub-on treatments are messy, carry the risk of transference and cause sperm counts to fall. (A big negative for men who still want to father kids.) As a pill, Androxal is designed to be much more convenient, can't be transferred to kids or women, and most importantly, doesn't lower sperm count.
Repros' phase III study enrolled 113 men with low testosterone and randomized them to receive Androxal or a placebo. The study had two primary endpoints: 1) 75% of the men in the Androxal arm were required to have 24-hour average testosterone level in the normal range after 12 weeks; and 2) Androxal had to demonstrate statistical non-inferiority compared to placebo for the percentage of men with a sperm count falling 50% from baseline to 12 weeks into the trial.
Repros says Androxal achieved both primary endpoints in the study with statistical significance. However, the company left a lot of data undisclosed and questions about the conduct of the study unanswered.
On the testosterone endpoint, Repros says 79% of the intent-to-treat, Androxal-treated men exhibited 24-hour testosterone levels that were in the normal range after 12 weeks, therefore exceeding the 75% threshold.
Repros did not disclose the mean or median testosterone levels for the men treated with Androxal in the study, nor did the company say anything about how the men treated with placebo performed with respect to testosterone levels.
In a separate "completers" analysis, 83% of men treated with Androxal had a mean 24-hour testosterone of 425 ng/dl, Repros said.
The "normal" testosterone range was defined at 300-1040 ng/dl.
If Repros had mean testosterone levels for the "completers" in the study, the company surely has similar data on the more-important intent-to-treat patients, yet this information was not disclosed.
And none of the analysts on the conference call bothered to ask.
Repros provided even less disclosure for the sperm count endpoint, while acknowledging that the conduct of this portion of the study ran into problems. Repros claims that Androxal-treated men with "valid baseline sperm results" had sperm counts 12 weeks later that were non-inferior to placebo patients -- good enough to claim victory.
On the conference call, Podolski said 15 men on Androxal had sperm counts that fell below 50% of baseline compared to 1 man treated with placebo. Repros also acknowledged that if the largest-enrolling clinical trial site was removed from the analysis, the sperm-count endpoint failed to reach statistical significance. FDA will examine the sperm count data with and without the data from this clinical trial site, Podolski said.
This is also where we get back to the gay Cubans. Podolksi argued that some of the low sperm counts recorded in the study were the result of men having too much sex, and not due to Androxal. He also tried to downplay any negative effect resulting from another clinical trial site where baseline sperm counts were made up or missing.
A second phase III study of Androxal is underway, with enrollment expect to wrap in May. Podolski insists the data announced Thursday should convince investors that the second study will also be positive.
But what about all the inconsistencies in the clinical trial and and missing Androxal data?
"I think FDA will be just fine with these results," Podolski said.
And why should investors trust Podolski?
"If you're in my kitchen, you may not like the way the food smells, but hopefully, it tastes good," he said.
I have no idea what that means, either.
-- Reported by Adam Feuerstein in Boston.
Adam Feuerstein writes regularly for TheStreet. In keeping with company editorial policy, he doesn't own or short individual stocks, although he owns stock in TheStreet. He also doesn't invest in hedge funds or other private investment partnerships. Feuerstein appreciates your feedback;
to send him an email.