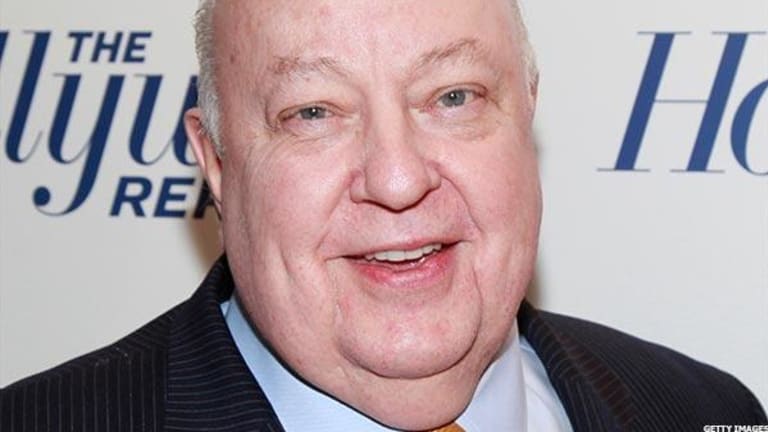 Report: Feds May Be Probing Fox Over Ailes
Lawyer in lawsuit against Roger Ailes says he got DOJ subpoena.
Federal prosecutors may be investigating whether Fox News and its parent company 21st Century Fox (FOXA) - Get Fox Corporation Class A Report  broke securities laws by failing to tell shareholders about company money that former Fox News President Roger Ailes allegedly spent to keep sexual-harassment claims quiet, according to The Hollywood Reporter.
The publication said Wednesday that Judd Burstein, an attorney for a former Fox News host Andrea Tantaros, said in open court during a hearing before New York Supreme Court Judge David Benjamin Cohen that he received a subpoena from U.S. Justice Department prosecutors in the midst of a sexual-harassment lawsuit against Ailes. Tantaros is a former co-host of the Fox News show The Five.
"Once I saw it, I knew what was happening," Burstein said, according to the trade publication's report. "They were investigating whether Fox News violated securities laws by not reporting settlements to the Securities and Exchange Commission."
But a FOX News spokesperson said, "The court granted FOX News' motion to send Andrea Tantaros' case to arbitration, where it always belonged, and rejected her counsel Judd Burstein's histrionics," according to the statement. "Apparently one of Mr. Burstein's other clients has received a subpoena. Neither FOX News nor 21CF has received a subpoena, but we have been in communication with the U.S. Attorney's office for months - we have and will continue to cooperate on all inquiries with any interested authorities." 
Fox News attorney Andrew J. Levander told The Hollywood Reporter that Burstein's comments were "beyond the pale."
New York magazine last year cited an unnamed "senior Fox source" as saying that Ailes quietly used company money to not only settle sexual-harassment claims, but also to "hire consultants, political operatives, and private detectives who reported only to him."
But Ailes attorney Susan Estrich told New York that those allegations were "totally false."