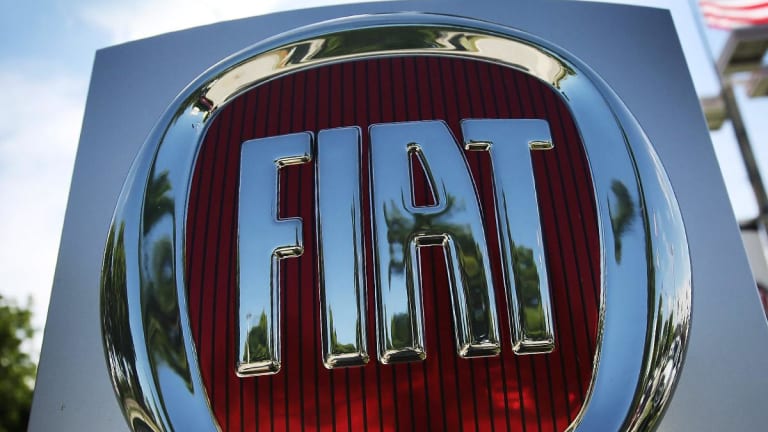 Renault Gets Guarded Support on $35 Billion Fiat Tie-Up From French Government
Renault shares slipped lower Tuesday after the French government said it needed job and board seat guarantees in order to support a proposed $35 billion tie-up with Italy's Fiat Chrysler to create the world's third biggest carmarker.
Renault SA (RNLSY) shares slipped lower Tuesday after the French government said it needed job and board seat guarantees in order to support a proposed $35 billion tie-up with Italy's Fiat Chrysler Automobiles NV  (FCA) to create the world's third biggest carmarker. 
Fiat Chrysler, which is controlled by Italy's powerful Agnelli family, is looking to combine with Renault in a game-changing deal that would allow it to lever its foothold in the U.S. market with the French automaker's strengths in Europe and its early-mover advantage in electric vehicle production. Renault, for its part, could find entry into the US while at the same time extracting itself from the now-combative tie-up with Japan's Nissan Motor Co. following the arrest of former CEO Carols Ghosn last year in Tokyo amid allegations of financial misconduct.
France's Finance Minister, Bruno Le Marie, said the government would need four guarantees in order to support the proposal, which would create a 50-50 ownership structure while reducing the French government's stake to 7.5%, including board representation and industrial sites protections.
"I told the Renault chairman very clearly that it was the first of the guarantees I wanted from him in the opening of these negotiations," Le Marie told RTL radio Tuesday. "A guarantee on the preservation of industrial jobs and sites in France." 
Renault shares were marked 1.2% lower in the opening hours of trading in Paris, following yesterday's 12.1% gain, and changing hands at €55.37 each. Fiat Chrysler shares, which surged 8% yesterday in Milan, were marked 0.71% lower at €12.28 each.
Carmakers around the world are also facing the uncertain prospects of tariffs on imports into the United States, which President Donald Trump has threatened under national security legislation, and a precipitous plunge in demand from customers in China, the world's biggest car market, where sales fell to the lowest level in three decades last year.
New emissions regulations, as well as intense competitive pressures from clean-energy rivals such as Tesla Inc. (TSLA) and ride-sharing upstarts such as Uber Technologies (UBER) and Lyft (LYFT) , has left traditional automakers with little choice but to seek out opportunities to both scale up their production rates, open doors to new markets and find billions in cost savings to protect their shrinking bottom lines.
The proposed deal would not only create a $35 billion automaker capable of making 8.7 million cars a year, putting it in third place behind Germany's Volkswagen AG (VLKAY) and Japan's Toyota Motor Co. (TM) , but it would also represent an enormous challenge to likes of General Motors (GM) and Ford Motor Co. (F) in the global drive to establish market leadership in clean-energy vehicle and battery production.
The combined group would also have a brand portfolio than ranges from JEEP and RAM offerings in the United States to luxury cars like Maserati and Alfa Romeo in Europe to Renault's lower-priced electric offerings in China, where it sold 28.1 million units last year.
However, the proposal faces many significant -- and perhaps insurmountable -- obstacles and could take years to complete, analysts have cautioned, the most significant of which will be the future of Renault's current arrangement with Nissan. 
Renault owns 43% of Nissan, which sells far more cars each year but only has a 15% sake in the Paris-based automaker -- equal to that of the French government -- in return. And while Japan's government has stressed the importance of maintaining the two-decade alliance, some investors are wondering if Nissan may wish to extract itself from the tie-up in order to unlock some of the value trapped in the Ghson-led arrangement.
Nissan shares closed 2.31% higher in Tokyo at 765.1 yen each, but had fallen some 13% so far this year, a move accelerated by slumping North American sales and weaker-than-expected earnings.
Ghosn stepped down from his role as CEO of Nissan in 2017 as the 64-year old began paring back his position as the world's most visible auto executive amid escalating tensions with the French government and shareholder pressure to either merge its alliance with Nissan or deepen ties between the two auotmakers and Mitsubishi.
His 2017 payout, which included €7.4 million from Renault and €9.2 million over his final year at the helm of Nissan, was also approved following a 56% to 43% vote by shareholders even as the French government, which owns a 15% stake, rejected the compensation plan.
Ghosn won backing for another four-year term at the held of the Renault board in June, and told La Figaro newspaper in Paris that a plan for the future of the three-way alliance would be revealed "well before the end of my term, or even rather at the start."