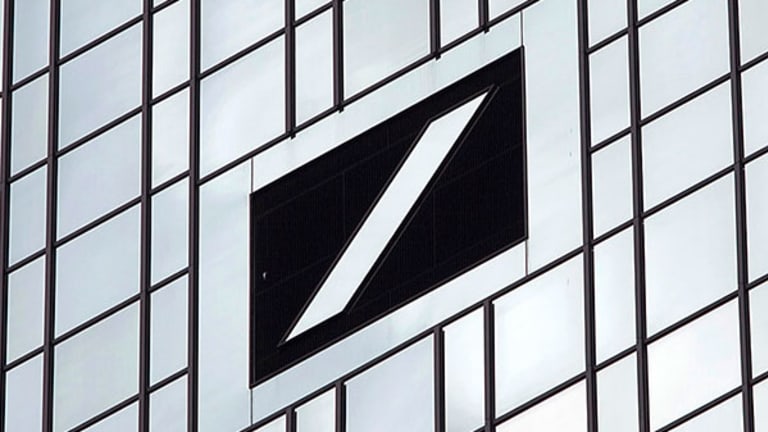 Regulatory Cloud Stretches From JPMorgan to Europe (Update 1)
Banks in Europe are also seeing major hits to earnings from multiple regulatory investigations.
Updated from 11:30 a.m. ET with more on UBS and comment from Canacord Genuity analyst Arun Melmane.
NEW YORK (
) -- Regulatory issues wiped out third-quarter earnings for
JPMorgan Chase
(JPM) - Get JP Morgan Chase & Co. Report
, but European banks are also seeing a major hit to profits from multiple investigations.
Deutsche Bank
(DB) - Get Deutsche Bank AG Report
on Tuesday reported third-quarter earnings of 51 million euros, which included 1.2 billion euros in "litigation related charges." The company's earnings were down from 335 million euros in the second quarter and 754 million euros in the third quarter of 2012. Even during the third quarter of 2012, the company's return on average equity was quite low, at 5.3%.
The third-quarter results were also hurt by weak trading and investment banking revenue. Deutsche Bank's co-CEOs Jurgen Fitschen and Anshu Jain in a statement said the bank was making progress in "key areas," including "approximately 15% of our 2015 balance sheet reduction target of EUR 250 billion."
UBS
(UBS) - Get UBS Group AG Registered Report
on Tuesday reported a relatively weak third quarter, with a net profit of 577 million Swiss francs, compared to 690 million the previous quarter and a net loss of 2.124 billion francs in the third quarter of 2012, which resulted from goodwill impairment charges. During the most recent quarter, net trading income was down 69% sequentially and 33% year-over-year, to 543 million francs, while net fee and commission income was down 10% sequentially and 2% year-over-year, to $3.831 billion francs.
The company reported a third-quarter return on tangible equity of 5.9%.
UBS reported $586 million in third-quarter provisions for litigation, regulatory and similar matters, compared to $658 million in the second quarter and $239 million in the third quarter of 2012.
The company also hinted at major trouble ahead, announcing that after "an initial media report in June 2013 of widespread irregularities in the foreign exchange markets" it had started a review of its foreign exchange business and that it was cooperating in regulatory investigations. UBS also announced it had "taken and will take appropriate action with respect to certain personnel as a result of our review, which is ongoing."
UBS's actions against employees were first reported by the
Wall Street Journal
.
UBS has said that among its major goals is to reduce its risk-weighted assets (RWA). That's the denominator for key regulatory capital ratios the company has been boosting. The company reported that over the past four quarters it has reduced its RWA by 80 billion francs, or 27%, while reducing its total balance sheet by 300 billion francs. But there was bad news as well. The Swiss Financial Market Supervisory Authority (FINMA) in October ordered "a temporary 50% add-on" to the company's operational risk RWA "in relation to unknown litigation," according to USB. This has the effect of temporarily increasing RWA by 28 billion francs.
Shares of UBS were down over 8% to $19.61 in afternoon trading on the New York Stock Exchange.
Along with the continued elevation of litigation and regulatory expenses, the RWA hiccup and the foreign exchange investigation, UBS said that "without the complete removal of the temporary add-on if RWA, its goal of achieving a 15% return on equity (ROE) in 2015 "will be delayed by at least one year."
Canaccord Genuity analyst Arun Melmane in a note to clients on Tuesday struck a brighter tone, writing that "The capital story for UBS is coming along strongly," as the company's fully-implemented Basel III Tier 1 common equity ratio was 11.9% as of Sept. 30.
Melmane rates UBS a "buy."
"The ROE target being potentially postponed by 1 year, we view as less of a worry for the investment case. We see the capital level within UBS as still excessive for a restructured bank with a focus on wealth management with constrained
investment bank RWAs. Management have shown good progress on de-leveraging and RWA reduction and we expect them to be able to offset the FINMA charge via management actions," Melmane wrote.
International regulators are clamping down on foreign exchange manipulation. Britain's Financial Conduct Authority (FCA) on Oct. 16 announced it was "conducting investigations alongside several other agencies into a number of firms relating to trading on the foreign exchange (forex) market." The regulatory body said the investigation was at an "early stage" and hadn't concluded whether there was misconduct. The Department of Justice, Commodities Futures Trading Commission and other regulators are also investigating foreign exchange trading.
LIBOR Settlements Continue, Rabobank Head Rolls
Rabobank
of Utrecht, the Netherlands, on Tuesday announced it had agreed to pay various regulators 774 million euros ($1.068 billion) to settle investigations into the bank's "historical Libor and Euribor submission processes." EURIBOR stands for Euro Interbank Offered Rate, which is an average for overnight lending rates for banks within the eurozone.
Rabobank's chairman Piet Moerland announced his resignation Tuesday, "as a matter of principle," and in a statement said, "The public has to be able to trust that Rabobank employees operate with our core values in mind." Moerland also offered "a sincere apology and strong condemnation of these inappropriate acts."
The bank said 30 of its employees had been involved with "inappropriate conduct," and that it took strong disciplinary action against the employees. Rabobank said "Top management was neither involved nor aware of inappropriate conduct." The mutually owned bank also said it would remain "remain financially stable despite the payment of these significant settlement amounts."
LIBOR stands for London Interbank Offered Rate. Before the scandal broke, the rate was compiled by the British Bankers' Association from the rate information submitted each day by a group of large banks with international business. LIBOR is a critically important "overnight rate," because many types of loans have their rates indexed to LIBOR, as do many types of derivative securities.
The LIBOR scandal came to light last year, when various media outlets reported that banks had submitted false information used to compile LIBOR. Banks had misstated the rate at which they estimated they could borrow funds overnight from other banks, because admitting to an increased cost for overnight loans would signal that the financial health of the bank submitting the data was weakening.
LIBOR this year came under the supervision of Britain's Financial Services Authority. The Financial Services Authority has been split into the FCA, which now oversees LIBOR, and the Prudential Regulation Authority, which oversees banking in the UK. LIBOR is also being investigated by the U.S. Congress, the Justice Department, the Commodity Futures Trading Commission (CFTC), and many other regulators.
Barclays PLC
(BCS) - Get Barclays PLC Report
was the first big bank to settle LIBOR investigations, agreeing in June 2012
to pay U.S. and European regulators $454 million
. In its settlement order, the CFTC said the bank's manipulation of overnight lending rate data involved "high levels of management within Barclays Bank." The CTFC also said the submission of artificially low rate data by Barclays "occurred regularly and was pervasive," beginning in 2005.
Following Barclays' settlement, the company's chairman Marcus Agius and its CEO Bob Diamond both resigned.
Other settlements followed.
UBS
(UBS) - Get UBS Group AG Registered Report
in December of last year
to settle LIBOR probes with several regulators, and the company's Japanese subsidiary even plead guilty to a Justice Department charge of rate-rigging. The Justice Department also charged two senior UBS traders with criminal conspiracy.
Royal Bank of Scotland
(RBS) - Get Royal Bank of Scotland Group Plc Report
in February agreed to pay $610 million to regulators to settle LIBOR. The bank also entered into a deferred prosecution agreement with the Justice Department, pledging to continue to cooperate in several investigations.
ICAP PLC
in September agreed to pay $87 million to settle LIBOR manipulation charges.
JPMorgan Chase
(JPM) - Get JP Morgan Chase & Co. Report
and
Citigroup
(C) - Get Citigroup Inc. Report
both face their own LIBOR investigations, along with multiple lawsuits.
JPM said in its second-quarter 10-Q filing with the Securities and Exchange Commission that it had received subpoenas or requests for information on its LIBOR submissions from "regulatory authorities and banking associations around the world." The company also said it was facing -- along with other banks -- class action lawsuits related to LIBOR. There's no way of knowing how much risk JPMorgan Chase ultimately faces from the LIBOR scandal and related investigations and lawsuits.
JPMorgan took the extraordinary step of reporting it had $23 billion in litigation reserves as of Sept. 30. The company reported a third-quarter net loss of $387 million, driven by a $9.15 billion provision for litigation reserves. A large chunk of the $23 billion in litigation reserves is likely to be taken up by the settlement of multiple investigations of mortgage loan and securities sales by the bank, along with Bear Stearns and Washington Mutual, which it acquired in 2008 through transactions encouraged by the government. The settlement -- led by the Justice Department -- could reach as high as $13 billion, including
with the Federal Housing Finance Agency announced Friday.
Next: ECB Stress Tests
Investors in U.S. banks have grown used to the Federal Reserve's annual round of stress tests, which have gauged the nation's largest banks' ability to remain well-capitalized under "severely adverse" economic scenarios.
As part of the European Union's effort to centralize bank regulation, the European Central Bank will begin a "comprehensive assessment" of the biggest eurozone banks in November. The initial review will take 12 months, leading to a "single supervisory mechanism" late in 2014. The initial assessment will cover 128 banks, including subsidiaries of
Bank of New York Mellon
(BK) - Get The Bank of New York Mellon Corporation Report
,
Bank of America
(BAC) - Get Bank of America Corporation Report
and
State Street Corp.
(STT) - Get State Street Corporation Report
.
The ECB's comprehensive assessment will require a supervisory risk assessment, a review of asset quality and a stress test, to gauge banks' ability to operate under unusually weak economic conditions.
During a press conference last week, ECB Director General of Financial Stability on the Comprehensive Assessment in Advance of the Single Supervisory Mechanism Ignazio Angeloni signaled a change in tone following several years of bank bailouts in Europe, saying the assessments may lead to regulatory actions, that "can consist in adjustment in the capital, adjustment in the structure of funding and maturity, the liquidity, etc." The word "adjustment" can mean a major requirement, such a dilutive common equity raise.
Investors in European banks can expect quite a rough ride over the next year, before the ECB announces the results of its initial assessment.
-- Written by Philip van Doorn in Jupiter, Fla.
>Contact by
.
Philip W. van Doorn is a member of TheStreet's banking and finance team, commenting on industry and regulatory trends. He previously served as the senior analyst for TheStreet.com Ratings, responsible for assigning financial strength ratings to banks and savings and loan institutions. Mr. van Doorn previously served as a loan operations officer at Riverside National Bank in Fort Pierce, Fla., and as a credit analyst at the Federal Home Loan Bank of New York, where he monitored banks in New York, New Jersey and Puerto Rico. Mr. van Doorn has additional experience in the mutual fund and computer software industries. He holds a bachelor of science in business administration from Long Island University.