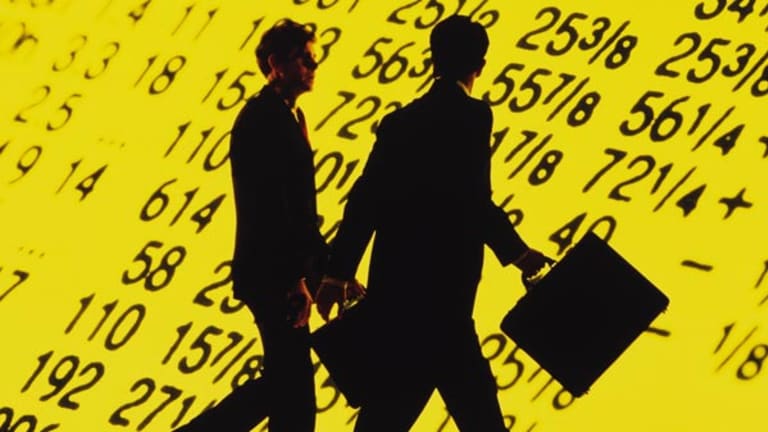 Regulators Spar Over Mortgage Guarantees
The first sign of what will be a long, drawn-out political battle over the government's role in housing.
NEW YORK (
) -- In the first sign of what will be a long, drawn-out political battle over the government's role in housing, two top regulators squared off on Wednesday over federal guarantees on mortgage debt.
During testimony before the House Financial Services Committee on Wednesday regarding housing-finance reform, a Treasury official and the head of the Federal Housing Finance Agency (FHFA) expressed disparate views on whether taxpayers will face losses going forward if the government continues to stand behind mortgage bonds.
Edward DeMarco, acting director of the FHFA, which oversees the "government-sponsored enterprises"
Fannie Mae
undefined
,
Freddie Mac
undefined
and the Federal Home Loan Banks, questioned the wisdom of providing guarantees in the future.
DeMarco pointed out that deep government involvement will likely lead to a pricing "distortion," because politics may funnel money into loans that aren't backed by proper economics. He also argued that additional government support of housing - on top of existing tax deductions - will continue decades-long policies of building wealth through housing investments, which hasn't worked out so well to date.
However, Michael Barr, the Treasury's assistant secretary for financial institutions, suggested that if priced appropriately, explicit guarantees could be a workable solution. He pointed out that "the new loans being guaranteed by the GSEs are not contributing in any material way to the losses the GSEs face. Quite the contrary."
The Obama administration supports the idea of explicitly guaranteeing mortgage debt under a new system. It has stressed the need for "accurate" pricing that provides an "appropriate" return for taxpayers. But DeMarco noted that the government may not be able to price guarantees any better than private market has.
"The presumption behind the need for an explicit federal guarantee is that the market either cannot evaluate and price the tail risk of mortgage default - at least at any price that most would consider reasonable - or cannot manage that amount of mortgage credit risk on its own," said DeMarco. "But we might ask whether there is reason to believe that the government will do better? If the government backstop is underpriced, taxpayers eventually may foot the bill again."
Under the current system, the government provides implicit guarantees via the GSEs. Since being taken over by the federal government, the losses borne by taxpayers have been anything but explicit, with Fannie and Freddie tapping $148 billion in Treasury funds so far. Officials estimate that the two firms may require up to $400 billion in federal support under a worst-case scenario.
The Treasury Department has emphasized the fact that less than 1% of Fannie and Freddie's losses stem from loans underwritten since the president took office. The rest come from legacy loans that were underwritten before the firms entered conservatorship two years ago.
On Wednesday, Barr acknowledged that the GSEs "were allowed to operate under an unacceptable 'heads I win, tails you lose' system." But asserted that things have changed since then, with higher guarantee fees and better underwriting standards helping to mitigate losses. Both he and DeMarco also indicated that the government is pushing hard on top mortgage servicers like
Bank of America
(BAC) - Get Free Report
,
Wells Fargo
(WFC) - Get Free Report
,
JPMorgan Chase
(JPM) - Get Free Report
and
Citigroup
(C) - Get Free Report
to repurchase mortgages that breached contract terms.
At a conference last month, Treasury Secretary Tim Geithner said for the first time that
Fannie and Freddie will be wound down. He and other
leading figures in the regulatory and financial industry have shown an inclination for the GSEs to be replaced with a system that retains significant government support.
But the battle won't be won easily in Congress.
Left-leaning lawmakers have long been supporters of the GSEs, using them as a tool to provide affordable housing for minorities and low-income Americans. However, their lax policies also helped to push Fannie and Freddie deeper into subprime lending during the housing market's boom.
The right wing, meanwhile, has long wanted to abolish the GSE system entirely. Republican lawmakers criticized the Democratic-controlled Congress and Obama administration for not having included GSE reform in the Dodd-Frank regulatory reform bill that was signed into law on July 21. A group of conservatives attempted to push through an amendment that would wind down Fannie and Freddie's obligations and put housing finance entirely into the private sector over an extended period of time.
Since homeownership is core to both parties' political base as the so-called "American dream," it's unclear how the battle will ultimately shake out. The Treasury Department asked for public comments in April and will offer a framework suggestion early next year.
--Written by Lauren Tara LaCapra in New York.
>To contact the writer of this article, click here:
Lauren Tara LaCapra
.
>To follow the writer on Twitter, go to
http://twitter.com/laurenlacapra
.
>To submit a news tip, send an email to:
.
Disclosure: TheStreet's editorial policy prohibits staff editors, reporters and analysts from holding positions in any individual stocks.