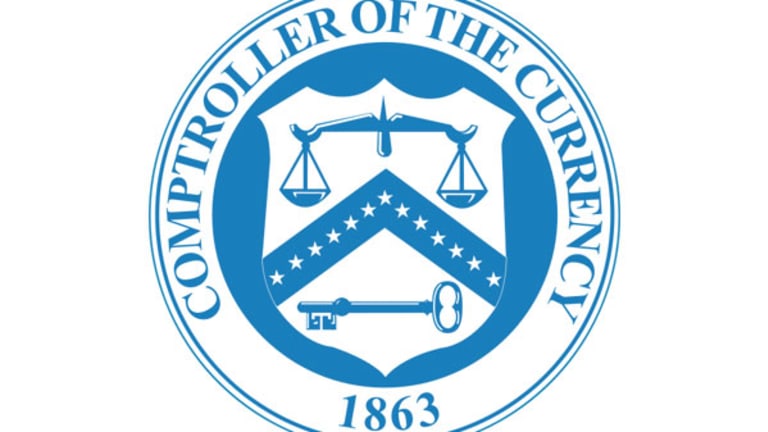 Regulators Double Basel III Capital Requirement (Update 1)
Three federal regulators have proposed doubling a key Basel III capital requirement for the nation's largest banks.
Updated with afternoon market action and further detail on the enhanced capital requirements.
NEW YORK (
) -- One week after federal regulators issued their "final" rules for implementing Basel III capital requirements, the regulators on Tuesday proposed doubling a key requirement for the nation's largest banks.
The Office of the Comptroller of the Currency on Tuesday announced that along with the
Federal Reserve
and the Federal Deposit Insurance Corporation, it had proposed "to add a 6 percent supplementary leverage ratio requirement to the 'well-capitalized' capital category to their respective prompt corrective action regulations for any covered insured depository institution."
The 6% minimum Basel III supplementary Tier 1 leverage ratio requirement will apply to banks with total assets of more than $700 billion. The largest bank holding companies will be required to maintain Basel III Tier 1 leverage ratios of at least 5%.
The regulators' supplementary leverage ratio requirement is completely separate from the final Basel III Capital Rules published last week by the Fed, the OCC and the FDIC. Under those rules, the Basel III Tier 1 leverage requirement for all banks is 4%. But "advanced approaches" banks are required to do a separate Tier 1 leverage capital ratio calculation, incorporating off-balance-sheet items. The minimum requirement for this supplementary Tier 1 leverage ratio is just 3% under the final rules announced last week.
But the Federal Reserve Governor Daniel Tarullo said in a statement that "despite its innovativeness in taking account of off-balance-sheet assets, the Basel III leverage ratio seems to have been set too low to be an effective counterpart to the combination of risk-weighted capital measures that have been agreed internationally." He also said "we are very close to completion of a notice of proposed rulemaking that will establish a leverage ratio threshold for these firms above the Basel III required minimum."
It sure didn't take long for the regulators to propose the higher capital requirement, but it is a confusing event for investors, who would like to see the capital requirements settled at some point.
"The regulators want to make sure that the large-cap banks don't get too comfortable with where their capital requirements are," says Guggenheim Securities analyst Marty Mosby. "This leaves some uncertainty out there to encourage them to be more conservative in their deployment of capital."
The latest move on capital requirements may also soothe some members of Congress, who have been calling for a simpler approach to banks' capital requirements.
Most of the media coverage of the implementation of Basel III has focused on the Tier 1 common equity ratio, which is a risk-based capital ratio.
Risk-based means that a bank's assets are weighted by perceived risk. For example, cash has a zero risk weighting. Loans have risk-weightings based on loan-to-value ratios and whether or not the payments are current. Bonds have risk-weightings based in part on ratings.
The minimum Tier 1 common equity ratio for large banks is 7% under Basel III, with additional requirements for "globally systemically important financial institutions," or GSIFIs. Based on determinations by the Basel Committee, the additional capital surcharges for
Citigroup
(C) - Get Citigroup Inc. Report
and
JPMorgan Chase
(JPM) - Get JPMorgan Chase & Co. (JPM) Report
are 2.5%, so each of these banks has a fully phased-in minimum Basel III Tier 1 common equity ratio requirement of 9.5%.
For
Bank of America
(BAC) - Get Bank of America Corp Report
and
Wells Fargo
(WFC) - Get Wells Fargo & Company Report
, the surcharge is 1%, for fully phased in Basel III Tier 1 common equity ratio requirements of 8.0% for each company.
Citigroup's estimated Basel III Tier 1 common equity ratio was 9.3% as of March 31, while JPMorgan's estimated ratio was 8.9%, putting both companies close to compliance, years in advance of January 2019, when the rules will be fully implemented.
Bank of America and Wells Fargo were already in compliance with their Basel III Tier 1 common equity requirements, with respective estimated March 31 ratios of 9.42% and 8.39%.
The Leverage Ratio Is Different
The Tier 1 leverage ratio is not risk-weighted, and analysts differ on how much of an effect the FDIC's move will have on the big banks.
According to KBW analyst Brian Kleinhanzl, among eight of the nation's largest banks, only Wells Fargo had an estimated supplementary Basel III Tier 1 leverage ratio above 6% as of March 31. Of course, at that time, it wasn't yet known that the large holding companies would be required to maintain Tier 1 leverage ratios of 5%, with their bank subsidiaries facing the 6% requirement.
According to Kleinhanzl, Wells Fargo had $23.4 billion in excess capital, based on his firm's estimates. Here are the shortfalls for full compliance with supplementary Basel III Tier 1 leverage requirements, calculated by KBW:
While State Street is not at this point considered an "advanced approach" bank, KBW included the firm in a note to clients on June 21, saying the company could eventually qualify for the supplementary Tier 1 leverage ratio requirement.
Mosby has a more positive viewpoint on positioning of the big banks for compliance with a 6% supplementary Basel III Tier 1 leverage ratio. He estimated last week that as of March 31, Bank of America, Citigroup, JPMorgan Chase and Wells Fargo had supplementary Basel III Tier 1 leverage ratios in excess of 6%.
According to Mosby, large banks with less than 6% estimate supplementary Basel III Tier 1 leverage ratios as of March 31 included Goldman Sachs, with a 5.91% ratio; Morgan Stanley, with a 4.46% ratio; Bank of New York Mellon, at 4.54%; and State Street, at 5.93%.
Estimating the supplementary Basel III Tier 1 leverage ratio "depends on what you are incorporating off balance sheet," according to Mosby. "We are looking at the fair value of those off-balance sheet items, and trying to layer them in to calculate the supplementary ratio."
Dividends and Share Repurchases
Mosby expects the new rules to have no effect on banks' dividend payouts, "because they are limited to 30% of earnings anyway, and the regulators have no interest in suppressing dividend payments. What we are really looking at is how much they can add on top of that for share repurchases?"
According to Mosby, large banks have been seeking eventually to add share repurchases equivalent to 40% to 50% of earnings, for combined returns of capital of 70% to 80% of earnings.
"The question now is whether the higher constraints make banks retain more of their retained earnings going forward, to trim total payout to 60% rather than 70% to 80%," he says.
The ongoing market rally for bank stocks continued on Tuesday, despite the proposed increase in regulatory capita requirements. The
KBW Bank Index
(I:BKX)
was up 0.5% to 64.63 in afternoon trading, with all but five of the index components showing gains.
-- Written by Philip van Doorn in Jupiter, Fla.
>Contact by
.
Philip W. van Doorn is a member of TheStreet's banking and finance team, commenting on industry and regulatory trends. He previously served as the senior analyst for TheStreet.com Ratings, responsible for assigning financial strength ratings to banks and savings and loan institutions. Mr. van Doorn previously served as a loan operations officer at Riverside National Bank in Fort Pierce, Fla., and as a credit analyst at the Federal Home Loan Bank of New York, where he monitored banks in New York, New Jersey and Puerto Rico. Mr. van Doorn has additional experience in the mutual fund and computer software industries. He holds a bachelor of science in business administration from Long Island University.