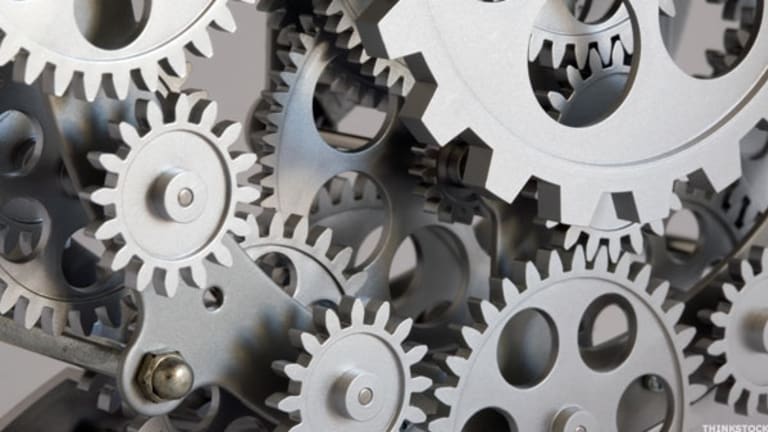 Regulations Could Derail Railroad Profits
Railroad stocks could be derailed by new regulatory measures backed by shipping companies from various industries.
NEW YORK (
) -- Railroad companies could be in for a headache as some major industries are partnering to threaten their record-breaking years.
In January, the Surface Transportation Board -- the governmental agency that resolves railroad rates and service disputes and reviews railroad mergers -- said it would review competition in the railroad industry based on numerous complaints from companies that felt physically limited by a single rail carrier, called captive shippers.
The railroad industry is having a record year, but cries about shrinking competition threaten to knock stocks off track.
"Some shippers have suggested that mandated access by a second carrier to singly served businesses would be in the public interest," STB said in a filing. "Railroads have responded that such an action would undermine their ability to price their services differentially based on demand and that, as a result, they would be unable to earn enough revenue to invest sufficiently in their networks."
It's an important consideration that could derail railroad stocks if the panel determined to take regulatory action.
Railroad stocks have soared in 2011 irrespective of volatile global markets. The Class I railroads --
Canadian National
(CNI)
,
Canadian Pacific
(CP)
,
CSX
(CSX)
,
Kansas City Southern
(KSU)
,
Norfolk Southern
(NSC)
and
Union Pacific
(UNP)
(
Burlington Northern Santa Fe Railway
is the seventh, but it is a subsidiary of Warren Buffett's
Berkshire Hathaway
(BRK.A)
(BRK.B)
) -- were each up for the year, except for Canadian Pacific (down 7.1%).
Promising second-quarter railroad earnings were driven by strong commodities volume, solid coal orders, improved rail efficiency and prospering intermodal shipping, which has fed railroad stocks well into the third quarter of 2011.
The ensuing competition debate that began in January and formally closed at the end of July entertained serious concerns from shippers -- the companies that pay railroads to ship their goods (i.e., coal, grain, feed, steel) -- and rebuttals from the railroad industry.
Critiques and rebuttals were submitted by scores of companies to the STB on the topic.
In one document, a consortium of 26 associations submitted joint critiques of the state of competition in the railroad industry. This group believed that STB rules on rail competition were based on now-outdated rules to govern the industry. Specifically, they referred to the Staggers Rail Act of 1980 that sought to alleviate the poor financial health of Class I railroads at the time.
The Staggers Act passed to counter the Interstate Commerce Act of 1887 that regulated shipping rates and halted price discrimination to keep the then-powerful railroads from abusing their virtual transportation monopoly. The following century brought the advent of other modes to transport goods, like automobiles and airplanes. By the late 1970s, the archaic Interstate Commerce Act had squeezed railroads tightly. Former Rep. Harley Staggers (D., W.Va.) proposed massive deregulatory reforms for the struggling railroads, which passed with great popularity and catalyzed unprecedented growth for Class I railroads in the following decades.
The 26 groups that submitted dissenting comments about the current state of competition in rails included wheat, electric, grain, chemical, glass and paper associations. They conceded that when the Staggers Act was implemented, the woeful state of railroad finances justified the application of rail monopoly pricing power, and that competition among railroads would efficiently regulate rates. But today, these associations said, those policies don't apply.
"Although the Board ... approved the Burlington Northern/Santa Fe andUnion Pacific/Southern Pacific mergers and the acquisition of Conrail by the Norfolk Southern and CSX (collectively the "mega-mergers") based in substantial part on the assurances by the applicants that the approved transactions would lead to healthy and vigorous rail-to-rail competition, the mega-mergers have in fact led to a substantial reduction of intramodal competition," the joint associations said in a statement.
The main argument here is that the 40 Class I railroads in 1980 have consolidated to seven today, which has crippled real competition. Back in 1998, the STB determined the opposite was true.
"
The clear trend since 1980 has been that railroad efficiencies achieved through mergers or other means have been largely passed along to shippers in the form of lower rates and improved service," the STB held. "Indeed, our monitoring of rail rates indicates that this downward trend has continued since 1993, a time during which rail service in the West was totally restructured with two major rail mergers."
But dissenting groups cited that the STB later found that rail rates adjusted for inflation increased between 2005 and 2007. The group went on to argue that Class I railroads ability to raise prices even during troubled the economic conditions since 2008 proved the strength of the industry and its declining competition.
The railroads have not been oblivious to similar complaints.
Jim Young, chief executive of Union Pacific, said in a statement to the STB that railroads faced increased competition from other modes of transportation that critics have not highlighted: trucks and water carriers.
"Sometimes competition is easy to see because one carrier takes traffic directly from another," Young said. "Each year, we lose and must replace over 10% of our business."
"What is being sought here is not more competition, but rather lower rates for a limited group of shippers," said Michael Ward, chief executive of CSX.
Ward said that over his career he has seen competition only grow stronger. CSX said it planned to invest $2 billion into its tracks, locomotives, rail cars and terminals in 2011. A complaint by many captive shippers is that poor railroad infrastructure and a lack of necessary upgrades have resulted in delayed shipments of goods. If producers' shipments don't reach consumers in time, then the producer could get dropped.
But it is hard to determine how widespread these problems are.
Discontent over the supposed lack of competition in the railroad industry can vary by geographic region.
Bob Zelenka, executive director of the Minnesota Grain and Feed Organization, told
TheStreet
that one of the biggest complaints of farmers in his state is that much of the railroad infrastructure hasn't been updated. Zelenka said that railroads haven't invested properly, and as a result, speeds of the trains have decreased significantly. In some parts of Minnesota, he said, trains will hit areas going an average speed of only 30 mph. And if shipments are late, Minnesota farmers could lose business to farmers from other states with railroads that deliver on time.
"It's not just about getting our product out; it's also about bringing things in," Zelenka said. He said that consolidation has been felt in Minnesota as it seemed that the state was losing competition, which he argued is directly related to costs incurred by Minnesota farmers. Farmers have the option of moving commodities on barges down the river, but trains are the only reasonable option when winter freezes the water.
Conversely, coal miners in West Virginia seem content with their rail relationships.
Jason Bostic, vice president of the West Virginia Coal Association, told
TheStreet
that his state's transportation situation is somewhat unique as difficult terrain limits options. Bostic said there are only two Class I railroads that serve West Virginia (CSX and Norfolk Southern) and that some 98% of its rail traffic is for coal.
"
The railroads have become a lot more sympathetic to our concerns," Bostic said. He added that since he was a young man in the 1980s, infrastructure has improved significantly. But Bostic revealed the clinching reason for a smooth rail-coal relationship: West Virginia has the second largest recoverable coal reserves in the United States, which accounts for a huge chunk of revenue for the two railroads that serve the state. The railroads want the profits that result from transporting West Virginia coal, and West Virginia coal-miners need the railroads to do it for them -- it's a reciprocal relationship.
West Virginia Sen. John D. "Jay" Rockefeller has argued that railroads are only offering take-it-or-leave-it deals, but his recommendations have been vague. For example, Rockefeller told the STB in June that the agency needed to give captive shippers a method to control rates and improve service. He also suggested that the STB make itself more accessible to shippers' disputes. Shortly after the senator's remarks, the STB cut its cost for shippers to a complaint to $300 from a whopping $20,000. Spokesman Eric Weiss told
TheStreet
that the board did not want companies to be discouraged from filing important objections due to outsized fees.
Rockefeller's signature was absent, however, from a U.S. Senate comment submitted on July 27 that outlined specific mandates it wanted the STB to review. It was also the final document submitted on the matter to the board.
Senator signees Al Franken (D., Minn.), David Vitter (R., La.), Herb Kohl (D., Wisc.), Tim Johnson (D., S.D.) and Amy Klobuchar (D., Minn.) recommended in the letter that the panel consider mandating reciprocal switching between railroads -- which the STB described as a practice that enabled a competing railroad to offer its own single-line rate -- even though it cannot physically serve the shipper's facility. The senators also demanded for railroads to provide access to their terminal facilities or tracks to competing railroads for a fee.
The symbiotic relationship between rails and coal in West Virginia puts Rockefeller in a delicate position to represent the interests of both railroads and coal miners that contribute to his state's economy.
Another complicated example of railroad competition is in Wyoming. The state contains the United States' largest coal reserves, but is faced with a scenario different from its West Virginia counterpart. Wyoming mines "outer river coal," which has less carbon and is softer than "Appalachian Mountain coal." When trains transport Wyoming coal, coal dust blows off the rail cars. The powdery coal gets stuck in the track ballast and thaws up the ballast so that it can't drain freely during heavy rain or snow melt.
Railroads have asked the coal miners to spray chemicals on the coal that prevent it from whipping off the trains, but the coal miners don't want to cover their product with something that the utility companies -- a coal consumer -- fear could adversely affect the product being burned for energy.
Marion Loomis, executive director of the Wyoming Mining Assocation, told
TheStreet
that the railroads have their advantages and drawbacks, but that the utility companies bear the burden of the railroads in Wyoming.
"For the most part well over 90% of the transportation costs are paid by the utilities," Loomis said. He said that train speed in some areas can be slow, but that for the most part it is efficient. Loomis added that BNSF and Union Pacific invested a significant amount for infrastructure in Wyoming.
It is difficult to create sweeping regulatory measures when conditions vary from state-to-state and even tougher when circumstances aren't even uniform within the state.
Franken argued on behalf of shippers at a testimony before the STB on June 23: "Most of these shippers don't want to say anything publicly because they realize it would be a fight between David and Goliath. These businesses need to maintain their relationship with the one railroad that serves them."
It could be a fair argument as many of the energy companies
TheStreet
contacted were careful in their comments about the railroads.
"In 2011, all coal transportation delivery met the demands of the plants," a spokesperson for
Entergy
(ETR)
said.
Southern
(SO)
said that it had no comment on the matter.
When asked what motivated Sen. Franken's testimony at the STB, spokesman Mark Kimball said it was simple: "His interest is ensuring there is fair competition."
But the previously mentioned final comment submitted to the board by Franken and the four other senators could be problematic because of its final recommendation: "The STB could consider revising its 'bottleneck decisions' to require railroads to quote separate rates for each segment of transportation by rail."
The STB definition for "bottlenecks" is a rate issue "when more than one railroad can provide service over at least a portion of the movement of a shipper's goods from an origin to a destination, but where either the origin or destination is served by only one carrier, i.e., the bottleneck carrier." In prior cases, utility companies have sought to establish a "local rate" with the railroad that owns the origin or destination point, and then to combine that rate with the rate of the other railroad the utility company must use in between those points.
The problem is that a prior STB decision cited a U.S. Supreme Court ruling that struck down this request in 1935: "
The reasonableness of through rates established by carriers should in general be evaluated from origin-to-destination, rather than on a segment-by-segment basis."
So, could railroad stocks take a hit if the STB passes new regulatory measures? They could, but one railroad industry analyst told
TheStreet
that it might be a long time before the board decides to take real steps towards imposing new restrictions on the rails. To create a uniform policy of regulation for a country that has very different and dynamic regional conditions is a tall task to meet. For now, railroad investors can set aside regulation worries and ride the fast track.
-- Written by Joe Deaux in New York.
>To submit a news tip, send an email to: