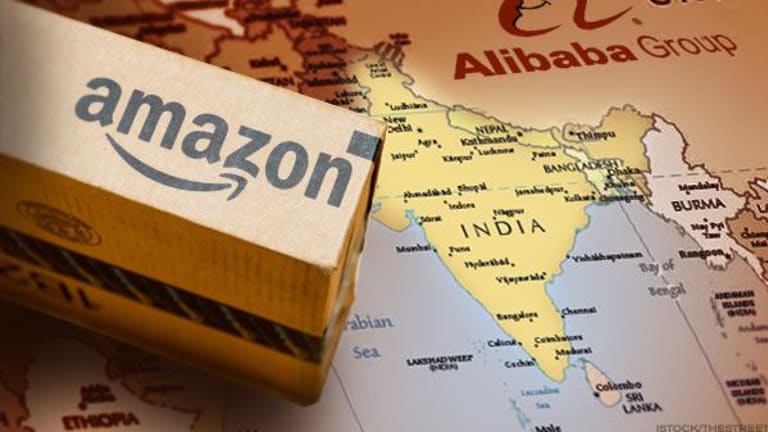 Alibaba Is Blowing It Out of the Water, but It Still Poses Risks
Some analysts do not believe the stock will outperform in the next 12 months.
Alibaba (BABA) - Get Free Report   on Wednesday, Jan 24, reported revenue growth of 54% year-over-year to almost $8 billion driven mainly by its strong core commerce business as well as boost in its nascent cloud computing and digital media and entertainment businesses.
But Jack Ma's e-commerce behemoth has also recently announced a series of acquisitions and partnerships to help boost its exposure to international markets and diversify away from its core competency. The deals are further evidence of Alibaba's transition into a data and technology company, much like Amazon (AMZN) - Get Free Report  .
Despite yet another impressive quarter of growth, some are not buying into the company's decision to shift away from its pure e-commerce role. Meanwhile, other clouds, including an ongoing investigation into the company's accounting practices by the Securities and Exchange Commission and the United States Trade Representative's (USTR) decision to put its Taobao Marketplace back on the "Notorious Markets" list, still hang over Alibaba's desire to establish itself as an internationally reputable company. Let's not forget the Trump trade wars factor, either.
"The reality is I think there are a lot of questions about the go-forward relationship between the U.S. and China and how it potentially would affect the Chinese economy and Alibaba. In addition, there has been an SEC inquiry pending for the better part of a year, we see that as a risk," said Scott Kessler, deputy global director and industry analyst at equity research firm CFRA.
CFRA, an equity research firm specializing in forensic accounting research, analytics and advisory services, downgraded its rating on the Alibaba stock from "Buy" to "Hold" after earnings were announced on Jan. 24 but elevated 12-month its price target for Alibaba to $106 for $102 a share. 
Skepticism towards Alibaba's leap into cloud computing, digital media and entertainment as well brick-and-mortar retail businesses also remains. The company placed a $2.8 billion bid to take department store chain Intime Retail Group private in early January and offered to buy 35% equity stake in Sanjiang Shopping Club, a Chinese grocery store chain for $302 million in November 2016.
"Alibaba has definitely been executing well, they are doing a good job but obviously they are pursuing a lot of different areas beyond the core e-commerce segment and that's not necessarily where their expertise or competitive advantages lie, we see risks to that," said Kessler of CFRA.
Even for analysts who expect Alibaba to continue its robust growth ahead, the newly-adopted online-to-offline retail strategy is seen more as a risk than a catalyst.
"Ambitious foray into 'New Retail' could pressure margins in core retail. While Alibaba's ownership of Intime, a leading department store operator, broadens its opportunity in retail through omni-channel commerce, we note that the move carries execution risks and is likely to erode margins in core retail," wrote Youssef Squali, analyst at Cantor Fitzgerald who reiterated an "Overweight" rating on the Alibaba stock and raised price target to $120 from $115.
It remains to be seen whether Alibaba can continue to deliver the tremendous growth it has enjoyed since its $25 billion IPO in 2014. Alibaba founder and executive chairman Jack Ma said as early as 2015 that he expects 50 percent of the company's revenue to come from overseas but for that to happen, it needs to clean up its international reputation. A recent 12-year exclusive deal with the International Olympic Committee seems like a step in the right direction.
Ant Financial, an offshoot of Alibaba that manages its Alipay service and other financial tech initiatives, announced a merger with Dallas-based money transfer company MoneyGram International (MGI) - Get Free Report  for about $880 million.
Alibaba said in May last year that the SEC had launched an investigation into its accounting practices related to transactions between its Cainiao logistics company which was launched in 2013 and other Alibaba-related companies. It also said that the SEC was looking into the ways it reported figures from its annual "Singles' Day" shopping festival.
There have been no updates about the ongoing SEC probe since and it doesn't seem to have dampened consumer' enthusiasm as Alibaba raked in $17.8 billion during the 24-hour shopping event on Nov. 11 last year. But fears of any hefty fines and penalties from the SEC seem to have clouded investors' sentiment and weighed on the Alibaba stock.
Editor's pick: This article was originally published on Dec. 27.