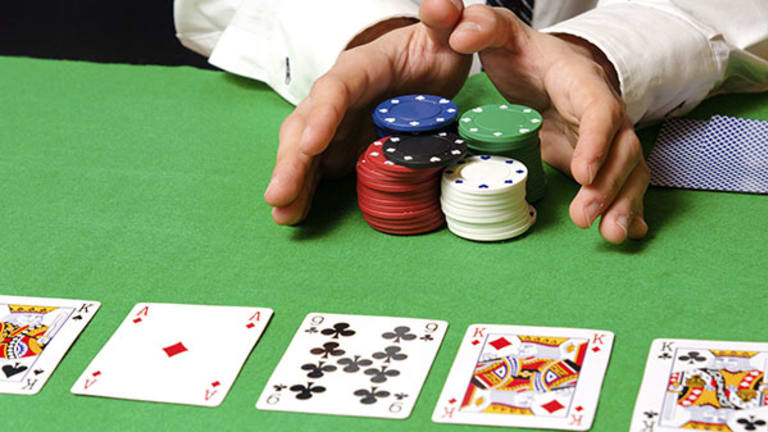 Regional Gaming Consumer Sentiment Climbs Post-Election
Analysts are raising their estimates for the regional gaming sector as sentiment in states Donald Trump carried climb post-election.
Donald Trump's election is helping boost consumer enthusiasm about gambling in casinos located in states such as Ohio, Louisiana, Mississippi, Pennsylvania and Michigan that the President-elect carried in November's election, according to an investment research analyst. 
"Most of the states with regional gaming are Trump states, and consumer confidence in those states are at multi-year highs," Hedgeye gaming and leisure sector head Todd Jordan told TheStreet today. "Demographics for regional gaming are still growing older, but macro influences can sometimes temporarily overcome micro headwinds."
Jordan recently added Penn National Gaming (PENN) to the Hedgeye's 'Best Ideas' list.
Regional casinos do not have the same advantages as their big-market counterparts in Las Vegas and Atlantic City because they don't offer attractions such as concerts and performances, Jordan said.
About 90% of regional gaming revenues come from gambling, and 80% of that revenue comes from slot machines. Baby boomers tend to be the main players of slot machines, and as that demographic ages, the revenue coming from the segment has dwindled.
Jordan had previously been bearish on regional gaming due to at least six months of consistently soft revenue in the sector. However, in October and November the firm's checks have showed that consumers are getting more enthusiastic about gambling.
Housing prices have proven to be the most important metric correlating to regional gaming health, Jordan said, but low gas prices, low unemployment, high GDP and rising interest rates have also traditionally been catalysts for the industry. 
Analysts at Deutsche Bank (DB)  published a report earlier this week also predicting a rebound in regional gaming, naming Boyd Gaming (BYD) as their top pick in the sector. Boyd operates in in Illinois, Delaware, Louisiana, Mississippi, Indiana and Nevada.
Boyd Gaming shares were up 3.55% to $21 Thursday and have climbed 5.74% year to date. 
"Given the pertinent macro-economic indicators and the potential for policy-related boosts to the regional gaming consumer, we are favorably biased towards the regional operators as we head into 2017," analyst Carlo Santarelli wrote.
Santarelli also raised the price targets for Boyd, Penn National, Pinnacle Entertainment (PNK) and Red Rock Resorts (RRR) in his sector-wide analysis. 
"Most importantly, in our view, regional operator balance sheets are broadly improved and project capex requirements are meaningfully lower, which, we believe, opens the door for equity value creation through deleverage or increased M&A activity, both of which we view as being compelling investment merits," Santarelli wrote. 
Jordan agreed with Santarelli's take on Boyd gaming, saying "Boyd has a lot of margin improvement through cost-cutting efforts and it also has a ton of exposure to the more lucrative Las Vegas market."