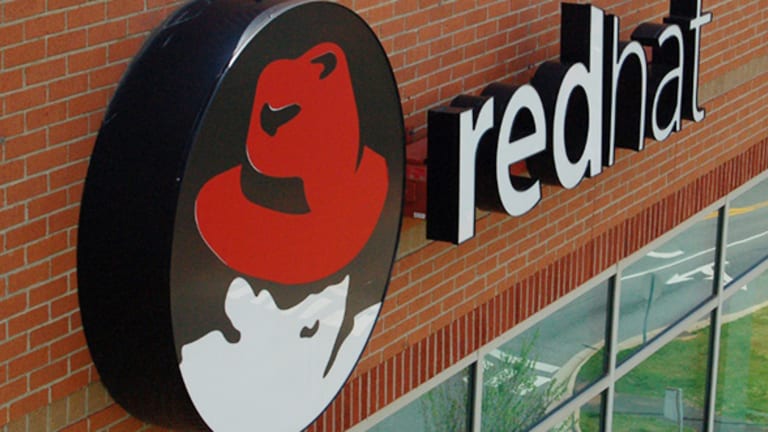 Red Hat Shares Jump on Stellar Fourth-Quarter Results: What Jim Cramer and Wall Street Are Saying
The open-source software company's better-than-expected results show its resilience in the increasingly crowded cloud market.
Open-source software provider  Red Hat (RHT) seems to have rebounded from a tumultuous third quarter as it posted stronger-than-expected revenue for the fiscal 2017 fourth quarter late Monday. 
After yesterday's closing bell, Red Hat said its revenue jumped 16% year-over-year to $629 million, surpassing analysts' estimated $618.6 million. The Raleigh, North Carolina-based company reported adjusted earnings of 61 cents per share, which were in line with analysts' expectations. 
Shares of Red Hat were gaining 4.9% to $86.23 on Tuesday morning. 
Subscription revenues, which comprise 89% of the company's total revenue, rose 17% year-over-year to $560 million.
Additionally, Red Hat CFO Eric Shander said in a statement that the company secured its first-ever $100 million deal with a global service provider during the quarter. Red Hat supplies software (such as its OpenStack cloud management program) to companies that are looking to transition to public or hybrid cloud platforms, which has become increasingly common as tech giants roll out cloud services such as  Amazon's (AMZN) Amazon Web Services and Microsoft's (MSFT) Azure.
TheStreet's Jim Cramer, manager of the Action Alerts PLUS Charitable Trust Portfolio, wrote in a recent post that Red Hat's software products are the "cheapest way to connect" to the cloud and called the company's fourth-quarter results "ridiculously positive." 
"This company is on fire," Cramer said on CNBC's "Mad Dash" segment. Red Hat booked 280 deals for $1 million, 7 deals for $20 million and had its first-ever deal for roughly $100 million, he noted.
Red Hat's results bode well, but not just for its stock. Cramer extrapolated from the company's results, saying it makes him want to buy Amazon because the migration to its cloud-based Amazon Web Services business is even stronger than people realize. 
AWS seems undervalued, he reasoned. 
Additionally, it shows that as a whole, IT orders are on the rise. There's an acceleration in tech spending, whether it's with Red Hat, Oracle (ORCL) , or Micron (MU) , Cramer said. These companies are seeing an acceleration and that's good news for tech. 
Following the results, several Wall Street analysts remained bullish on the stock, with many issuing price target increases. Here's what they had to say about the quarter: 
Ben McFadden, Pacific Crest Securities (Overweight, Price Target raised to $97 from $87)
"We believe the results achieved by Red Hat in FQ4 could only be achieved by a company that is successfully proving out its strategic position in hybrid cloud and modern application deployment. We walk away from the quarter more confident that management can continue to achieve mid-teens-plus growth, and a return to profitability expansion should be enough to propel shares higher."
Keith Bachman, BMO Capital Markets (Market Perform, PT raised to $90 from $75) 
"Our late CY2016 cautious stance on Red Hat was based on the view that revenue and billings estimates would stay range-bound. However, emerging technologies, led by strength in OpenShift and OpenStack, are proving to be much stronger than we previously estimated. Moreover, we conclude that we likely have more upside than downside tension."
Brian White, Drexel Hamilton (Buy, PT raised to $110 from $105) 
"Red Hat benefitted from big deals in fiscal 2017 fourth quarter, continued momentum with OpenStack and strong trends across other emerging businesses. Approximately one-third of Red Hat's largest deals in 4Q:FY17 contained OpenStack and the company now has over 500 customers running OpenStack."
Karl Keirstead, Deutsche Bank (Buy, $100 PT) 
"After disappointing 3QF17 results, RHT rebounded with one of its strongest quarters in years...RHT called out good execution as well as an "upbeat" overall spending backdrop. Combined with the lack of evidence that Amazon Web Services/Cloud is negatively impacting RHT, we believe that more investors will view the current FY18 free cash flow multiple of 17x as being too low."
John DiFucci, Jefferies (Hold, PT raised to $83 from $76) 
"RHT reported very strong F4Q results that are solid even when taking into account the performance over the last two quarters, including the F3Q quarter that was very weak. Guidance was also better than consensus estimates, but implies only single digit billings growth in the first half, low teens for the year, and no new business growth by our calculations."
Kevin Buttigieg, MKM Partners (Neutral, PT raised to $82 from $75)
"Overall, we thought the quarter showed good performance in private/hybrid clouds, and that RHT has a solid place in a largely public cloud world, but that higher duration overstates its growth impact."
Abhey Lamba, Mizuho (Buy, PT raised to $96 from $94)
"We see the quarter's data points as supportive of our view that RHT remains a key beneficiary of the shift to hybrid clouds among infrastructure software peers."
Greg McDowell, JMP Securities (Market Outperform, PT raised to $98 from $93)
"We continue to like Red Hat because: 1) we believe it will continue to be a "share gainer" against Unix and Windows; 2) we feel that the non-Linux components of the business can become meaningful contributors to revenue and profits over the next few years..."
Raimo Lenschow, Barclays (Overweight, $96 PT) 
"The company delivered on all the main aspects that investors are focused on: healthy billings growth, reacceleration of emerging product growth, strong backlog growth, and the return of leverage in the model. We think that investors will want to pay a higher multiple for a story that is finally coming together, hence, we maintain our Overweight rating."