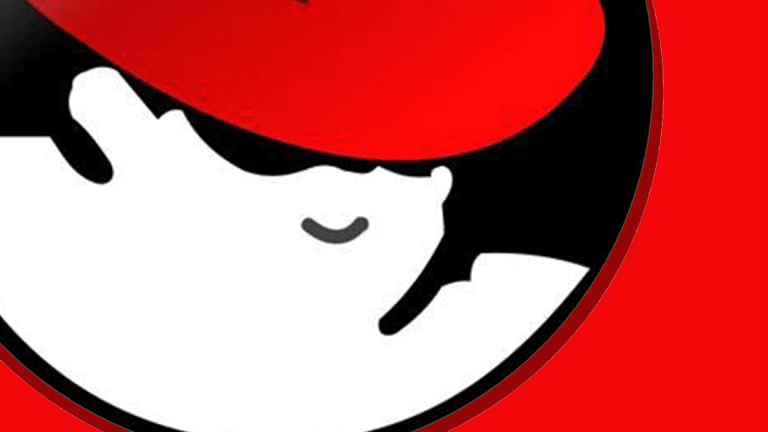 Red Hat Shares Jump on Strong Earnings -- CEO Tells TheStreet Why
The open-source software leader topped estimates and issued solid guidance. A good IT spending environment is helping, but so are favorable technology trends.
IT spending is good, Linux is still taking share in the data center and a slew of other open-source platforms are steadily becoming more popular in cloud environments and elsewhere.
All of that set the stage for Red Hat (RHT) - Get Red Hat, Inc. Report to clear a pretty high bar with its latest earnings report. And in talk with TheStreet, CEO Jim Whitehurst sounded pretty upbeat about the good times continuing for a while.
After the bell on Monday, the open-source software giant reported February quarter (fiscal fourth quarter) revenue of $772 million (up 23% annually) and adjusted EPS of $0.91, topping consensus analyst estimates of $762 million and $0.81. And during what's a seasonally big quarter for deal signings, Red Hat's billings -- defined as revenue plus the sequential change in deferred revenue -- rose 25% annually to $1.23 billion, beating a $1.12 billion consensus.
May quarter guidance is mixed, with expected revenues beating consensus estimates but adjusted EPS falling short. But fiscal 2019 (ends in Feb. 2019) guidance is for revenue of $3.425 billion to $3.46 billion and adjusted EPS of $3.38 to $3.41, which is fully above a consensus of $3.37 billion and $3.34.
In response, shares rose sharply in after-hours trading, and on Monday morning, shares were up trading 3.7% to $158.71, a new all-time high. They've now nearly doubled over the last 12 months, and trade for a steep 29 times Red Hat's fiscal 2019 free cash flow consensus of $974 million.
"I do think this is one of the more robust spending environments in IT that any of us has seen," said Whitehurst during a talk following Red Hat's earnings call. "Virtually every company is feeling like they're being digitally disrupted by somebody...There's a lot going on, budgets are up nicely." Quite a few other enterprise tech names have also posted strong earnings reports over the last couple of months.
A strong spending environment helped Red Hat close 169 $1 million-plus deals last quarter, a roughly 50% increase from the year-ago period. As well as see its total subscription and services backlog rise 24% to over $3.4 billion.
But healthy IT spending clearly isn't the only reason Red Hat is posting 20%-plus billings and backlog growth. Strong demand for products in Red Hat's "emerging technologies" portfolio, which includes offerings such as its OpenStack cloud infrastructure software, its OpenShift platform for managing server app containers (lightweight and easily-portable alternatives to server virtual machines) and its Ansible platform for automating the configuration and deployment of server apps, played a key role.
Subscription revenue for Red Hat's emerging technologies and app development offerings (e.g., developer tools and middleware) grew 39% to $173 million. In addition, Ansible and OpenShift consulting project deals helped Red Hat's services revenue rise 29% to $89 million.
Red Hat's core infrastructure software business, which revolves around Red Hat Enterprise Linux (RHEL) sales, didn't do badly either: Its subscription revenue rose 17% to $510 million, a slight improvement from the November quarter's 15% growth. This in turn has a lot to do RHEL adoption within public cloud infrastructures from the likes of Amazon.com (AMZN) - Get Amazon.com Inc. Report , Microsoft (MSFT) - Get Microsoft Corporation Report and Alphabet/Google (GOOGL) - Get Alphabet Inc. Report . In August, Whitehurst disclosed RHEL revenue involving public cloud partners had topped a $200 million annual run rate.
Jim Cramer and the AAP team hold positions in Amazon, Microsoft and Alphabet for their Action Alerts PLUS Charitable Trust Portfolio. Want to be alerted before Cramer buys or sells AMZN, MSFT or GOOGL? Learn more now.
When I asked about Red Hat's partnership with Microsoft -- in spite of their OS rivalry, the companies teamed in 2015 to support Red Hat products on Microsoft's Azure cloud platform, and expanded the alliance in 2017 -- Whitehurst called Azure one of Red Hat's fastest-growing public clouds. "There's a whole set of customers that rely or trust in Microsoft's enterprise credibility and support model...those customers are often RHEL customers," he said, while adding Red Hat will have more to share during its May analyst day.
Public cloud adoption has also been a tailwind for other Red Hat product lines. Many telcos rely on OpenStack, which Red Hat often sells in tandem with its Gluster storage software platform, to underpin their cloud services for consumers and businesses. And part of the appeal of OpenShift and other container platforms is the ease with which workloads can be moved to and from various clouds. Red Hat expects 5G to become a growth driver for its telco sales, albeit not for another 18 to 24 months.
But the company has also been quick to argue that enterprises are concluding public clouds don't make sense for all corporate workloads -- or in some cases, for a portion of a complex workload -- and that interest in using Red Hat's offerings for use within private cloud and hybrid cloud deployments continues to grow.
Whitehurst noted that while elastic workloads (workloads for which resources can be quickly added and removed) and apps that interact with many cloud services are often being migrated to public clouds, transactional workloads are less likely to be migrated, as are apps that handle sensitive data. "You certainly are still seeing a bias towards keeping customer data on-site," he said, while adding this is more true in Europe than the U.S..
Whitehurst also pointed out that different customers can have very different takes on whether the all-in cost of using a public cloud for a workload is cheaper than the all-in cost of using a firm's on-premise infrastructure. And that where a customer stands can have much to do with how efficiently it runs its own infrastructure. Of course, as Google cloud chief Diane Greene recently mentioned, enterprises increasingly aren't looking to adopt public clouds just for cost savings, but also to gain access to cutting-edge technology that isn't available elsewhere, or at least could take a long time for a company to deploy locally.
If there was a weak spot to Red Hat's earnings report, it was the company's margin guidance. Though its fiscal 2019 sales guidance implies 17% to 18% growth, the company is guiding for its operating margin to remain flat at 23.9%. The culprit: Red Hat's recent acquisition of CoreOS, developer of a version of Linux that has been optimized for container deployments. The company expects CoreOS expenses to impact its margin by more than a percentage point.
When asked about whether Red Hat is up for making additional acquisitions, Whitehurst said Red Hat is open to it, but also noted the company has historically been more prone to make smaller "tuck-in" purchases for technology assets rather than large deals. He suggested Red Hat would look for products that complement its OpenStack and OpenShift offerings if it was to make a purchase, but qualified his remarks by saying there's "nothing imminent by any stretch of the imagination."
Considering how well things are going for Red Hat right now, there's certainly no pressure to make a big move.