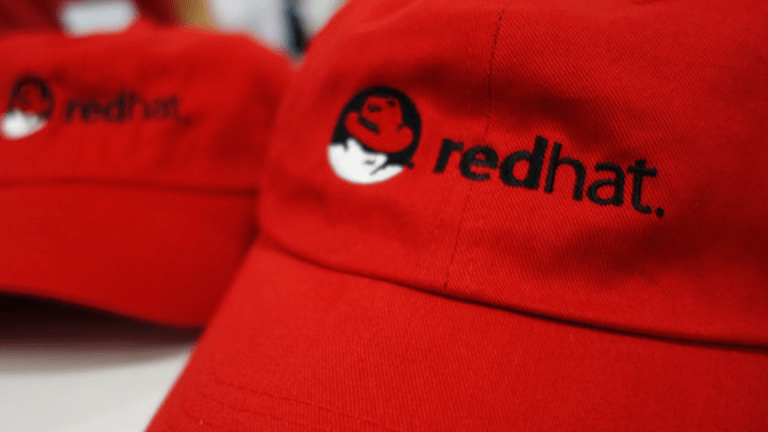 Red Hat CFO on the Stock's Big Gains and Life Competing With Amazon
Red Hat CFO Eric Shander says the cloud infrastructure company's big run-up reflects how it's 'very well positioned' for the Internet of Things revolution.
Red Hat CFO Eric Shander says the cloud infrastructure company's big run-up reflects how it's 'very well positioned' for the Internet of Things revolution.
Red Hat Inc.'s (RHT) - Get Report stock has been red hot this year, and with good reason. 
For many years, Red Hat's cloud infrastructure offering had positioned it as a single product company, as it became the go-to provider for systems based around open source software like Linux. It's now pouncing on many of this year's biggest technology trends, including the Internet of Things and hybrid cloud computing. Most of all, as more and more industries are disrupted from the likes of Amazon.com Inc. (AMZN) - Get Report , Red Hat is stepping in to help companies adjust and scale their IT systems to meet consumers' rapidly changing needs. 
And Wall Street has applauded that decision. Red Hat's stock has skyrocketed 84.7% so far this year vs. the S&P 500's more modest gain of 19.5%. The company has met or exceeded analysts' expectations for profit for the past eight consecutive quarters and it continues to sign secure new cloud partnerships with tech giants including Alibaba Group Holding Ltd. (BABA) - Get Report , Microsoft Inc. (MSFT) - Get Report and IBM Corp. (IBM) - Get Report , among others. 
Ahead of Red Hat's fiscal third quarter earnings on Tuesday, TheStreet spoke with Red Hat CFO Eric Shander about what's powering the business now, how it's dealing with the cloud wars in Silicon Valley and the rise of big data. Below is a condensed version of the conversation, which has been lightly edited for length and clarity. 
TheStreet: Red Hat's stock has had an incredible runup this year. Can you give me some color on what's behind the rally? What kind of feedback have you gotten from Wall Street?
Shander: You may or may not know, but our stock dipped quite a bit last year, which was disappointing. Federal deals slipped. We changed our CFO -- I came in. There was a lot of angst in the market and we definitely saw a drop in the stock price. So we went out to the Street and we reaffirmed to the Street our strategy around hybrid cloud and our focus on emerging technologies. Then we came back to the office and started executing on our strategic plan, which was focusing on...emerging technologies, which have to do a lot with cloud adoption and cloud automation technologies. 
The overall valuations of companies are going up but certainly we've seen greater appreciation given the positioning of where we're at and the IoT transformation. We're talking to CIOs and customers. The retail sector -- with what's happened with Amazon, that whole industry has been disrupted pretty quickly. What that means from an IT perspective is that a lot of these retailers have to be more nimble and adjust what they deliver to customers. That's where what we do with agile development and the hybrid cloud that resonates with customers. 
All of this ties into the market value that you see. We're at the very early stages of a lot of these emerging technologies. We're positioned very, very well as we go forward.
TheStreet: It seems like open source software has really exploded in the last year or so, with companies like Cloudera (CLDR) - Get Report going public and doing well. Meanwhile, Red Hat has been in this market for more than two decades. Where does Red Hat fit into the broader open source market nowadays?
Shander: In terms of open source, we're the market leader in this. What's interesting is years ago, if you were with us at a customer briefing, a lot of discussions were had around open source and what the value was. We don't have a lot of those conversations today because our customers see the value of open source. You hear a lot of companies say we're open source this or that, and to some extent they've made progress, but I would go as far as saying we've truly embraced open source. 
TheStreet: Are you weighing any M&A as a means of carving out a larger share of the market?
Shander: What we typically do and have historically done is what we call technical tuck-ins. We look at core products and we see if there's a technical gap. So our most recent acquisition was around data duplication because that was something customers were looking for. We looked internally and said OK if we had to build this internally, how much would it cost? Are there companies out in the market that already make it? Our strategy has always been make vs. buy. 
We don't feel like we need to add any new products to our portfolio, we just need to add penetration of existing emerging technologies. 
TheStreet: Everyone is talking about big data and how there's a huge need for it, especially as the IoT network grows and autonomous vehicles become more of a possibility. What kinds of opportunities do you see in the rise of big data analysis? 
Shander: Our core focus is on the infrastructure supporting IoT and AI, specifically the actual compute processing, that's our focus. We have developers in those projects. From an internal standpoint, we're doing a lot around analytics, around predictive analytics, machine learning. It's certainly true that data is the next natural resource. The challenge companies have is how to harness all of this data because there's just millions of millions of bits of data produced all the time. 
From our point of view, i think we're at the early stages of a lot of these next generation IT transformations and one of the is what's happening in the telecommunications industry. The shift from 4G to 5G. We're all going to benefit from that and a lot of our product positioning is around the virtualization of telecommunications appliances and hardware. A lot of that is being replaced by software. I see this and I see this as extremely transformative for us. 
TheStreet: Red Hat has become a huge player in open stack and the hybrid cloud. Do you view players like Amazon, Microsoft or Alphabet Inc. (GOOGL) - Get Report as a threat? 
Shander: So look, you'll hear a lot about...Microsoft Azure, IBM Softlayer, Amazon Web Services. Here's where Red Hat is different. We've been talking about hybrid cloud for years. Our products resonate with our customers because we're agnostic to which public cloud provider that you use. The best way to think of this is we provide a lot of optionality and we're not tied to any one particular vendor. 
We're also doing partnerships with AWS, Microsoft, IBM. So we compete, but we're also in close partnership. We really want the ecosystem to become tighter and more connected. We think it's good.
Jim Cramer and the AAP team hold positions in Microsoft and Alphabet for their Action Alerts PLUS Charitable Trust Portfolio. Want to be alerted before Cramer buys or sells MSFT or GOOGL? Learn more now.
More of What's Trending on TheStreet: