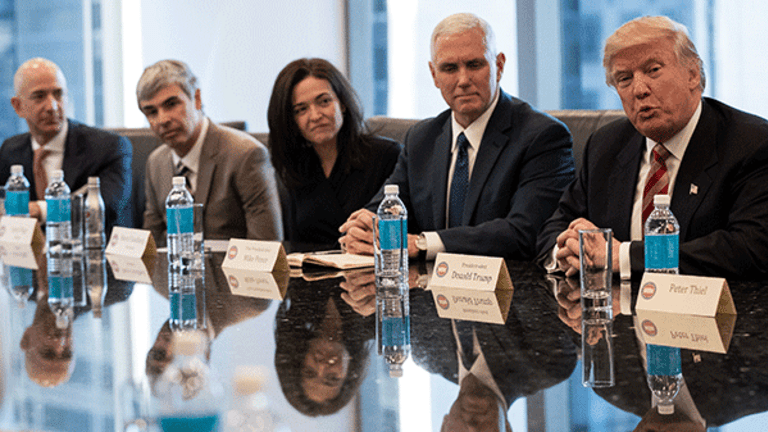 Recode's Kara Swisher on Trump Tech Summit: 'Nothing Happened at That Meeting'
The tech leaders that met with President-elect Donald Trump on Wednesday should have spoken up on issues they believe strongly in, Recode executive editor Kara Swisher said.
The meeting between President-elect Donald Trump and the nation's top tech titans is said to have been peaceful with Trump saying, "I'm here to help you folks do well." 
But this meeting should have been a chance for these tech leaders to speak to Trump about "critical issues which their employees and most of Silicon Valley believe in," Recode executive editor Kara Swisher said on CNBC's "Halftime Report" on Thursday afternoon. 
Trump said "a number of appalling things" about tech on his campaign trail, she said. For example, the tech leaders should have spoken to Trump about immigration and about how important it is to the growth of their industry. Trump ran on a notably anti-immigration platform. 
These tech titans weren't wrong to meet with Trump, but they were wrong to not publicly speak out about important issues like this so that it's clear not everyone agrees with him, Swisher said. "Silicon Valley's leaders and their employees have gotten thousands of notes from their employees who want them to say things. They're leaders and they're allowed to say things."
Instead, the leaders just agreed "vehemently" with Trump on a number of issues, she claimed. 
"What if the meeting yesterday was actually much more productive than anybody, including you, would have expected going in?" CNBC's Scott Wapner challenged during the interview. 
"I actually know exactly -- I have notes from all the meetings," Swisher claimed. "I'll be writing a story about exactly what was said once the doors close. Nothing happened at that meeting. They didn't' get any promises. They got a lot of talk."
Speaking out during the meeting was so important because it was a chance for them to start a "true dialogue about issues that are important to us," she said.