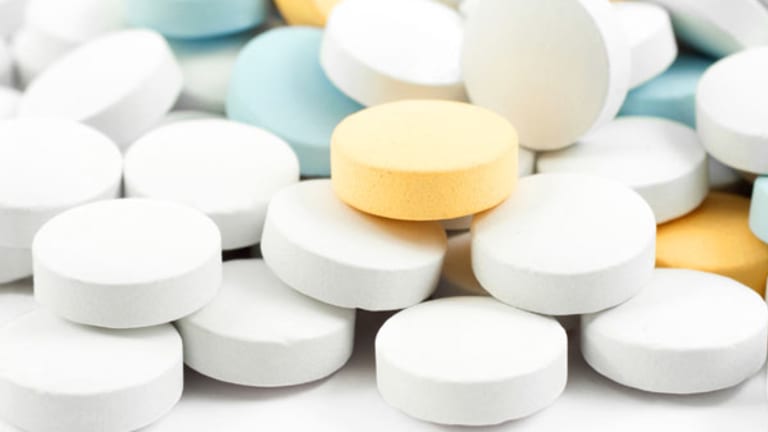 Reasons to Believe in Schering-Plough
Despite the Vytorin setback, the focus here should be on drugs in development, not products in the market.
For more than a year, analysts have been tempering their praise of
Schering-Plough
( SGP) with a warning that it must reduce its reliance on its cholesterol franchise of Zetia and Vytorin.
Events of the past few weeks, however, weren't what Wall Street had in mind. Schering-Plough's stock has skidded following the
long-delayed publication of a Vytorin clinical trial, which produced disappointing results and legislators' calls for investigating how the results were revealed. Between Jan. 11 and Feb. 6, the stock was off by 26%.
Many analysts chipped away at their 2008 earnings predictions, but they haven't changed their mostly favorable view of Schering-Plough. Although the picture of the new company may not come into focus for several years, the key test for Schering-Plough depends more on drugs in development than on products in the market.
Despite the recent controversy, analysts expect Zetia and Vytorin, sold via a joint venture with
Merck
(MRK) - Get Free Report
, to maintain a prominent role for the near future. Vytorin combines Schering-Plough's Zetia with Merck's Zocor. The Merck drug lost U.S. patent protection in mid-2006.
Schering-Plough "still enjoys the most robust earnings growth outlook in the sector," says Roopesh Patel, of UBS Securities, even after he scaled back his 2008 earnings-per-share estimate to $1.47 from $1.62 in a recent research report.
The company "has a comparatively low-risk growth outlook," in part due to "limited patent exposure" until 2014. Although it's a bit early to predict how well experimental drugs will do, the company has a few promising compounds, adds Patel, who has a buy rating. He doesn't own shares. His firm has had a non-investment banking relationship.
"For investors with a multiyear time horizon, we believe Schering-Plough represents a compelling risk-reward
ratio as the company's pipeline matures," says George Grofik, of Citigroup Global Markets, in a recent report to clients. "
The pipeline is interesting, but visibility
is still two to three years away."
Noting that Zetia and Vytorin account for more than 60% of Schering-Plough's earnings per share, Grofik says the recent drop in its stock price means "investors are paying virtually nothing" for the company's R&D prospects, "which is a comfortable position for investors." He doesn't own shares. His firm has had a recent investment banking relationship.
Grofik is neutral on Schering-Plough, which he considers a high-risk investment. According to Thomson First Call, 14 analysts have buy ratings while six are neutral. The buy-hold ratio was 10-to-7 three months ago. Analysts with hold ratings -- and even those with buy ratings -- are not sure how how deep or how long the impact of the recent Vytorin news will affect Schering-Plough.
More Than Cholesterol
Longer-term, Schering-Plough's fate depends on its homegrown R&D and its $15.7 billion acquisition of Organon BioSciences from
Akzo Nobel
(AKZOY)
. The deal, which closed in November, gave Schering-Plough an assortment of new drugs, enabled it to become one of the world's leading suppliers of animal health drugs and expanded its R&D pipeline. On Feb. 12, investors will get their first detailed look at the consolidated results when Schering-Plough issues fourth quarter results and, presumably, offers predictions for 2008.
The first crucial tests of the Organon deal will come later this year when the Food and Drug Administration is expected to rule on asenapine, for schizophrenia, and on sugammadex, which helps patients recover faster from anesthesia.
Asenapine has a complicated history.
Pfizer
(PFE) - Get Free Report
had a marketing and development deal for the drug when Organon was still part of Akzo Nobel. Pfizer backed out in December 2006, shortly after Organon said it would delay submitting an application to the FDA due to mixed results from clinical trials. When Schering-Plough announced its plans in June 2007 to buy Organon, CEO Fred Hassan said "our R&D people were impressed with asenapine."
Sugammadex reverses the effect of certain muscle relaxants that are used as part of general anesthesia during surgery. This drug "could develop into a blockbuster compound," says Damien Conover, of the independent research firm Morningstar, in a recent research report.
Even under the best circumstances, asenapine and sugammadex won't match the revenue from Zetia and Vytorin. Schering-Plough's share of the 50-50 cholesterol joint venture amounted to $1.84 billion in revenue for the first nine months of 2007, or 17% of adjusted net sales. A recent report by Credit Suisse predicts combined sales of asenapine and sugammadex could reach $773 million by 2011.
Although the Organon deal contributed three other drugs in late-stage clinical testing -- a fertility hormone, an oral contraceptive and an insomnia treatment -- analysts say Schering-Plough has other experimental drugs with greater potential.
Grofik of Citigroup predicts Schering-Plough will seek FDA approval later this year for golimumbab for rheumatoid arthritis. The drug is being developed with
Johnson & Johnson
(JNJ) - Get Free Report
as an extension of their Remicade franchise. Schering-Plough sells Remicade outside the U.S., excluding Japan and several Asian countries. Remicade is its second-biggest drug with revenue of $1.2 billion for the nine months ended Sept. 30.
In late 2008 or early 2009, Grofik expects Schering-Plough to seek approval of vicriviroc, for patients with a certain type of HIV who are taking other treatments. Several days ago, Schering-Plough said a midstage clinical trial of its drug plus a standard HIV treatment demonstrated "potent and sustained viral suppression" during the 48-week test period. Patients are being enrolled in two late-state clinical trials.
Two potentially big prizes are still several years away -- boceprevir for hepatitis C and the anticoagulant SCH530348. The latter, a once-a-day pill for patients with certain types of heart disease, is in late-stage clinical testing. Grofik expects an application to the FDA in 2010. The hepatitis drug is in midstage clinical testing, and results may be released later this year.
Short-Term Concerns
While analysts ponder the future, investors are worried about the present, caused by what many analysts say was an overreaction to the Vytorin study results released in mid-January.
"We believe the media has blown the results way out of proportion," says Damien Conover of Morningstar in a Jan. 29 research report. He predicts the publicity lead to a 10% cut in Vytorin's U.S. sales this year, adding that "moderate growth" will return in 2010.
The Vytorin test, sponsored by the joint venture, assessed whether Vytorin was better than Zocor in reducing the thickening of certain arteries among patients with a rare disease that produces high cholesterol. The test found no statistically significant difference in the arteries, but it said Vytorin did a statistically significant better job of reducing so-called bad cholesterol. The FDA says it will review the study.
"The media has focused on Vytorin's lack of differentiation in reducing arterial plaque, instead of highlighting its strength in lowering cholesterol," says Conover. "We believe doctors are unlikely to extrapolate these findings to the more general high-cholesterol patient population."
However, there was an immediate hit to prescriptions for both Vytorin and Zetia. An early poll of 109 cardiologists and primary care physicians by UBS Securities implied a 21% reduction in prescribing. "Most doctors understood the limited scope
of the study, but many said they would use Vytorin/Zetia as a second line therapy until
they received more clarity," UBS says.
UBS analyst Patel adds that the impact on prescriptions "may be short-lived ... once the media hype subsides." Because no safety issues were raised and because Vytorin's ability to cut bad cholesterol wasn't challenged, he forecast limited damage.
Standard & Poor's injected a note of caution after the Vytorin test results were announced. Although the firm isn't changing its A-minus credit rating or its stable outlook for Schering-Plough, it said the study "reduces the Vytorin/Zetia advantage" over brand-name and generic cholesterol drugs. S&P fears this could lead to a "significant slowdown" in sales growth for Zetia and Vytorin.