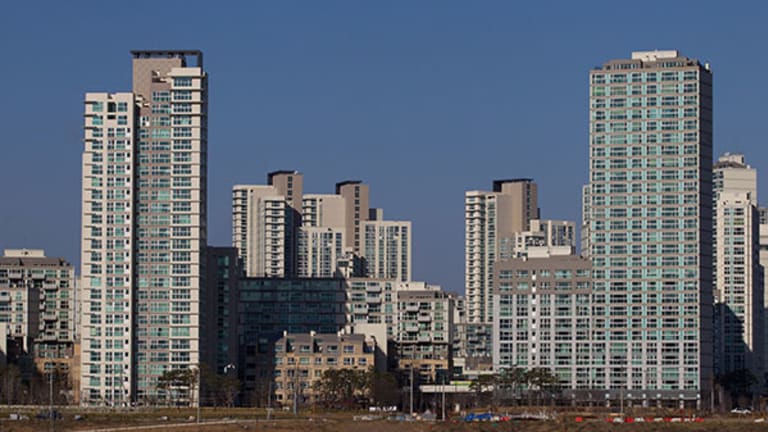 Real Estate Industry Freaks Over Fannie and Freddie Pullback Plan
Affordable housing group also opposes, showing the difficulty of reducing government role.
NEW YORK (
) -- Proposed shrinkage of
Fannie Mae
(FNMA)
and
Freddie Mac
(FMCC)
subsidies to buyers and builders of apartment and condominium complexes has met near-unanimous opposition from real estate industry and affordable housing groups.
The outcry demonstrates the difficulty of making even limited changes to the current U.S. system of housing finance, which five years after the crisis still relies almost entirely on government support.
An Aug. 9
communication
from the Federal Housing Finance Authority, which regulates Fannie Mae and Freddie Mac, suggested various steps for reducing the footprint of government-sponsored enterprises in financing for the market known as "multifamily," which refers to multi-unit properties.
The FHFA received 29 comment letters representing 42 organizations, and all but two of those organizations were opposed to the changes, according to a report from FBR Capital Markets. Proposals included restricting loan terms and offering fewer varieties of loans. Opponents included virtually every major real estate and banking trade group, such as the Mortgage Bankers Association, the American Bankers Association, the National Association of Homebuilders and the National Association of Realtors. The Louisiana Reinvestment Coalition supported the proposal and the New York City Housing Development Corp. was neutral.
FBR analyst Ed Mills said he believes the FHFA "may be forced to abandon or scale back its plans to make significant changes to the multifamily lending programs and Fannie Mae and Freddie Mac." The analyst noted his view is "in contrast to the near universal expectation among investors we speak with, who believe that these changes are a foregone conclusion." Should the FHFA scale back or scrap its plans it "should be beneficial to builders of multifamily units and originators who work directly with Fannie and Freddie," he said.
That is a big group, including every large U.S. bank and major homebuilders like
Lennar
(LEN)
and
D.R. Horton Inc.
(DHI)
.
Equity Residential
(EQR)
one of the nation's largest landlords, warned in its 10-K that "the GSEs are significant lenders both to the Company and to buyers of the Company's properties. Should the GSEs have their mandates changed or reduced, materially change their lending terms, lose key personnel, be disbanded or reorganized by the government or otherwise discontinue providing liquidity to our sector, it would significantly reduce our access to secured debt capital and/or increase borrowing costs and would significantly reduce our sales of assets and/or the values realized upon sale."
On the other hand, backtracking by the FHFA would be "a slight negative to multifamily lenders who compete with the GSEs, Mills wrote. The largest of those he mentions, in terms of market cap, are
New York Community Bancorp
(NYCB)
,
Signature Bank
(SBNY)
and
Astoria Financial
(AF)
.
--
Written by Dan Freed in New York
.
Disclosure: TheStreet's editorial policy prohibits staff editors, reporters and analysts from holding positions in any individual stocks.