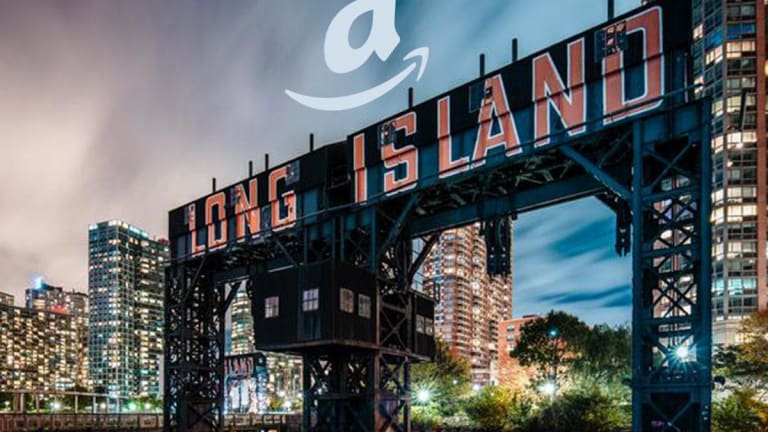 Reactions to Amazon Dropping HQ2 In NYC: Investors, Politicians and More
Amazon surprised everyone by abruptly pulling the plug on its plan for a 25,000-job campus in the Big Apple.
The surprise decision by Amazon.com  (AMZN) - Get Free Report  to scrap plans to build a second headquarters in New York City is drawing a mix of cheers and jeers from top U.S. political and business leaders. 
Amazon announced Thursday that due to strong local political opposition, it was canceling plans to create a 25,000-job campus in New York's Long Island City as part of the company's "HQ2" program. That's the initiative under which AMZN intends to create new offices co-equal to its Seattle headquarters.
Dozens of cities vied for a chance to host the new digs, offering Amazon big tax breaks. The company initially settled on two locations instead of one -- Long Island City and Crystal City in Arlington, Va. -- but nixed the Long Island City plan in the face of local opposition. "After much thought and deliberation, we've decided not to move forward with our plans to build a headquarters for Amazon in Long Island City," the company said in a statement.
Supporters of Amazon's Long Island arrival had touted the plan's potential for positive economic development. But those who opposed it worried about home-price increases in the area a result of the well-paid Amazon employees moving in, and also criticized the $3 billion of state and local tax breaks that Amazon was granted.
Here's what some politicians and business leaders are saying about Amazon's move to nix the deal:
Lloyd Blankfein, Former CEO, Goldman Sachs
Gov. Andrew Cuomo (D-N.Y.)
"A small group of politicians put their own narrow political interests above their community -- which poll after poll showed overwhelmingly supported bringing Amazon to Long Island City -- the state's economic future and the best interests of the people of this state," Cuomo said in a statement. "The New York State Senate has done tremendous damage. They should be held accountable for this lost economic opportunity."
Mayor Bill de Blasio, (D-New York City)
"I was flabbergasted," de Blasio said at a Harvard University forum. "I said: 'Why on Earth after all the effort that we all have put in would you simply walk away?' It doesn't make sense given everything that has been done here. ... If they had a concer,  why didn't we talk about it and try to address it? It's clear they made up their mind on their own." 
"What I don't get is, we made an agreement with them, they chose New York City, we were keeping the agreement," he added. "Guess what? Some community activists wanted to see something else. They wanted changes. They had differences. That's part of life."
New York State Sen. Michael Gianaris, (D-Long Island City)
"Amazon needs to get a hold of what they mean to communities and act responsibility," Gianaris, who had led opposition to the deal from the beginning, said in an interview with CNBC. "When they come in and take over a community like that, the community dies."
New York City Council Speaker Corey Johnson (D-Manhattan)
Johnson had also opposed Amazon's arrival and lauded the deal's cancellation.
"I hope this is the start of a conversation about vulture capitalism and where our tax dollars are best spent," he said.
Charlie Munger, Vice Chairman, Berkshire Hathaway
"Driving the rich people out is pretty dumb if you're a state or a city," Munger told CNBC. "The idea that you're going to help New York by driving rich people out -- of course it hurts New York."
Gov. Phil Murphy (D-New Jersey)
Murphy invited Amazon to come to Newark, N.J., just south of Long Island City. Newark was one of the finalists for HQ2 before Amazon earlier in the process, and the governor said local opposition wouldn't be a problem there.
"We do not have that issue in Newark," Murphy told Bloomberg TV. "Local interests in Newark have been very supportive of an arrangement as long as it was fair."
U.S. Rep. Alexandria Ocasio-Cortez, (D-N.Y.)
Ocasio-Cortex, whose district includes Long Island City, had vocally opposed Amazon's planned campus.
She tweeted her happiness Thursday when Amazon backed out:
Amazon is a holding in Jim Cramer's Action Alerts PLUS charitable trust. Click here to read the latest research note on the company from Jim and AAP's team of research analysts.