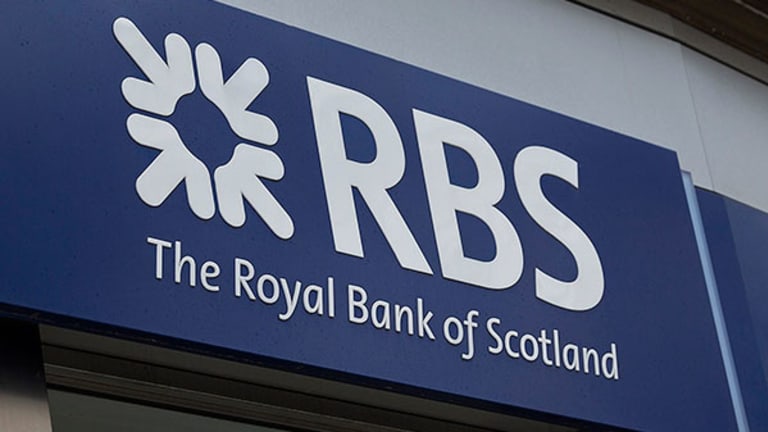 RBS Pummeled After Loss Report
Even when excluding hefty extraordinary items, Royal Bank of Scotland saw a 15% decline in operating profit during 2013.
NEW YORK (TheStreet) -- Shares of Royal Bank of Scotland (RBS) - Get Free Report were down over 7% in premarket trading on the New York Stock Exchange to $11.73, after the bank announced a huge loss for 2013, with operating earnings down as well.
RBS said its pretax loss for 2013 came to 8.243 billion pounds, "including regulatory and redress provisions of £3,844 million, and impairments and other losses of £4,823 million related to the establishment of RBS Capital Resolution (RCR)."
Royal Bank of Scotland in November announced the creation of RCR, which is the company's repository for "high capital intensive assets" that are being wound down.
Excluding losses and impairment charges related to RCR, the bank's 2013 operating profit was 2.520 billion pounds, down 15% from 2012.  Markets revenue was down 58% to 638 million pounds during 2013, "reflecting smaller balance sheet and reduced risk levels," while Retail & Commercial revenue was down 4% to 4.078 billion pounds.  Non-core losses were down 27% year-over-year, to 2.107 trillion pounds during 2013.
The bank trimmed its total assets to by 22% during 2013 to $1.028 trillion pounds as of Dec. 31.
In a short interview on the bank's website, RBS CEO Ross McEwan -- who took over the post from former CEO Stephen Hester in June -- said, "It is fair to say that this bank is much bigger than it needs to be because it's got the overhang of when it was the largest bank in the world, and we're no longer that.  And I have no aspiration to run the largest bank in the world.  My aspiration is to run the best bank in the UK, with international operations to support that."
When announcing the formation of RCR, RBS said its goal was to free up and build up sufficient capital to bring its "fully loaded" Basel III  Tier 1 common equity ratio to 12% of more, by the end of 2016.  That would represent a hefty surplus above the bank's minimum Tier 1 common requirement under Basel III, which is 7%, plus an 1.5% buffer required as a "global systemically important financial institution," for a total requirement of 8.5%, which must be met by January 2016.
RBS on Thursday said that following an "additional £2.9 billion of charges for litigation and conduct related matters," its "fully loaded" Basel III Tier 1 common equity ratio was 8.6% at the end of 2013.  In addition to the freeing-up of capital as RCR runs off, the "cornerstone" of the RBS capital plan is the spin-off the bank's U.S. subsidiary RBS Citizens through an initial public offering.  That transaction is "on schedule for later this year," RBS said.  Following the IPO, RBS expects to "fully divest" its holdings of RBS Citizens by the end of 2016.
RBS Citizens in January agreed to sell the banking operations of Charter One to U.S. Bancorp (USB) - Get Free Report for a small premium of $315 million.
The bank estimated that the $38 billion in assets held within RCR have tied up 20% of Royal Bank of Scotland's capital.
The UK government holds a stake of over 80% of RBS common shares.  In order to meet a mandated shrinkage of its branch network, RBS said "the Williams & Glyn brand will return to the high street via an IPO over the coming years," and that a separation of that business from RBS was already underway.
Royal Bank of Scotland's intermediate goals include trimming annual expenses to 8 billion pounds from 13.3 billion during 2013, with returns on tangible equity (ROTE) rising to a range of 9% to 11%.  the bank's long-term ROTCE goal is 12%. 
A 9% ROTCE would imply annual profits in the range of 3.2 billion pounds in 2016 or 2017, according to Deutsche Bank analyst Jason Napier.  Based on that estimate, the forward price-to-earnings ratio for Royal Bank of Scotland's stock would "12.4x 3-4 year forward earnings," Napier wrote in a note to clients Thursday.
That's a rather high forward P/E ratio for such a large bank, that is also majority-owned by the government.  "At the top end of the ROTE range of 11%, target profit rises to £4bn putting the stock on 10.1x which compares with the European Bank universe on 10.1x 2015 EPS and probably ~ 9.0x in 2016," Napier added.
With the stock trading at a high multiple to expected earnings a few years out, it's no wonder Napier rates Royal Bank of Scotland a "sell."
While the comparison is clearly unfair, investors looking for bargain stocks among major global banks might consider JPMorgan Chase (JPM) - Get Free Report and Citigroup (C) - Get Free Report, which are the both profitable and among the cheapest of all U.S. bank stocks.
JPMorgan's shares closed at $56.75 Wednesday and traded for 8.9 times the consensus 2014 EPS estimate of $6.35, among analysts polled by Thomson Reuters.  The bank's 2013 return on average tangible common equity (ROTCE) was 11.92%, declining from 14.72% in 2012, according to Thomson Reuters Bank Insight.  The decline mainly sprang from JPM's third-quarter loss, as it set aside litigation reserves to prepare it for $17.5 billion in fourth-quarter residential mortgage-backed securities settlements with government authorities and private investors.  JPMorgan at its investor conference Tuesday said its goal was to achieve an operating ROTCE ranging from 15% to 16%.
Citigroup closed at $48.32 Wednesday and traded for 8.4 times the consensus 2015 EPS estimate of $5.75.  The bank's ROTCE improved to 8.20% in 2013 from 4.80% in 2012.

-- Written by Philip van Doorn in Jupiter, Fla.
Swiss Banks Still Protecting Criminals
What Wall Street Is Saying About JPMorgan's Investor Day
Philip W. van Doorn is a member of TheStreet's banking and finance team, commenting on industry and regulatory trends. He previously served as the senior analyst for TheStreet.com Ratings, responsible for assigning financial strength ratings to banks and savings and loan institutions. Mr. van Doorn previously served as a loan operations officer at Riverside National Bank in Fort Pierce, Fla., and as a credit analyst at the Federal Home Loan Bank of New York, where he monitored banks in New York, New Jersey and Puerto Rico. Mr. van Doorn has additional experience in the mutual fund and computer software industries. He holds a bachelor of science in business administration from Long Island University.