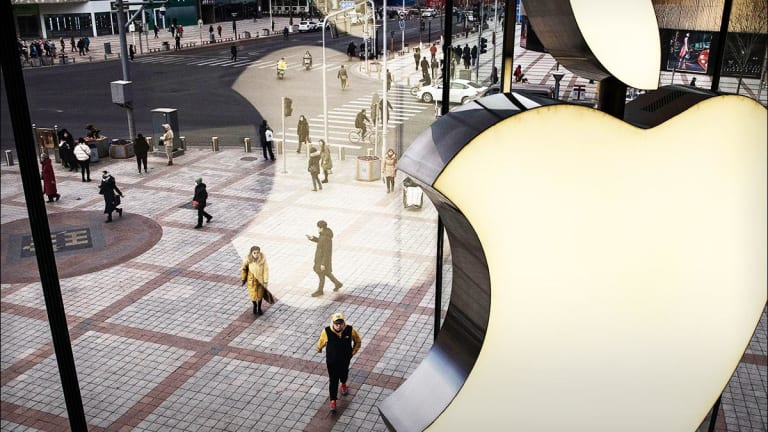 How a Chinese Restriction on 'Rare Earths' Could Threaten Apple
China is the world's supplier of rare earths. Export restrictions could be bad news for Apple investors.
As trade tensions persist, a potential weapon in China's arsenal has emerged: Access to rare earth metals, a critical component of many technology products.
China is the primary source of rare earths for manufacturers around the world. And this week, speculation emerged in the Chinese press that, at the very least, the notion of slapping restrictions on rare earth exports is under evaluation by Chinese authorities should U.S.-China relations deteriorate further. Undesirable ripple effects for other trading partners are a likely disincentive from doing so -- but still, restrictions on rare earth exports could be bad news for Apple (AAPL) and other U.S. firms, such as automakers and other manufacturers, that use the metals in their products.
Apple shares closed down .38% on the Nasdaq Friday to $178.97. They are up 15.7% so far this year.
What are Rare Earths?
Rare earths are a category of 17 elements found in the earth's crust, which have a unique set of properties that can make products more durable and efficient. That has made them critical ingredients in a wide range of modern technologies -- electronic devices, batteries, lighting equipment, lasers, and much more. As just one example, an iPhone contains several components that use rare earths: Cameras, speakers, taptic engines, and receivers.
China's Rare Earth Leverage
China is the world's leading supplier of rare earths, accounting for 95% of the world output of rare earth minerals worldwide according to the U.S. Geological Survey. Adamas Intelligence, a research firm that tracks metals and minerals, noted in a report that Chinese exports of rare earths increased by 91.7% between 2014 and 2018. Likewise, demand for rare earths is also increasing alongside rising demand for electric car batteries, according to the minerals consultancy Roskill.
Rare earths are mined in other parts of the world, but for a variety of reasons -- including ample natural supply in China, production quotas imposed by the Chinese government over time, supply chain relationships and other factors -- it's wound up with a virtual monopoly on rare earth production. 
How Much Does Apple Rely on Rare Earths?
Apple uses rare earths in various products components -- but unlike some other materials, rare earth are used in such small amounts that recycled forms aren't widely available, Apple has said. That means they ultimately need to be mined.
Apple has made some efforts in recent years to distance itself from mining -- which, in addition to any potential trade war risks, is fraught with ethical and environmental problems. In an annual environmental impact report that Apple publishes, it reiterated a goal of ending its reliance on mining at some point, but as of right now, those efforts are largely limited to recycling and reuse of a limited set of materials, such as aluminum, cobalt and tin.
Apple has a disassembly robot that can recover components that contain rare earth metals -- but cannot extract the minerals itself. The technology simply isn't there yet, Apple wrote in its latest environmental report. It appears that for now, Apple is a long ways off from ending its dependence on fresh rare earth metals.
What Could a Restriction Mean for Apple?
Right now, it's difficult to put a fine point on what the exact consequences would be for Apple should China enforce restrictions on rare earth exports. But given Apple's highly complex supply chain entanglements in China, it's probable that Apple investors would feel some pain even if the precise financial implications aren't fully understood.
Throughout late 2018 and into the first quarter, trade tensions weren't kind to Apple's stock, with shares plummeting close to 40% between early October 2018 and the beginning of this year. During that time, the deteriorating trade relationship between the U.S. and China manifested in at least two ways: One, through uncertainty around whether tariffs would be imposed on Apple products specifically, or lead to new costs in its supply chain; and secondly, a negative impact on Chinese spending that hurt iPhone sales. Should rare earths become a new casualty of the trade war, investors in Apple and other U.S. tech firms may need to grapple with fresh anxieties. 
With Apple planning a new line of iPhones for a fall release, any threat of disruption to its production process could be particularly high risk, Goldman Sachs analysts suggested in a note this week.
"We believe Apple is near its annual rapid ramp of new iPhone production to prepare for new device launches in the fall so even a short term action affecting production could have longer term consequences for the company," the analysts wrote. 
Apple is a holding in Jim Cramer'sAction Alerts PLUS Charitable Trust Portfolio. Want to be alerted before Cramer buys or sells AAPL? Learn more now.