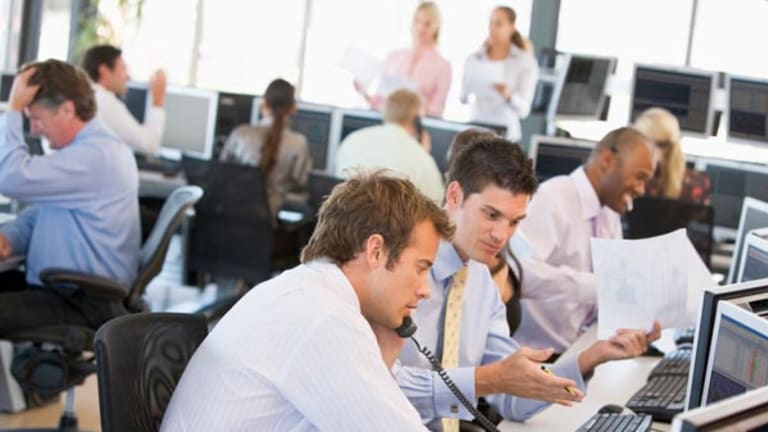 Rally Looks to Keep Rolling in Coming Week
There are plenty of reasons for stocks to continue to move higher, but the headlines from Europe still bear watching.
NEW YORK (
) -- The slight
barely put a dent in October's rocketing rally. And with just one trading day left in the month, it looks like the bulls have already sealed an eye-popping run.
The reasons for all the buying are fairly solid. Despite the occasional hiccup, the economic data have improved, signaling that the soft patch that fueled fears of a double-dip recession has likely passed.
Corporate earnings have come in better than expected so far for the calendar third quarter, and Europe's debt pact is at the very least a step in a direction (time will tell if it's the right one) that was enough of a gesture to buy some more time.
> > Bull or Bear? Vote in Our Poll
If risks of contagion in the old country or a hard landing in China keep edging down, then slowly, the U.S. can turn to fixing its own lingering economic problems. The challenges that face the U.S. (jobs, housing, stagnant incomes) are by no means small, but they look more manageable when the potential for external surprises is lessened.
Last week was a huge one for earnings and the numbers have been good enough to keep optimism afloat. John Butters, earnings analyst at FactSet Research, says that although high-profile companies such as
3M
(MMM) - Get Report
,
Amazon.com
(NOK) - Get Report
, and
Dow Chemical
(DOW) - Get Report
missed EPS expectations this past week, most companies have beat analyst estimates.
He sums up: "Of the 284 companies that have reported earnings to date, 77% have reported earnings above expectations, which is slightly above the 74% average recorded over the past four quarters."
The technical analysts are also getting bullish. The
S&P 500
saw what Mark Arbeter, chief technical strategist at Standard & Poor's, calls a "monthly outside reversal bar," a rare occurrence after a bear market.
"A monthly outside reversal is a month in which the recent monthly trading range exceeds the previous month's range and closes (reverses) the previous month's close," explains Arbeter. According to his historical analysis, the index hasn't seen such a trend after a major downtrend since August 1982 and October 1974 -- both times marking the beginning of bull markets.
Another positive sign Arbeter points to is the rally in the copper market, which tends to be a good leading indicator for stocks. "From the February peak to the bottom in October, prices fell well over 30%. With the surge this week, prices have already retraced 50% of their bear market decline," he writes.
Investment strategists are feeling more comfortable about putting money back to work.
"It's a good time for long-term investors to begin building positions again," says Wayne Lin, portfolio manager with Legg Mason Global Asset Allocation. "Bouts of extreme volatility are starting to taper off... operating price to earnings ratio of the S&P 500 is in the 13 times range, making valuations look fairly attractive."
"I don't see a big giveback of recent gains," says Mark Luschini, strategist with Janney Montgomery Scott. For next week, he says, "the bias is towards asking what would knock stocks down as opposed to why stocks should move higher."
Europe Still in the Picture
As any good skeptic would advise, a smart investor will continue to keep his or her eye on Europe. The headline risk may ease next week, but because critics have deemed the recent debt pact between eurozone leaders a skeletal solution at best, investors still need to tune in for further details.
Record-high Italian yields on Friday have already sounded something of an alarm. The yield on Italy's sovereign debt hit the highest levels since November 2000 at the latest auction, according to rates strategist Dan Greenhaus at BTIG. As Greenhaus notes, the ECB's reluctance to purchase a significant amount of debt in recent weeks has hurt the sovereign bond market even as Europe's leaders delivered a plan that will supposedly help ease fears about a debt contagion.
With leaders continuing the debate on ways to expand the bailout fund, eyes are turning to the G20 meeting in Cannes next week. French Finance Minister Francois Baroin has said that wide measures are needed from next week's summit to help countries globally consolidate their budgets, according to
Reuters
.
The market will likely be hungry for clues as to whether banks will be able to swallow the major writedowns on their loans to Greece as well as where funds to expand the rescue fund will come from.
Still, leaders find themselves in a bind. Ratings agency Standard & Poor's reiterated its triple-A rating on the European Financial Stability Facility, acknowledging that the plan for the fund to create special purpose vehicles will provide risk insurance for eurozone countries. But S&P also warned that the fund's creditworthiness is highly tied to market confidence in the eurozone. Essentially, S&P said that if one country in the eurozone gets its triple-A rating taken away, the rescue fund as well could lose its own golden star.
If Germany is reluctant to fund the rescue facility, France would have to step up with more support. That move, however, runs the risk of a French credit downgrade, which could trigger a domino effect that results in a loss of confidence in the EFSF, thereby making everyone's efforts futile. That's the vicious cycle that European leaders still have to address.
So officials have a full plate of European problems going into the G20 meeting. In addition, they're also expected to address the usual issues, namely ongoing global trade imbalances. At the center of this, will be China, which faces continued pressure to boost its domestic spending and let the yuan appreciate.
Another key event to watch in Europe next week is the European Central Bank's policy meeting on Thursday. The ECB's new president Mario Draghi will hold his first conference following the ECB's announcement. Economists think that the bank might signal its intention to cut interest rates. However, given the heavy concerns about inflation, Barclays Capital said it doesn't expect monetary easing until the bank's December meeting.
Focus Back at Home
The ECB isn't the only central bank to make a key decision next week. The U.S.
Federal Reserve
is also slated to make an announcement on U.S. monetary policy on Wednesday.
For the most part, economists aren't expecting further quantitative easing. However, markets may show some enthusiasm for the Fed's assessment of the economy. Economic numbers have been "steadier" to "mildly positive," says Luschini at Janney Montgomery Scott, who believes the Fed will underscore a more positive outlook. "The hurdles for more monetary easing are higher" given the better economic conditions, he added.
Next week brings a slew of economic reports that may also give stocks a chance to extend their gains from October. The biggest one will be the government's monthly unemployment report on Friday. According to the latest Gallup poll, unemployment might drop below 9% for the first time since the start of the recession.
Consensus estimates aren't as optimistic, with economists forecasting the unemployment rate will stay stuck at 9.1%. Companies are believed to have added roughly 120,000 new jobs in October, and taking into account government job cuts, the consensus puts total payroll additions at 95,000.
Gallup's survey, which lags about two weeks behind the government data, says the unemployment rate dropped to 8.8% in October, the lowest read since February. Keep in mind some of the key differences between Gallup and the Labor Department. Gallup takes into account people 18 years of age and older, while the government looks at the 16-and-older population pool. Gallup surveys 30,000 individuals a month while the government polls about 60,000 households per month.
Before Friday's jobs report, the usual round up of previews will be available --consulting firm Challenger Gray & Christmas and payroll-servicing firm
ADP
both release their numbers on Wednesday. Weekly initial claims come in on Thursday and once again, economists expect some 400,000 Americans to file for first-time unemployment benefits.
Other data next week include the Institute of Supply Management's manufacturing index on Tuesday, and reads on factory orders and productivity on Thursday.
Companies slated to report earnings in the coming week include
Consolidated Edison
(ED) - Get Report
on Monday;
Emerson Electric
(EMR) - Get Report
on Tuesday;
Clean Harbors
(CLH) - Get Report
,
Continental Resources
(CLR) - Get Report
,
Clorox
(CLX) - Get Report
and
Qualcomm
(QCOM) - Get Report
on Wednesday;
Chesapeake Energy
(CHK) - Get Report
and
Skyworks Solutions
(SWKS) - Get Report
on Thursday; and
Windstream
(WIN) - Get Report
.
Lastly, Groupon's initial public offering is expected to take place on Friday.
-- Written by Chao Deng in New York.
>To contact the writer of this article, click here:
Chao Deng
.
>To follow the writer on Twitter, go to:
@chao_deng
>To submit a news tip, send an email to:
.
Copyright 2011 TheStreet.com Inc. All rights reserved. This material may not be published, broadcast, rewritten, or redistributed.