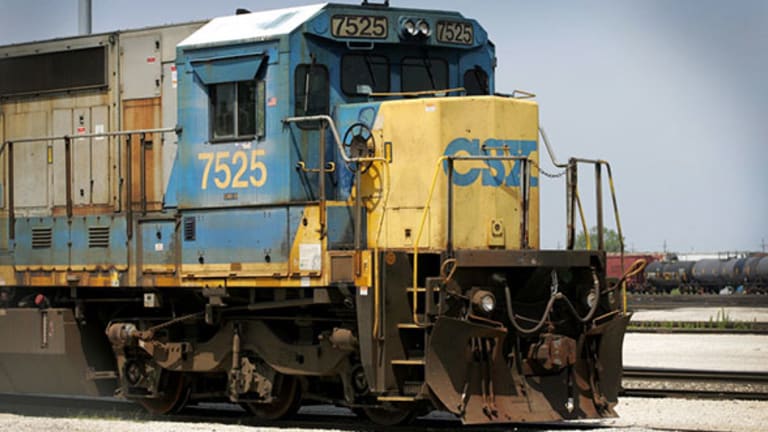 Rail stocks have climbed the mountain in recent weeks after suffering through the worst year since the 2009 recession in terms of volumes. Expect management teams to use earnings season to provide a rosier outlook for the year ahead, and to try to keep a post-election rally based on anticipation of corporate tax reform, stimulus to key rail end markets and upcoming easier year-over-year comparisons chugging along.
Cowen & Co. analyst Jason H. Seidl on Tuesday revised rail estimates ahead of the beginning of reporting season, given the industry's positive initial reports on fourth quarter traffic. But Seidl also raised fuel expenses to reflect a bigger increase in diesel prices than initially projected.
Seidl lowered his estimate on Canadian Pacific (CP) - Get Canadian Pacific Railway Limited Report on expectations of an unfavorable product mix and the impact of a stronger U.S. dollar, but said for 2017 "higher traffic should offset the continuation of a less favorable mix in the early part of the year than we had initially modeled."
The rest of the industry is expected to make similar progress thanks to better volumes and improving pricing.
CSX (CSX) - Get CSX Corporation Report is first out of the station, scheduled to report after hours Tuesday evening. The company along with its Eastern archrival Norfolk Southern (NSC) - Get Norfolk Southern Corporation Report have been battered in recent years by cheap natural gas prices that have eaten into demand for coal, but coal shipments were on the upswing in the final months of 2016 and should translate to year-over-year improvements in earnings per share.
CSX is also expected to cite continued strong demand for autos as a positive in 2017. Overall the company is expected by analysts to earn 50 cents per share in the quarter, according to FactSet, a slight improvement over its 48 cent quarter a year prior, on sales up about $100 million to $2.88 billion.
Others reporting this week include Canadian Pacific CP, Union Pacific (UNP) - Get Union Pacific Corporation Report and Kansas City Southern KSU, while Norfolk Southern reports on January 25. CSX is seen by the analyst community as most likely to beat what is seen as conservative guidance, while Union Pacific will be closely watched as its volumes have trailed peers in recent quarters.
Many in the industry have already enjoyed a strong run up since the election, with CSX up 18% since early November and Union Pacific and Norfolk Southern both up 14% apiece.
Looking ahead to 2017, Moody's Investor Service predicts that after a decline in 2016 freight volumes should stabilize. Barclays analyst Brandon R. Oglenski is even more optimistic, predicting positive commentary from management teams and "solid rail volume growth in 2017" that could reach 4% across the industry.
Carl Ice, CEO of Berkshire Hathaway owned BNSF Railway, at a meeting with Midwest shippers earlier this month said he sees hope for improvement going into the new year, as industries including plastics and building materials show signs of growth and demand for additional rail capacity. BNSF like many of its peers has the capacity to offer, with locomotives in storage and about 2,500 employees currently furloughed.
UBS analyst Thomas Wadewitz, another who has been raising his estimates in recent weeks in anticipation of a better than expected quarter, in a note said he expects "constructive commentary from the railroads in terms of the outlook for improving volume growth in 2017 and also the opportunity to deliver double-digit EPS growth."
But he warned that pricing improvements are likely to come gradually and not all at once, and said that higher inflation could be a risk for the sector.
Kansas City Southern, for a while earlier in the decade a darling of investors for its north/south route map and strong inroads into Mexico, has come under political pressure in recent months due to President-elect Trump's rhetoric concerning crossborder trade. The company also has non-Trump issues that have influenced recent results, specifically higher-than-anticipated expenses due to both accruals and operational challenges in Mexico.
The long-term appeal of the Mexican network remains to be seen, but KSU in recent years has also enjoyed a bit of a boost as the one railroad that is viewed as a potential takeover target. The U.S. government Surface Transportation Board has been a vocal critic of further rail consolidation, seeking to preserve at least two large competitors on each coast, but KSU's smaller size and niche network if nothing else invites speculation that it could be a viable target.