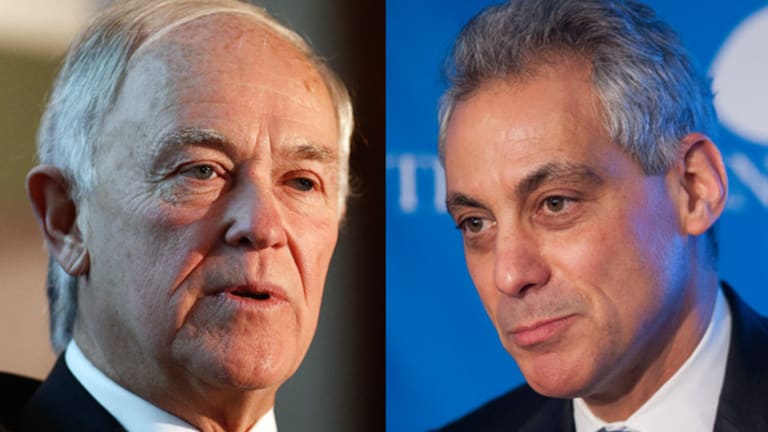 United and American -- Chicago's Mayor Has Their Backs
Chicago Mayor Rahm Emanuel welcomed Emirates airline to Chicago, but now he sees that American and United have a good case against Gulf Carrier subsidies.
NEW YORK ( TheStreet) -- First of all, let us say that Chicago is among the most important U.S. cities for commercial aviation. United (UAL) - Get Report has its headquarters, 14,000 employees and its largest hub in Chicago. American (AAL) - Get Report has a hub and 8,800 employees. Chicago has two major airports including O'Hare International, the world's fifth-busiest airport.
So one would expect that Chicago Mayor Rahm Emanuel would take an interest in representing the interests of the U.S. airline industry, which employs tens of thousands of his constituents and plays a major role in assuring that Chicago remains one of the world's premier cities.
That is why on May 6 Emanuel sent three cabinet members a letter, in which he backed American, Delta (DAL) - Get Report and United in their campaign to minimize the damage caused to their businesses by the three Gulf carriers, who are aggressively expanding service to the U.S.
According to a study commissioned by the three U.S. carriers, the three Gulf airlines -- Emirates, Etihad Airways and Qatar Airways -- are subsidized by their governments and take advantage of liberal Open Skies agreements to flood the U.S. with capacity - in effect, dumping airline seats into a foreign market, an unprofitable practice enabled by subsidies.
On Tuesday, Emirates CEO Tim Clark responded to Emanuel in a letter of his own. He made the point that years before Emirates began Dubai-Charlotte service in August 2014, Chicago lobbied aggressively for the service.
"We were first approached to fly to Chicago in 2010 and lobbied more than a dozen times thereafter, not only by O'Hare itself but also by the Chicago Department of Aviation," Clark wrote.
When the service began, Emanuel publicly welcomed it. "We were overwhelmed by the genuinely warm welcome we received," Clark wrote.
It is difficult to avoid the conclusion that the city's conduct has been inconsistent. However, it is worth examining some of the forces at work in commercial aviation.
First, the role of airports and city leaders is to seek more air service, especially international service, because that provides more travel options for area residents and benefits the local economy by enabling travel and trade. So, of course, Emanuel welcomed the service. That is part of his job.
But very often, the interests of airports and the interests of airlines, particularly hub airlines, diverge. People outside the airline industry never seem to realize this, but airports and their hub airlines don't always agree, Airports want more flights and more options for their passengers, while airlines, particularly hub airlines, want to maximize the value of their own operations.

Airports also like to constantly build or improve their facilities. They do this with fees collected from the airlines and their passengers. An oddity of our airline economy is that often airports have AAA bond ratings while the airlines that pay most of the bills have far lower bond ratings. The bills not paid by the airlines are paid by their passengers, sometimes in charges added to their ticket costs, sometimes in parking fees.
Additionally, because Chicago is United's hometown, Emanuel no doubt believes that it is worth taking actions that help to make United successful.
The point is that as mayor of Chicago, Emanuel serves multiple constituencies at O'Hare. He addressed this issue in his letter, writing, "I continue to encourage international airlines to bring their flights and passengers to our city (but) I have serious concerns about the unfair government subsidies and benefits the Middle East carriers have received and the impact on the U.S. airlines."
It's not really much of a discrepancy, when you think about it. You need to welcome everybody to your city, but you also need to speak up for your constituents, particularly the ones that are integral to your transportation infrastructure.
When these interests do not coincide, you need to take a stand. Thankfully, Emanuel has taken the right one.
This article is commentary by an independent contributor. At the time of publication, the author held no positions in the stocks mentioned.