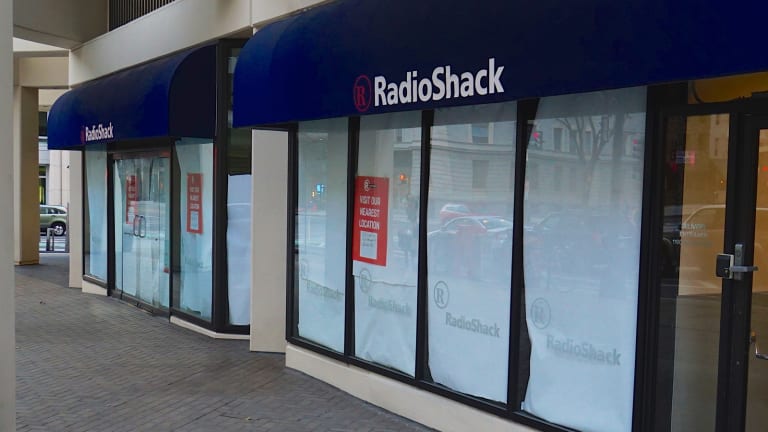 RadioShack Successor Blames Sprint's Weak Sales for Its Own Bankruptcy
Sprint's slipping sales coupled with the general decline in retail pushed RadioShack into insolvency again.
Sprint's slipping sales coupled with the general decline in retail pushed RadioShack into insolvency again.
General Wireless Operations, the successor to RadioShack, filed for Chapter 11 protection, as expected. What was uxexpected was that the electronics retailer would blame its filing on Sprint's (S) - Get Report declining sales.
In RadioShack's first bankruptcy case, General Wireless, formed through the partnership of Sprint and New York hedge fund Standard General,bought the debtor's assets out of Chapter 11 in summer 2015.
The bankrupt retailer agreed to sell its intellectual property to General Wireless, now doing business as RadioShack, in May 2015 for $26.2 million, while Standard General in April 2015 won approval to acquire a major portion of RadioShack's stores for $142 million. The IP sale closed in June 2015.
Under the terms of the agreement, Sprint said it would keep the first $60 million of cash commissions it generates for itself and pay the rest to the RadioShack business, General Wireless CEO Dene Rogers said in a declaration.
Rogers said in his filing that Sprint's mobility sales plummeted in its recent fourth quarter, whose results the wireless provider is expected to release on Friday, so it does not expect to receive the agreed-upon commissions for RadioShack.
"It became apparent to the debtors that not only would they not receive the originally projected cash commissions in 2016, but they likely would not receive commissions from Sprint, even at a substantially reduced amount until 2018," Rogers said.
Sprint in response denied that its sales are declining, noting that in the last three quarters the company saw a year-over-year increase in postpaid phone net additions.
A blog post from Kevin Crull, President, Omnichannel Sales, at Sprint's website stated, "We evaluated the performance and location of Sprint-RadioShack stores and reached an agreement with General Wireless Operations to convert several hundred doors into Sprint corporate-owned stores. We will redeploy to other Sprint stores assets such as signage, displays and inventory currently at RadioShack locations which are closing."
Analysts surveyed at Factset expect Sprint to report a net loss of 4 cents a share on revenue of $7.96 billion, compared to the year-ago quarter's loss of 14 cents a share on $8.07 billion in revenue.
Still, Rogers also called out General Wireless' bankruptcy on the company's inability to revive the RadioShack business.
He said General Wireless was unable "to turn around the business quickly enough as a going concern" as defunct RadioShack's revenues suffered too much of a decline prior to its insolvency. By 2014, the company was losing in excess of $200 million per year.
Under its partnership terms with Sprint, General Wireless also agreed to place all of the 1,733 stores it acquired through the RadioShack assets purchase into shopping plazas with Sprint shops alongside them. The company has since cut its store count down to 1,500, employing 5,900 full- and part-time workers, according to court papers.
The former RadioShack filed for Chapter 11 protection about two years ago amid a decline in mall traffic and a consumer shift to e-commerce. The debtor's estate, renamed RS Legacy, on Oct. 8, 2015, completed a wind-down after its liquidation plan won confirmation just a few days earlier.
General Wireless' Chapter 11 case is filed in the U.S. Bankruptcy Court for the District of Delaware in Wilmington, where Judge Brendan L. Shannon was assigned to it.