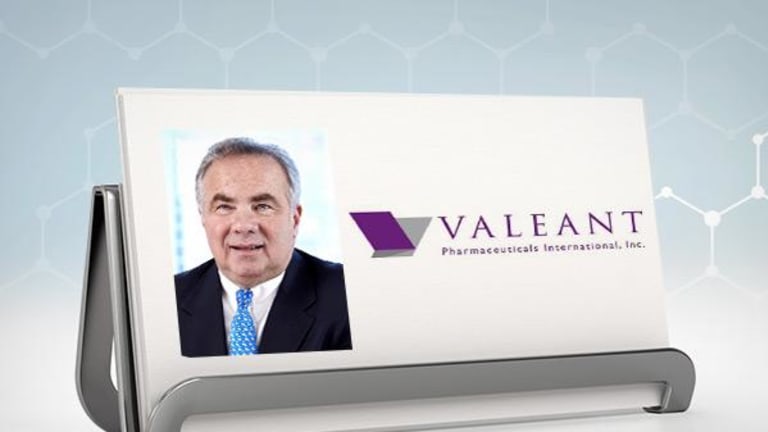 Valeant's CEO Tries to Pitch Wall Street On the 'New Valeant' Being Very Different
CEO Joe Papa tried to distance the company from its past troubles at the annual J.P. Morgan Healthcare Conference.
Joe Papa on Tuesday made his latest attempt to convince investors that ValeantPharmaceuticals (VRX) is not the troubled company it was about eight months ago, before he began calling the shots.  
"We've done a lot of M&A in the past," the CEO said during a presentation titled "The New Valeant" at the 35th Annual J.P. Morgan Healthcare Conference. "That's not going to be something we're looking at in the future."  
Papa, who joined Valeant after resigning from all roles at Perrigo (PRGO) - Get Free Report , touted that the Canadian drugmaker has made good on the various commitments promised to investors in August, including streamlining its portfolio via divestitures, stabilizing its sales force, paying down debt and reshaping the company's leadership team. 
Regarding growth of internal assets in 2017, Papa indicated that the pharmaceutical company would concentrate on specialty-driven markets including dermatology, eye care and gastrointestinal, or GI.
Other potential catalysts for Valeant include new product launches and growth in China and Japan, an area in which the company is gaining momentum, Papa said, with plans such as reentering the cosmetic lens segment in Japan.
The CEO also acknowledged that the estimated impact on Valeant's pending loss of exclusivity of U.S. diversified products in 2016 and 2017 totals about $800 million.
In a final effort to distance Valeant from the problems inherited from its previous management team, Papa ended his presentation with a slide titled "Fact v. Fiction" -- asserting, among other things, that the company has a strong R&D program despite public perception.
Conveniently, the comments from the executive at the San Francisco's Westin St. Francis Hotel came just hours after Valeant unveiled plans to unload another pair of assets.
Valeant announced a deal to sell its skincare assets, which include the CeraVe, AcneFree and AMBI brands, to L'Oreal (OR) - Get Free Report in a $1.3 billion all-cash deal. Separately, it disclosed an agreement to divest its Dendreon Pharmaceuticals unit to Sanpower for $819.9 million. 
Papa didn't offer much detail on future streamlining efforts other than to say that "there's still more to do there on asset sales" as it continues to address its massive debt pile. 
While Valeant in November confirmed that it has considered selling its Salix unit, other potential divestitures could include its dental business as well as its interests in "select geographies," The Deal, a sister publication of TheStreet, reported on Tuesday. 
Upon completion of the deals announced on Tuesday, Valeant will have generated total asset sale proceeds of $2.35 billion up front or up to $2.7 billion, including total potential additional future milestones, Papa said.