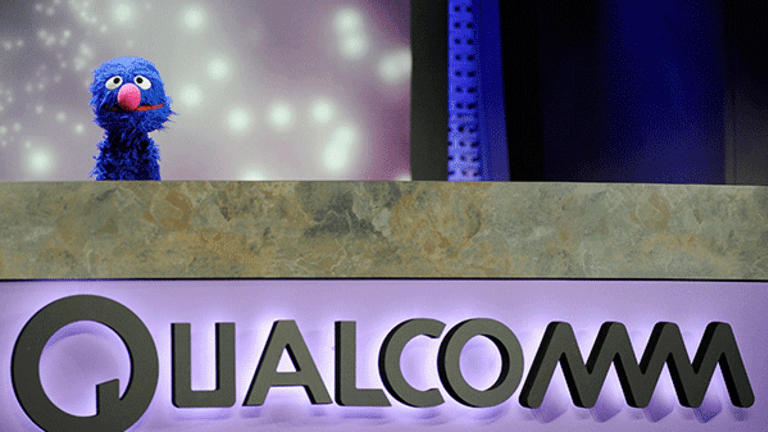 Qualcomm Shares Slide as Apple Dispute Fuels Weak Guidance
The chipmaker's stronger-than-expected third-quarter results were overshadowed by its ongoing lawsuit with Apple.
Shares of Qualcomm (QCOM) - Get Qualcomm Inc Report  were dropping 3.1% to $55.01 in after-hours trading on Wednesday after the chip giant gave a downbeat forecast for the fiscal 2017 fourth quarter, fueled by its ongoing legal dispute with Apple Inc. (AAPL) - Get Apple Inc. Report . 
For the fourth quarter, Qualcomm now expects to report sales between $5.4 billion and $6.2 billion, compared to Wall Street's projected $5.5 billion. It forecast GAAP EPS of between 55 cents and 65 cents.
The disappointing guidance overshadowed Qualcomm's stronger-than-expected results for the third quarter. The company posted adjusted earnings of 83 cents per share, which was higher than Wall Street's expected 81 cents per share. Revenue came in at $5.3 billion, surpassing analysts' estimated $5.28 billion.
Qualcomm's seminal licensing business continues to be impacted by its legal battle with Apple. The QTL licensing segment saw its sales fall quarter-over-quarter to $1.17 billion, which fell short of analysts' estimated $1.47 billion.
Mobile station modem chip shipments, which includes the Snapdragon LTE modem, were 187 million during the quarter, which was below consensus estimates of 189.4 million.
Qualcomm has been ensnared in a legal dispute with Apple since January, when the tech giant sued the chipmaker for $1 billion, claiming that it collected royalties for technologies it wasn't involved with, including Touch ID and cameras. Apple has said it will withhold future royalty payments until the dispute is resolved, which forced Qualcomm to cut its revenue forecast for the third quarter.
In the months since the lawsuit, the dispute has gotten even nastier. Earlier this month, Qualcomm filed a countersuit against Apple over claims that it infringed on six of its patents. As part of the new lawsuit, Qualcomm is also seeking to ban imports of the iPhone into the U.S.
On Wednesday, Qualcomm's general counsel, Don Rosenberg, said the chipmaker adjusted its fourth-quarter forecast as a result of Apple's "continued interference" with its contracts with licensees.
"While Apple has acknowledged that payment is owed for the use of Qualcomm's valuable intellectual property, it nevertheless continues to interfere with our contracts," Rosenberg said. "Apple's continued interference with Qualcomm's agreements to which Apple is not a party is wrongful and the latest step in Apple's global attack on Qualcomm."
Watch More with TheStreet:
From Catalogs to Catastrophe: A Sears Timeline