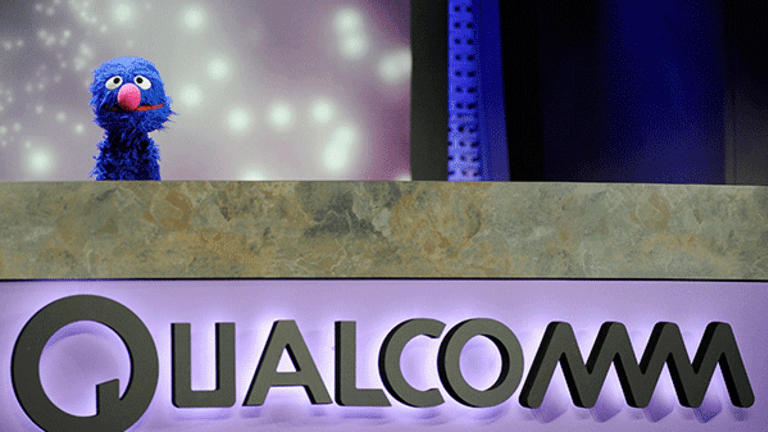 Publish date:
Qualcomm Shares Slip Despite Q2 Earnings Beat: What Wall Street's Saying
Qualcomm's earnings beat lost some of its impact due to the chip company's ongoing legal dispute with Apple.
Qualcomm's earnings beat lost some of its impact due to the chip company's ongoing legal dispute with Apple.
Shares of Qualcomm (QCOM) - Get QUALCOMM Incorporated Report were down about 1.6% in morning trading on Thursday, as the company's top and bottom line beat for the 2017 second quarter was somewhat overshadowed by confirmation that original design manufacturers associated with Apple (AAPL) - Get Apple Inc. (AAPL) Report  are withholding royalty payments to Qualcomm. 
For the past quarter, Qualcomm reported earnings of $1.34 per share, topping analyst expectations for $1.19 per share. Revenue came in at $5.99 billion for the quarter, also topping consensus estimates for $5.89 billion. 
During the earnings call, the chip maker revealed that Apple's suppliers have withheld about $1 billion from the company as part of the ongoing legal dispute that started in January when Apple filed a $1 billion lawsuit against Qualcomm for anticompetitive behavior. Apple filed the complaint after the Federal Trade Commission filed its own lawsuit against Qualcomm for making Apple use its baseband chips that require higher patent royalties. Analysts see the legal dispute as creating uncertainty for the company's future in the near-term. 
Earlier this month, Qualcomm extended a deadline for its $110 per share tender offer for NXP Semiconductors (NXPI) - Get NXP Semiconductors NV Report  to May 2 from April 4. The company still sees the deal closing by year's end.
For the third quarter, Qualcomm sees earnings coming in between $0.90 and $1.15 per share, vs. expectations for $1.09 per share. Revenue for the third quarter is expected by Qualcomm to come in between $5.3 billion and $6.1 billion, vs. consensus estimates for $5.94 billion. 
To hear how analysts are interpreting a winning quarter weighed down by uncertainty over Apple suppliers withholding payments, keep reading. 
Pacific Crest Securities, Michael McConnell (Overweight, price target lowered to $77 from $81) 
"Strong Results and Lower Guidance; Apple Payment Uncertainty Lingers: We remain buyers because of (1) significant EPS accretion and end-market diversification away from mobile from the pending NXP acquisition, and (2) an attractive dividend yield of 4.3%. . . Apple CMs have withheld ~$1 billion from QCOM. Apple withheld the funds from its CMs, and now they have cut payments to QUALCOMM by the same amount. However, CMs acknowledge that the underpaid amount is still due, QUALCOMM has already received royalty reports for the March quarter (for QTL's FQ3), and it says Apple has no further basis to withhold payments since the BCPA expired. . . Lower QTL guidance (due to payment uncertainty) prompts lower estimates and target."
BMO Capital Markets, Tim Long (Market Perform, price target lowered to $54 from $60) 
"QCOM reported mostly positive headline numbers, but our concerns with the stock remain grounded in a number of new and persistent issues. In QTL, the Apple dispute adds uncertainty, but we learned of another OEM withholding payments (likely Samsung) just a few days after the loss to Blackberry in arbitration. Chip share deterioration continues, and we see risk of further loss at AAPL. Our estimates do go higher owing to some better items in the model, but we expect the stock to remain in a trading range. . . As we expected, ODMs withheld what AAPL held back from them. QCOM recorded the $1B in revenues anyway. We expect and model a $1B annual tailwind from QCOM no longer having to pay the rebate, and we do not assume more underpayment from AAPL for the time being. However, given the rocky relationship, AAPL could withhold further payments from its ODMs, forcing their hand again on underpaying QCOM. Neither we nor management expect AAPL to withhold the entirety of royalty payments."
Apple and NXPare holdings in Jim Cramer'sAction Alerts PLUS Charitable Trust Portfolio. Want to be alerted before Cramer buys or sells AAPL or NXPI? Learn more now.
Canaccord, T. Michael Walkley (Buy, price target lowered to $75 from $76)
"Despite the strong results, the ongoing dispute with Apple regarding royalty payments remains the key issue impacting the share price, and we believe the Apple dispute could last well into C2018. Qualcomm disclosed Apple's ODM partners such as Foxconn, Pegatron, and Wistron underpaid Qualcomm roughly $1B or the amount Apple believes Qualcomm owes Apple relating to a Cooperation Agreement that expired at the end of C2016. . . We believe the current share price is assuming some worst case scenario outcomes as outlined in Figure 1 on page 4 such as the NXP acquisition does not close and Apple no longer pays royalties to Qualcomm. Therefore, we believe Qualcomm is an attractive investment opportunity for longer-term investors during this time of uncertainty."
JPMorgan, Rod Hall (Neutral, $55 price target)
"We remain Neutral on Qualcomm as our positive thesis has played out and the benefits from its plan to acquire NXPI wouldn't be accruing fully until next year. Meanwhile, we believe that ongoing royalty litigation with Apple in the US and in China creates material risk to earnings. On the positive side, we believe that margins in the QCT business are improving and the company is making commendable progress in collecting royalties in China. However, due to earnings risk created by Apple's ongoing litigation we remain on the sidelines."
William Blair, Anil Doradla (Market Perform)
"In our opinion, the primary focus of the report was Qualcomm's multiple active lawsuits and the continued lack of clarity around their resolution. In addition, based on management's commentary, we came away with the sense that it is proving equally difficult for the company to accurately quantify the impact of these legal headwinds. We came away from the call incrementally less confident in the company's ability to focus on successfully integrating NXP (NXPI $104.23) as we believe management will continue to focus on resolving disputes with Apple (AAPL $140.68; Outperform), the FTC, the KFTC, contract manufacturers, and other licensing customers. . . Bottom line, we expect investors to remain concerned about the outlook for Qualcomm's licensing model, and we believe that the uncertainty inherent in the story will continue to overshadow the potential positives from the company's acquisition of NXP."